"So my search begins, by all means a journey of the heart."
It has been just over a year since Elvira and I broke up. We had been together for 15 years and have a two-year-old daughter, Tjorven, whom we raise as co-parents. The first year after our break-up, I enjoyed my freedom more than anything. I went out a great deal. I ogled and flirted. Sometimes I would take someone home. At the same time, I was processing the fact that my 15-year relationship with Elvira was over. Now, at this moment in time, I feel ready to move on. I want to commit again, find a woman and be happy with her. With that A Quest for Love begins, an artistic report of my search for the right woman. My name is Ramon Ottenhof and I am 39 years old.
Het is nu iets meer dan een jaar over tussen Elvira en mij, de vrouw waar ik 15 jaar een relatie mee heb gehad. We hebben samen een dochter van 2 jaar, Tjorven, die we als co-ouders opvoeden. Het eerste jaar nadat het uit was met Elvira, heb ik vooral van mijn vrijheid genoten. Veel uitgaan, lonken en flirten. Soms nam ik iemand mee naar huis en tegelijkertijd verwerkte ik dat het over was. Maar nu wil ik mij graag weer binden, een vrouw vinden en daar gelukkig mee zijn. Nu begint A Quest for Love, een beeldverslag van mijn zoektocht naar de juiste vrouw. Mijn naam is Ramon Ottenhof, ik ben 39 jaar.
Es ist jetzt etwas mehr als ein Jahr her, dass die Beziehung zwischen Elvira und mir nach 15 Jahren in die Brüche ging. Wir haben eine zweijährige Tochter, Tjorven, deren Erziehung wir uns teilen. Nachdem die Beziehung mit Elvira aus war, habe ich im ersten Jahr vor Allem von meiner Freiheit genossen. Viel gefeiert, geturtelt und geflirtet. Manchmal habe ich jemanden mit nach Hause genommen und gleichzeitig habe ich das Ende der Beziehung verarbeitet. Jetzt aber möchte ich mich gerne wieder binden, eine Frau finden und damit glücklich sein. Jetzt fängt A Quest for Love an, ein bildhafter Bericht meiner Suche nach der richtigen Frau. Mein Name ist Ramon Ottenhof, ich bin 39 Jahre alt.
Cela fait un peu plus d'un an maintenant que c'est fini entre Elvira et moi, la femme avec laquelle j'ai eu une relation pendant 15 ans. Ensemble, nous avons une fille de 2 ans, Tjorven, que nous élevons en tant que co-parents. La première année après la fin de la relation avec Elvira, j'ai surtout apprécié ma liberté. Beaucoup de sorties, de regards et de flirts. Parfois, je recevais quelqu'un à la maison et en même temps, je devais accepter que c'était fini. Mais maintenant, je voudrais retrouver l'amour, trouver une femme et être heureux avec elle. Commence maintenant A Quest for Love, un rapport illustré de ma recherche de la femme idéale. Je m'appelle Ramon Ottenhof, j'ai 39 ans.
On 5 December, we celebrate Sinterklaas – a traditional Dutch celebration – with a group of flatmates. As is customary, we draw names in a way similar to Secret Santa. But instead of buying presents, we make a "surprise" for the person we draw. I draw Richard, who inherited a BMW from his father and is looking for a girlfriend. I made the quasi-funny suggestion that showing his car should be enough to find a girlfriend. He countered that such cars attract the wrong type of woman. I decide to make him a car for his "surprise". One that better fits his personality. In my studio, I have a number of pink, yellow and red sponges from which I make a scale model and call it "Rich's Love Car". Inadvertently I discover how pleasant it is to work with sponge.
We vieren met een groepje mensen Sinterklaas bij mij thuis. Ik heb Richard getrokken met lootjes. Hij heeft een BMW van zijn vader geërfd en is op zoek naar een vriendin. Om mijn quasi-lollige suggestie dat hij alleen maar zijn BMW voor hoeft te rijden om een vriendin te vinden, antwoordt hij dat zo'n auto de verkeerd soort vrouwen aantrekt. Ik moet een surprise voor hem bedenken en besluit een autootje te maken dat meer bij zijn persoonlijkheid past. In mijn atelier liggen een aantal roze, gele en rode schuursponsjes. Ik maak voor hem een schaalmodel onder de naam "Rich's Lovecar". Zo ontdek ik hoe prettig het is om met spons als materiaal te werken.
Wir feiern Nikolaus zusammen mit einer kleinen Gruppe bei mir zu Hause. Ich habe beim Wichteln Richard gezogen. Er hat einen BMW von seinem Vater geerbt und ist auf der Suche nach einer Freundin. Auf meine pseudo-scherzhafte Bemerkung, dass er nur seinen BMW fahren muss, um eine Freundin zu finden, antwortet er, dass dieses Auto die falsche Frauensorte anzieht. Ich muss mir ein Geschenk für ihn ausdenken und beschließe ein kleines Auto zu erstellen, dass besser zu seiner Persönlichkeit passt. In meinem Atelier liegen einige rosa, gelbe und rote Putzschwämmchen. Ich mache für ihn ein maßstabsgetreues Modell, das den Namen "Rich's Lovecar" trägt. So entdecke ich, wie schön es ist mit Schwämmen zu arbeiten.
Le 5 décembre, nous célébrons Sinterklaas – une fête traditionnelle néerlandaise – avec un groupe de colocataires dans mon salon. Comme d'habitude, on tire au sort des noms, mais au lieu d'acheter un cadeau, on fabriquera une "surprise" pour la personne qu'on a tirée au sort. J'ai tiré Richard. Il a hérité d'une BMW de son père et cherche une petite amie. À ma suggestion quasi drôle qu'il lui suffit de rouler en BMW pour en trouver une, il répond qu'une telle voiture n'attire pas le bon genre de femmes. Il faut que je lui prépare une surprise et que je décide de faire une voiture plus adaptée à sa personnalité. Dans mon atelier, il y a des tampons à récurer roses, jaunes et rouges. Je lui fais une maquette sous le nom de « Rich's Lovecar ». Et c'est ainsi que je découvre combien il est agréable de travailler avec l'éponge comme matériau.
I enjoyed celebrating Sinterklaas but realized it was time for me to start my own search. I decide to make a Love Car for myself. A car as a symbol for "boarding together" and facing a new adventure. I make three of them. The first two leave me somewhat unsatisfied – the first is too tight, the second not elegant enough. But I am happy with the third.
Sinterklaas is leuk maar daarna besef ik dat het ook voor mij weer tijd wordt om opzoek te gaan. Ik besluit voor mezelf ook een Love Car te maken. De auto als symbool voor het "samen instappen", om een nieuw avontuur aan te gaan. Ik maak er drie. De eerste twee voldoen niet helemaal. De eerste is een beetje te krap en de tweede niet elegant genoeg, maar over de derde ben ik tevreden.
Das Nikolaus-Fest ist lustig, aber danach begreife ich, dass es auch für mich wieder an der Zeit ist, um auf die Suche zu gehen. Ich beschließe auch für mich ein Love Car zu erstellen. Das Auto als Symbol für das "gemeinsame Einsteigen", um ein neues Abenteuer zu starten. Ich mache drei davon. Die ersten beiden sind nicht ganz zufriedenstellend. Das erste ist ein bisschen zu eng und das zweite nicht elegant genug, aber mit dem dritten bin ich zufrieden.
Sinterklaas est sympa, mais je me rends compte qu'il est temps pour moi de reprendre mes recherches. Je décide de me faire une Love Car aussi. La voiture sera le symbole pour " embarquer ensemble ", et se lancer dans une nouvelle aventure. J'en fais trois. Les deux premières ne conviennent pas tout à fait. La première est un peu trop étroite et la seconde pas assez élégante, mais je suis satisfait de la troisième.
After two weeks with Maria and one week with Mirjam, the time has come: Julia enters! Julia is my age. She is very stylish and I wonder how such a beautiful woman can fall for me. She works at one of the ministries and understands exactly how things should be done. I feel pretty awkward next to her but don't let it concern me.
Na twee weken Maria en één week Mirjam is het zover; Julia stapt in!! Ze is van mijn leeftijd, ontzettend stylish en waarom zo'n knappe vrouw op mij valt, is me een raadsel. Ze werkt op een ministerie en weet precies hoe alles hoort. Ik voel me redelijk onbeholpen naast haar, maar al te druk maak ik me daar niet over.
Nach zwei Wochen Maria, einer Woche Mirjam ist es soweit; Julia steigt ein!! Sie ist in meinem Alter, unglaublich stylish und warum sich eine so schöne Frau in mich verliebt, ist mir ein Rätsel. Sie arbeitet in einem Ministerium und weiß genau, wie alles zu tun ist. Ich fühle mich ziemlich unbeholfen neben ihr, aber zu viele Gedanken mache ich mir deswegen nicht.
Après deux semaines avec Maria et une semaine avec Mirjam, c'est le moment : Julia embarque ! Elle a mon âge, est très élégante et la raison pour laquelle une si belle femme tombe à mes pieds est un mystère pour moi. Elle travaille dans un ministère et sait exactement comment tout est fait. Je me sens un peu mal à l'aise à côté d'elle, mais je ne m'en soucie pas trop.
We are totally head over heels in love and things are going well. Before we know it, we are living together. Next to our house we start an art gallery named "Chantals" where I help artists arrange their work and she is the host during openings.
We zijn hartstikke verliefd en in het begin gaat het goed, al snel wonen we samen. Naast ons huis beginnen we een Galerie onder de naam "Chantals", waar zij de host is bij openingen en ik de kunstenaars help met inrichten.
Wir sind unfassbar verliebt und zu Beginn läuft alles gut, schon bald wohnen wir zusammen. Außer unserem Haus richten wir eine Galerie unter dem Namen "Chantals" ein, in der sie die Gastgeberin bei Eröffnungen ist und ich die Künstler beim Einrichten helfe.
Nous sommes très amoureux et au début tout va bien, rapidement nous vivons ensemble. A côté de notre maison, nous ouvrons une galerie sous le nom de "Chantals", où elle est l'hôte des vernissages et où j'aide les artistes à faire la décoration.
During a holiday in France I am in a supermarché and notice a great variety of sponges. Not just the average Dutch yellow and green ones but a whole shelf filled with good quality sponges in a variety of colors. I buy a massive amount of them and decide to exploit the material once I get home.
Als we op vakantie in Frankrijk zijn, zie ik in de supermarché de grote variëteit aan sponzen. Niet alleen geel met groen, zoals de doorsnee Hollandse, maar een heel schap met allerlei verschillende kleuren en ook nog goede kwaliteit. Ik besluit flink in te slaan om het materiaal thuis verder te exploiteren.
Als wir in Frankreich im Urlaub sind, entdecke ich im Supermarché die große Auswahl an Schwämmen. Nicht nur gelb mit grün, wie die Standardschwämme in den Niederlanden, sondern ein ganzes Regalfach mit allen möglichen verschiedenen Farben und auch noch von guter Qualität. Ich entschließe mich, mich ordentlich einzudecken um das Material zu Hause weiterzuverarbeiten.
Lorsque nous sommes en vacances en France, je vois la grande variété d'éponges au supermarché. Pas seulement du jaune et du vert, comme les habituelles néerlandaises, mais toute une étagère avec toutes sortes de couleurs différentes et carrément de bonne qualité. Je décide de faire une grande réserve et d'exploiter le matériel plus tard à la maison.
After a year, our relationship becomes increasingly difficult. We argue about money and other trivial things. We are unable to get pregnant and even IVF treatments prove to be ineffective. The pressure on our relationship increases and at the end of 2008 Julia decides to move back to her own house.
Na één jaar begint onze relatie steeds moeizamer te worden. We maken ruzie over geld en andere onbenullige zaken. Omdat zwanger worden langs natuurlijke weg niet lukt, zijn we bezig met IVF. Dit leidt helaas niet tot een succesvolle zwangerschap, wat weer een grote druk legt op onze relatie. Eind 2008 besluit Julia weer terug te gaan naar haar eigen huis.
Nach einem Jahr fängt unsere Beziehung an immer schwieriger zu werden. Wir streiten uns über Geld und andere unbedeutende Dinge. Weil es auf natürliche Weise nicht funktioniert, schwanger zu werden, sind wir mit der IVF zugange. Dies führt leider nicht zu einer erfolgreichen Schwangerschaft, was unsere Beziehung wiederum belastet. Ende 2008 beschließt Julia zurück in ihr eigenes Haus zu ziehen.
Après un an, notre relation commence à devenir de plus en plus difficile. Nous nous disputons à propos d'argent et d'autres choses insignifiantes. Parce que tomber enceinte par des moyens naturels ne fonctionne pas, nous sommes occupés par la FIV. Malheureusement, cela ne débouche pas sur une grossesse réussie, ce qui met beaucoup de pression sur notre relation. Fin 2008, Julia décide de retourner chez elle.
I'm in a panic! I go to work in my studio. The French sponges are not suitable for cars and I decide to make something else. A house appears, the House of Love, with rooms for us, my daughter and the child we longed for. In an ultimate attempt to win Julia back, I show her the house. This is what I want to give you, a safe home: where it's colorful and lively during the day and where in the evening warmth and light shines through the walls. Julia cries when she sees the house, it is indeed what she longs for. But she doesn't believe I can deliver.
Ik ben in paniek! In mijn atelier ga ik aan het werk. De sponzen uit Frankrijk zijn niet geschikt voor autootjes en ik besluit iets anders te maken. Er verschijnt een huis, House of Love, met kamers voor ons, mijn dochter en het kindje dat we graag wilden. In een uiterste poging om Julia nog voor me te winnen, laat ik haar het huis zien. Dit is wat ik je wil geven: een veilig geborgen thuis; kleurrijk en levendig overdag en 's avonds schijnt de warmte en het licht door de muren naar buiten. Julia moet huilen als ze het ziet. Dit is inderdaad waar ze naar verlangt. Ze gelooft me echter niet.
Ich bin in Panik! In meinem Atelier beginne ich mit der Arbeit. Die Schwämme aus Frankreich eignen sich nicht für Autos und ich beschließe, etwas Anderes zu machen. Es entsteht ein Haus, House of Love, mit Zimmer für uns, meiner Tochter und für das Kind, was wir uns wünschten. In einem letzten Versuch, Julia noch für mich zu gewinnen, lasse ich ihr das Haus sehen. Das ist, was ich dir geben möchte: ein sicheres und geborgenes zu Hause; tagsüber farbenfroh und lebendig und abends scheint die Wärme und das Licht durch die Mauern nach draußen. Julia muss weinen, als sie es sieht. Das ist tatsächlich das, wonach sie sich sehnt. Sie glaubt mir allerdings nicht.
Je suis en pleine panique ! Je pars travailler dans mon atelier. Les éponges de France ne sont pas adaptées aux voitures et je décide de faire autre chose. Une maison apparaît, la House of Love, avec des chambres pour nous, ma fille et le bébé que nous voulions. Dans une tentative extrême de reconquérir Julia, je lui montre la maison. C'est ce que je veux te donner : un foyer protégé et sûr : coloré et vivant le jour et la nuit, la chaleur et la lumière qui brillent à travers les murs. Julia pleure quand elle la voit. C'est en effet ce qu'elle désire ardemment. Cependant, elle ne me croit pas.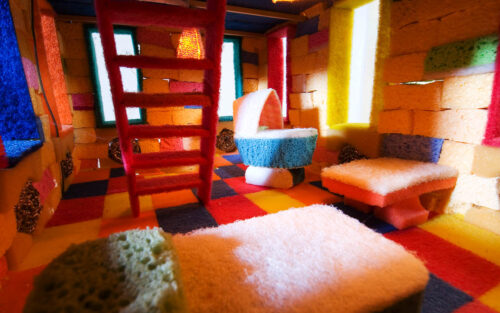 In the meantime, she has found a new boyfriend with whom life is lighter and more romantic. To show her that I also understand romance I build her a Love Boat with as a figurehead the woman who guides our romantic boat trips. For the design I am inspired by the fishing boats of Scheveningen. The boat touches Julia even more but she still doesn't believe in my love.
En inmiddels heeft ze ook al een nieuwe vriend waarmee het allemaal veel luchtiger en romantischer is. Om te laten zien dat ik ook wel weet wat romantiek is, bouw ik een Love Boat voor haar, met als boegbeeld de vrouw die ik als leidraad neem op onze romantische vaartochtjes. Voor het ontwerp laat ik me inspireren door de vissersbootjes in Scheveningen. Door dit beeld wordt ze nog meer geraakt, maar nog steeds hecht ze geen geloof aan mijn liefde.
Und inzwischen hat sie auch schon einen neuen Freund, mit dem alles viel leichter und romantischer ist. Um zu zeigen, dass ich auch wohl weiß, was Romantik ist, baue ich ein Love Boat für sie, das eine Frau als Gallionsfigur hat, die ich als Leitfaden für unsere romantischen Bootsausflüge mache. Für den Entwurf lasse ich mich durch die Fischerboote in Scheveningen inspirieren. Dieses Bild rührt sie noch mehr, aber sie schenkt meiner Liebe für sie immer noch keinen Glauben.
Et entretemps, elle a déjà un nouveau petit ami avec qui tout est beaucoup plus simple et plus romantique. Pour montrer que je sais aussi ce qu'est la romance, je lui construis un Love Boat, avec comme figure de proue la femme que j'emmène comme guide lors de nos balades romantiques en bateau. Pour le design, je me suis inspiré des bateaux de pêche de Scheveningen. Cette représentation la touche encore plus, mais elle ne croit toujours pas en mon amour.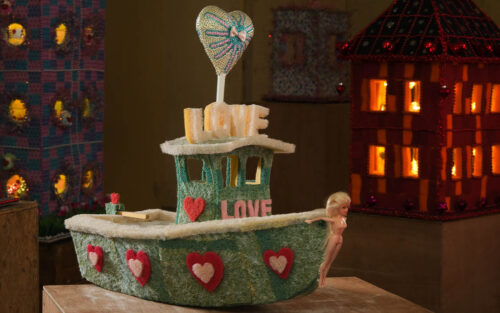 I consider that she might not have faith in love in general. The next sculpture is the Temple of Love, which is where you can find faith in love. Each glimpse into the temple illuminates a different aspect of love. The colors are the blue and pink of boys and girls; the white and black of bride and groom; and the gold and silver signify love at a later age. Together they create a fairytale about what love could be. It takes me over a year to finish the temple. It takes so long for several reasons – I have to work in order to earn money and I'm renovating my house. But I'm also finding it increasingly difficult to find the right materials. First it's the black and white sponges that I run out of, forcing me to paint orange sponges white. Then blue and pink sponges are no longer for sale in The Netherlands, but I hear that they are still available in Germany! So, as part of the quest, I drive to Germany and stop by 30 different villages in one day in order to collect the right sponges. After a year, the temple is finished but the contact between Julia and me has deteriorated to the point that she doesn't want to come and see it. Something that will happen more frequently in the future.
Ik bedenk dat ze misschien sowieso geen geloof heeft in de liefde in het algemeen. Het volgende beeld is Temple of Love, een plek waar je het geloof in de liefde zou kunnen vinden. Ieder doorkijkje in de tempel belicht een ander aspect van de liefde. De kleuren zijn het baluw/roze van jongens en meisjes, het zwart/wit van bruid en bruidegom en het goud/zilver van de liefde op latere leeftijd. Tezamen vormen ze het sprookje wat de liefde zou kunnen zijn. Ik ben meer dan één jaar bezig met het bouwen van deze tempel. Niet alleen wordt het proces vertraagd doordat ik druk aan het werk ben voor geld en het opknappen van mijn eigen huis, maar het kost me ook steeds meer moeite om de juiste materialen te vinden. Eerst zijn de zwart/witte sponsjes op, dus schilder ik maar oranje sponsjes wit. Daarna zijn de blauw/roze dak-sponsjes niet meer in Nederland te verkrijgen, maar in Duitsland nog wel. Een dag lang rijd ik als onderdeel van de Quest 30 dorpjes af om de sponsjes te verzamelen. Na het jaar is de tempel klaar, maar is ons contact zo verslechterd dat Julia de tempel niet meer wil komen bekijken. Iets wat me nog wel vaker zal overkomen.
Ich überlege, dass sie vielleicht sowieso im Allgemeinen keinen Glauben an die Liebe hat. Die nächste Figur ist der Temple of Love, ein Platz, an dem man den Glauben in die Liebe finden könnte. Jeder Blick in den Tempel beleuchtet einen anderen Aspekt der Liebe.  Die Farben sind rosa/blau von Mädchen und Jungen, schwarz/weiß von Braut und Bräutigam sowie goldfarben/silberfarben von der Liebe im Alter. Zusammen formen sie das Märchen, was die Liebe sein könnte. Ich bin mehr als ein Jahr mit dem Bauen dieses Tempels beschäftigt. Der Prozess wird nicht nur dadurch verzögert, dass ich viel für meinen Lebensunterhalt arbeite und mein eigenes Haus renoviere, sondern auch dadurch, dass es mir immer mehr Mühe kostet, die richtigen Materialien zu finden. Erst sind die schwarz-weißen Schwämme verbraucht, sodass ich die orangefarbenen Schwämme weiß färbe. Danach sind die blau-rosa Schwämme nicht mehr in den Niederlanden erhältlich, wohl aber in Deutschland. Einen Tag lang fahre ich als Teil der Quest 30 Dörfer ab, um Schwämme einzusammeln. Nach dem Jahr ist der Tempel fertig, der Kontakt mit Julia allerdings so schlecht geworden, dass sie den Tempel nicht mehr anschauen möchte. Etwas, was mir wohl noch öfter passieren wird.
Je pense que, de toute façon, elle n'a peut-être pas confiance dans l'amour en général. La sculpture suivante est le Temple of Love, un lieu où l'on pourrait trouver la foi en l'amour. Chaque vue à travers ce temple illumine un aspect différent de l'amour. Les couleurs sont le bleu et le rose des garçons et des filles, le noir et le blanc des mariés et l'or et l'argent de l'amour plus avancé. Ensemble, ils forment le conte de fées de ce que pourrait être l'amour. Je construis ce temple depuis plus d'un an. Non seulement le processus est ralenti parce que je suis occupé à gagner de l'argent et à rénover ma propre maison, mais j'ai aussi de plus en plus de mal à trouver les bons matériaux. D'abord, je n'ai plus d'éponges noires et blanches, alors je peins des éponges orange en blanc. Après cela, les éponges bleues et roses, destinées à la toiture, ne sont plus disponibles aux Pays-Bas, mais elles le sont toujours en Allemagne. Dans le cadre de la mission, je me rends dans 30 villages pour collecter les éponges. Après un an, le temple est prêt, mais notre contact s'est tellement détérioré que Julia ne veut plus se déplacer pour le voir. Une chose qui m'arrivera régulièrement plus tard.
At the end of 2010 I finally realize that my relationship with Julia is over.
Eind 2010 besef ik dat het echt over is.
Ende 2010 begreife ich, dass es wirklich vorbei ist.
Fin 2010, je me rends à l'évidence que c'est vraiment terminé.
At a New Year's drink in early 2011, I meet Lisa. She is a goldsmith, pretty and ten years younger than I am. I enjoy going to exhibitions with her, talking about art, lying in bed and making love, going into nature. In that respect, we fit together well. I have to get used to her smile, it seems to hide a great deal of unprocessed sorrow. I feels a bit forced, something I recognize from my own past. But seeing my temple gives her confidence and I decide to give her mine as well.
Op een nieuwsjaarborrel begin 2011 ontmoet ik Lisa. Een knappe vrouw en tien jaar jonger dan ik. Ze is goudsmid. Het is leuk om samen naar openingen te gaan en over kunst te praten, in bed te liggen en te vrijen, of er samen op uit te gaan in de natuur. Wat dat betreft passen we goed bij elkaar. Ik moet even wennen aan haar glimlach, want daar lijkt veel onverwerkt leed in verborgen te zijn en dat heeft iets geforceerds. Iets wat ik herken van mezelf van vroeger. Maar als zij mijn tempel ziet, geeft haar dat vertrouwen en dat besluit ik dan haar ook te geven.
Bei einem Silvesterumtrunk Anfang 2011 lerne ich Lisa kennen. Eine schöne Frau und zehn Jahre jünger als ich. Sie ist Goldschmiedin. Es macht Spaß zusammen Eröffnungen zu besuchen, über Kunst zu sprechen, im Bett zu liegen und miteinander zu schlafen oder zusammen in die Natur zu gehen. Diesbezüglich passen wir gut zusammen. Ich muss mich an ihr Lächeln gewöhnen, denn darin scheint viel unverarbeitetes Leid verborgen zu sein und das hat etwas gezwungenes. Etwas, das ich von mir von früher her kenne. Aber als sie meinen Tempel sieht, gibt ihr das Vertrauen und das beschließe ich ihr auch zu geben.
Lors d'une réception du Nouvel An, début 2011, je rencontre Lisa. Une belle femme, de dix ans de moins que moi. Elle est orfèvre. C'est agréable d'aller ensemble à des vernissages et de parler d'art, de s'allonger au lit et de faire l'amour, ou de se promener ensemble dans la nature. A ce niveau, nous nous entendons bien. Je dois m'habituer à son sourire, parce qu'il semble y avoir beaucoup de souffrance non résolue qui s'y cache, ce qui en fait un sourire un peu forcé. C'est quelque chose que je reconnais de moi-même, de mon passé. Mais lorsqu'elle voit mon temple, cela lui donne cette confiance et c'est alors ce que je décide de lui donner.
Now that I have produced a temple, I feel I should also make an altar. After all, these are two things that go together. However, I am somewhat hesitant, as something is also often sacrificed on an altar.
Nu ik een tempel heb gemaakt, vind ik dat ik eigenlijk ook een altaar moet maken. Dat zijn immers twee zaken die bij elkaar horen. Ik ben een beetje huiverig, want meestal wordt er op een altaar ook iets geofferd.
Wo ich nun einen Tempel gemacht habe, finde ich, dass ich eigentlich auch einen Altar machen muss. Das sind schließlich zwei Dinge, die zusammengehören. Ich bin etwas zögerlich, denn meistens wird etwas auf einem Altar geopfert.
Maintenant que j'ai fait un temple, je trouve que je dois aussi faire un autel. Après tout, ce sont deux choses qui vont ensemble. Je suis un peu hésitant, parce que d'habitude on sacrifie quelque chose sur un autel.
Meanwhile, Lisa becomes pregnant. It wasn't planned but nevertheless, we are happy with the news. Since we still live in our own separate places, we need to merge our lives at high speed. This turns out to be harder than initially imagined. During our babymoon our relationship starts falling apart. Angry and in silence, we drive home before Lisa returns to her own apartment. Despite my desperate attempts to change her mind, she decides to terminate the pregnancy.
Ondertussen is Lisa zwanger geworden. Niet gepland, maar we zijn er toch blij mee. Omdat we nog apart wonen, moeten we nu in hoog tempo onze levens gaan samenvoegen. Dit blijkt toch moeilijker dan we dachten. Tijdens onze babymoon spat de relatie uit elkaar, we rijden boos en zwijgend naar huis en Lisa vertrekt naar haar appartement. Ze besluit het kindje weg te laten halen, ondanks mijn verwoede pogingen om haar nog op andere gedachten te brengen.
Inzwischen ist Lisa schwanger geworden. Nicht geplant, aber wir freuen uns dennoch. Weil wir noch getrennt wohnen, müssen wir nun also unsere Leben in einem rasanten Tempo zusammenfügen. Das scheint doch schwieriger als wir dachten. Während unseres Babymoons bricht die Beziehung auseinander, wir reisen sauer und schweigend nach Hause und Lisa zieht in ihre Wohnung. Sie beschließt, das Kind wegmachen zu lassen trotz meiner wütenden Versuche, sie noch umzustimmen.
Entre-temps, Lisa est tombée enceinte. Ce n'est pas prévu, mais nous en sommes quand même contents. Parce que nous vivons toujours à part, nous devons maintenant réunir nos vies dans la précipitation. Cela s'avère plus difficile que nous le pensions. Pendant notre babymoon, la relation se brise, nous rentrons à la maison en colère et en silence et Lisa repart pour son appartement. Elle décide d'avorter, malgré mes tentatives frénétiques pour la faire changer d'avis.
At once it becomes clear what will be sacrificed on the Altar of Love. I don't know how to deal with this, but I decide to follow the path of the golden elephant; to look at myself closely in the mirror and to suffer as I pass the crowds with their many opinions. I follow the star that leads toward wisdom and acceptance before finally arriving at the heart and the protective love.
Nu wordt me duidelijk wat er geofferd gaat worden op het Altar of Love. Ik heb geen idee hoe ik hier mee om moet gaan, maar ik besluit het pad van de gouden olifant te nemen, goed in de spiegel te kijken en te lijden, langs het gepeupel met ieder zijn mening. Ik volg de ster die mij leidt richting de wijsheid en de acceptatie om uit te komen bij het hart en de beschermende liefde.
Jetzt wird mir klar, was auf dem Altar of Love geopfert wird. Ich habe keine Ahnung, wie ich hiermit umgehen soll, aber ich beschließe, den Weg des goldenen Elefanten zu gehen, gut in den Spiegel zu schauen und zu leiden, vorbei an dem Gesindel – jeder mit seiner eigenen Meinung. Ich folge dem Stern, der mich in die Richtung der Weisheit und der Akzeptanz führt, um zum Herzen und der beschützenden Liebe zu gelangen.
Maintenant, je sais ce qui sera sacrifié sur het Altar of Love. Je n'ai aucune idée comment gérer cela, mais je décide de prendre le chemin de l'éléphant doré, de bien me regarder dans le miroir et de souffrir, le long de la population, avec chacun son opinion. Je suis l'étoile qui me conduit vers la sagesse et l'acceptation pour atteindre le cœur et l'amour protecteur.
While we are out of contact with each other, I retreat into my Refuge d'Amour. I decide not to throw jewels before the unappreciative and to keep my love for myself. And although my treasure chest is overflowing, my heart is made of steel. I do not insist but accept that my love for her still exists and I am king of my own feelings.
Terwijl we geen contact hebben, trek ik mij terug in mijn Refuge d'Amour. Ik besluit geen parels voor de zwijnen te werpen en mijn liefde verder voor me te houden. En hoewel de schatkist overloopt, is mijn hart gestaald. Ik dring niet aan, maar accepteer dat mijn liefde voor haar nog bestaat. Ik ben koning over mijn eigen gevoel.
Während wir keinen Kontakt haben, ziehe ich mich in mein Refuge d'Amour zurück. Ich entschließe mich, keine Perlen vor die Säue zu werfen und meine Liebe weiter für mich zu behalten. Und obwohl die Schatzkiste übersprudelt, ist mein Herz stählern. Ich dränge nicht, aber akzeptiere, dass meine Liebe für sie noch besteht. Ich bin König über mein eigenes Gefühl.
Pendant la période où nous n'avons pas de contact, je me retire dans mon Refuge d'Amour. Je décide de ne pas jeter des perles aux pourceaux et de garder cet amour pour moi. Et bien que le coffre au trésor déborde, mon cœur est plus fort. Je n'insiste pas, mais j'accepte que mon amour pour elle existe encore. Je suis roi de mes propres sentiments.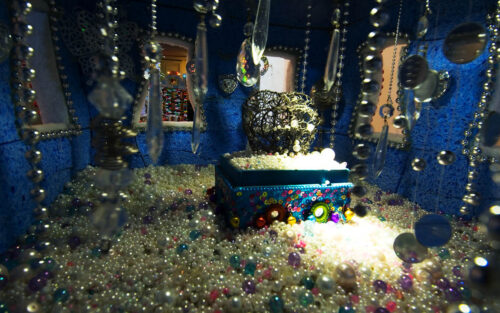 I do, however, write her a letter about how I experienced the day of the abortion. In response to this letter, we get in touch again. We manage to discuss what happened and understand each other better. We decide to start over.
Wel schrijf ik haar nog een brief over hoe ik de dag van de abortus heb beleefd. Naar aanleiding van deze brief komen we toch weer in contact. Het lukt ons om wat gebeurt is te bespreken en met meer begrip voor elkaar, besluiten we om het opnieuw te proberen.
Wohl schreibe ich ihr noch einen Brief darüber, wie ich den Tag der Abtreibung erlebt habe. Aufgrund des Briefs kommen wir doch wieder in Kontakt. Es gelingt uns zu besprechen, was passiert ist und mit gegenseitigem Verständnis entscheiden wir uns, es noch einmal zu probieren.
Toutefois, je lui écris une autre lettre, pour lui raconter comment j'ai vécu le jour de l'avortement. Suite à cette lettre, nous reprendrons contact. Nous arrivons à discuter de ce qui s'est passé et, avec plus de compréhension l'un pour l'autre, nous décidons d'essayer à nouveau.
We try our best for a few months but it doesn't work. Again we end up arguing. Our love is like a Frozen Garden of Love. Lisa is a swan, graceful but haughty. It is cold and the pond is frozen. The cottage has changed into an igloo. Like a faithful but frozen dog, I wait for her so that we can take our places on the bench like a romantic couple. I realize that only by divine intervention and with the help of a procession of angels, will the ball start rolling again. Lisa is angry and her love is frozen.
Enkele maanden doen we ons best, maar het lukt niet. We krijgen toch weer ruzie. Onze liefde is als een Frozen Garden of Love. Lisa als zwaan, sierlijk maar hooghartig. Het is koud en de vijver is bevroren. Het huisje is veranderd in een iglo. Ik sta als een trouw, verkleumd hondje op haar te wachten tot we samen romantisch op het bankje kunnen plaatsnemen. Ik besef echter dat alleen door goddelijk ingrijpen en met hulp van een stoet engeltjes de bal nog zal gaan rollen. Lisa is boos en haar liefde is bevroren.
Einige Monate geben wir unser bestes, aber es klappt nicht. Wir streiten uns doch wieder. Unsere Liebe ist wie ein Frozen Garden of Love. Lisa als Schwan, zierlich aber hochmütig. Es ist kalt und der See ist gefroren. Das Häuschen hat sich in einen Iglu verwandelt. Ich stehe wie ein treues, erstarrtes Hündchen da, warte auf sie, bis wir zusammen romantisch auf einem Bänkchen Platz nehmen können. Ich begreife, dass der Ball nur noch durch göttliches Eingreifen und mit Hilfe von einem Engelsgefolge ins Rollen kommt. Lisa ist sauer und ihre Liebe eingefroren.
Nous faisons de notre mieux pendant quelques mois, mais sans succès. Nous nous disputons à nouveau. Notre amour est comme un Frozen Garden of Love. Lisa comme un cygne, gracieuse mais hautaine. Il fait froid et l'étang est gelé. La maison s'est transformée en igloo. Je me tiens comme un petit chien fidèle et frigorifié qui l'attend, jusqu'à ce que nous nous asseyions ensemble, en amoureux, sur le banc. Cependant, je me rends compte que ce n'est que par une intervention divine et avec l'aide d'un cortège d'anges que la balle roulera à nouveau. Lisa est en colère et son amour est gelé.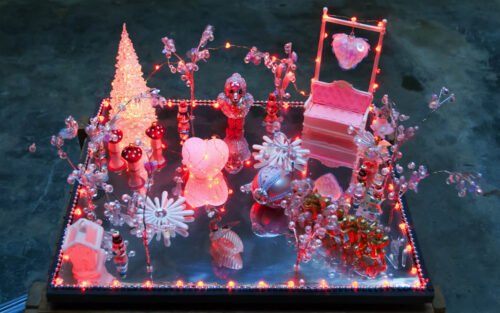 I try to soften Lisa by showing her where we might get to if we could get through this icy period. It is the Garden of Eden, a garden of paradise, where we can sit carelessly among the flowers like a pair of little bears. A feeling of Spring, a new beginning. But she has no interest and doesn't even come to see the work. It is obviously over. I decide it is best to process this loss quickly and not, like before, take over a year to deal with another lost love. In quick succession, I make a few more love houses.
Ik probeer Lisa nog zacht te maken door haar te laten zien waar we terecht kunnen komen als we door de ijsperiode heengaan. Garden of Eden, een paradijselijke tuin, waar we zorgeloos als twee beertjes tussen de bloempjes kunnen zitten. Als een gevoel van lente, een nieuw begin. Maar ze wil er niks van weten en komt het werk niet bekijken. Het is duidelijk over. Ik besluit dit verlies snel te verwerken en niet wéér meer dan een jaar met een verloren liefde bezig te zijn. In hoog tempo maak ik nog een aantal beelden.
Ich versuche Lisa noch zu erweichen, indem ich ihr zeige, wohin wir gelangen können, wenn wir durch die Eisperiode gehen. Garden of Eden, ein paradiesischer Garten, in dem wir sorgenlos wie zwei Bärchen zwischen Blumen sitzen können. Wie ein Frühlingsgefühl, ein neuer Anfang. Aber sie will davon nichts hören und kommt das Werk nicht anschauen. Es ist deutlich vorbei. Ich beschließe, diesen Verlust schnell zu verarbeiten und nicht noch einmal länger als ein Jahr mit einer verlorenen Liebe beschäftigt zu sein. In rasantem Tempo mache ich noch einige Skulpturen.
J'essaie de rendre Lisa plus ouverte, en lui montrant où on pourrait se retrouver si on arrive à traverser cette période glaciale. Le Garden of Eden, un jardin paradisiaque, où l'on peut s'asseoir avec insouciance comme deux oursons entre les fleurs. Comme un sentiment de printemps, un nouveau départ. Mais elle ne veut rien savoir et ne vient pas voir le travail. C'est clairement terminé. Je décide de gérer cette perte rapidement et de ne pas passer une autre année avec un amour perdu. A grande vitesse, je fais d'autres statues.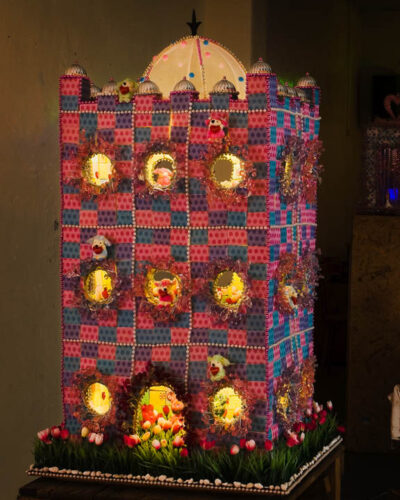 With Crystal Clear Love I research how sincere my love is. Sometimes I doubt whether I am able to love in the right way. But when I create a statue, it becomes clear that perhaps you need to first kiss the frog and then find the diamond of true love inside. In a sweet garden with butterflies and suchlike things…
Met Crystal Clear Love onderzoek ik hoe oprecht mijn liefde is. Soms twijfel ik aan mezelf, of ik wel goed in staat ben om lief te hebben. Maar als ik dan zo'n beeld maak, is het voor mij toch wel helder. Misschien moet je eerst de kikker kussen, maar dan vind je toch wel de diamant van de ware liefde, in een zoet tuintje met vlindertjes en zo… 🙂
Mit Crystal Clear Love untersuche ich, wie aufrichtig meine Liebe ist. Manchmal zweifle ich an mir selbst, ob ich wohl gut im Stande bin lieb zu haben. Aber wenn ich dann so eine Skulptur mache, ist es für mich doch wohl deutlich. Vielleicht muss man erst den Frosch küssen, aber dann findet man doch den Diamanten der wahren Liebe, in einem süßen Gärtchen mit Schmetterlingen und so… 🙂
Avec Crystal Clear Love, j'enquête sur la sincérité de mon amour. Parfois, je doute de moi-même, de ma capacité à aimer. Mais quand j'ai une telle impression, tout est clair pour moi. Il faut peut-être d'abord embrasser la grenouille, mais après tu trouveras le diamant du véritable amour, dans un joli petit jardin avec des papillons et ainsi de suite…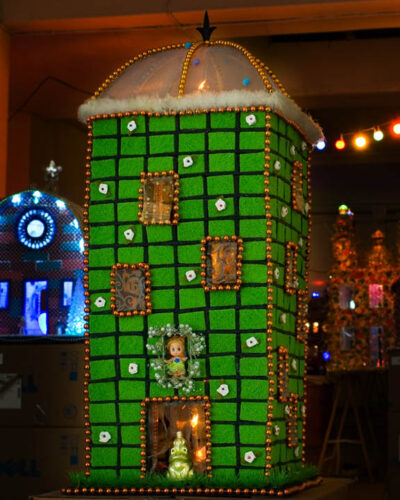 How could I have dealt with this old sorrow that Lisa carried inside her? She didn't want it to be touched, not at any cost. She doesn't want to feel anger as it reminds her of her mother's anger which could last for months. But if you love each other, you can't avoid being angry once in a while. The only thing to do is to give that pain a place within the relationship. The Small Chapel of the Female Suffering, Bounded and Surrounded by Love is like a place where grief can exist, where suffering is not pushed away but surrounded by love. A place where the suffering can soften and the sharpness of the pain can be eased.
Hoe had ik dan om moeten gaan met het oude leed dat Lisa in zich draagt? Zij wil eigenlijk koste wat het kost voorkomen dat het wordt aangeraakt. Het komt er op neer dat ze geen boosheid wil voelen, want dat herinnert haar aan haar moeder die soms wel een half jaar boos kon zijn. Maar af en toe boos zijn daar ontkom je niet aan als je elkaar liefhebt. Er zit dan niets anders op dan die pijn een plek te geven binnen de relatie. De Small Chapel of the Female Suffering, Bounded and Surrounded by Love is als een plaats waar het verdriet kan bestaan.Waar het leed niet wordt weggeduwd maar omringd wordt met liefde, zodat het kan verzachten en de scherpe pijn kan verdwijnen.
Wie hätte ich dann mit dem alten Leid, das Lisa in sich trägt, umgehen müssen? Sie möchte eigentlich verhindern, dass es angefasst wird, koste was es koste. Es läuft darauf hinaus, dass sie keine Wut fühlen will, weil sie das an ihre Mutter erinnern lässt, die manchmal wohl ein halbes Jahr sauer sein konnte. Allerdings kann man dem nicht entkommen, ab und zu sauer zu sein, wenn man sich liebhat. Es bleibt dann nichts Anderes übrig, als dem Schmerz einen Platz innerhalb der Beziehung zu geben. Small Chapel of the Female Suffering, Bounded and Surrounded by Love ist wie ein Platz, an dem die Trauer vorhanden sein kann. Wo das Leid nicht weggeschubst wird, sondern umgeben ist von Liebe, so dass es gelindert werden kann und der beißende Schmerz verschwinden kann.
Comment aurais-je dû gérer les anciennes souffrances de Lisa ? En fait, elle veut à tout prix éviter qu'on les réveille. Le fait est qu'elle ne veut pas ressentir de colère, car cela lui rappelle sa mère, qui peut être fâchée pendant six mois. Mais être en colère de temps en temps fait partie intégrante de l'amour. Il n'y a alors pas d'autre choix que de donner à cette douleur une place dans une relation. La Small Chapel of the Female Suffering, Bounded and Surrounded by Love est comme un lieu où le chagrin à le droit d'exister, où la souffrance n'est pas repoussée mais entourée d'amour, afin qu'elle puisse s'adoucir et que la douleur vive puisse disparaître.
Now it is time to say goodbye. I feel a bit like an orphan, left behind in the frozen house. Lisa enters the world and faces a new adventure. The star continues to shine from the roof in case she wants to find her way back. But I don't expect that. I write her a farewell letter and let her go. Farewell Lisa.
Nu is het tijd om afscheid te nemen. Terwijl ik een beetje verweesd achterblijf in het bevroren huis, stapt Lisa de koude wereld in, een nieuw avontuur tegemoet. Op het dak straalt nog de ster voor als ze haar weg terug zou willen vinden, maar dat verwacht ik niet. Ik laat haar met een mooie afscheidsbrief in liefde gaan. Farewell Lisa.
Jetzt ist es an der Zeit Abschied zu nehmen. Während ich ein bisschen verwaist in dem vereisten Haus zurückgelassen bleibe, tritt Lisa in die kalte Welt hinein, einem neuen Abenteuer entgegen. Auf dem Dach strahlt noch der Stern für den Fall, dass sie den Weg zurückfinden möchte, aber das erwarte ich nicht. Ich lasse sie mit einem schönen Abschiedsbrief in Liebe gehen. Farewell Lisa.
Il est maintenant temps de dire adieu. Pendant que je me sens un peu laissé pour compte dans la maison gelée, Lisa entre dans le monde glacial et se lance dans une nouvelle aventure. Sur le toit, l'étoile brille encore, pour si elle souhaite retrouver son chemin, mais je ne pense pas que cela arrivera. Je la laisse partir, avec beaucoup d'amour et une belle lettre d'adieu. Farewell Lisa.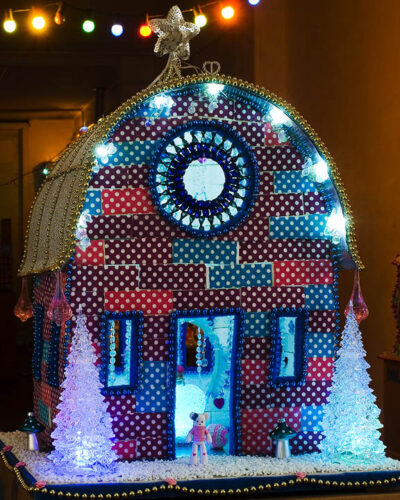 In reaction to my letter, Lisa calls. She wants to be left alone. I am a little surprised. The letter was meant to say goodbye and I would have left her alone. She says she doesn't want any contact, but in her voice I detect something a little different, a small plea. She is imprisoned in her anger. Like a lovely elf, she sits on her cold frozen throne of anger and wants to get off. But in order to do that, to escape her cold angry prison, she needs to stand together with me between the shards and talk about what has happened. But she never will. I cannot help her. Blackbird Love
Lisa belt me op over de afscheidsbrief. Ze wil met rust gelaten worden. Ik ben een beetje verbaasd, omdat de brief juist als afscheid bedoeld was en ik haar dus sowieso met rust zou hebben gelaten. Ze wil geen contact, maar tegelijkertijd denk ik ook wat smekends in haar stem te horen dat over heel iets anders gaat. Ze zit gevangen in haar boosheid. Als een lieflijk elfje zit ze op haar koude troon van ijs en ze wil er af. Maar de enige manier om haar uit haar kille boze gevangenis te krijgen, is om samen tussen de scherven te gaan staan en te praten over wat er nu precies gebeurt is. En dat zal ze nooit doen. Ik kan haar niet helpen. Blackbird Love.
Lisa ruft mich bezüglich des Abschiedsbriefs an. Sie möchte in Ruhe gelassen werden. Ich bin etwas überrascht, da der Brief ja gerade als Abschied gemeint war und ich sie also sowieso in Ruhe gelassen hätte. Sie möchte keinen Kontakt, aber gleichzeitig denke ich etwas Flehendes in ihrer Stimme zu hören, dass etwas ganz Anderes anspricht. Sie ist gefangen in ihrer Wut. Wie ein lieblicher Elf sitzt sie auf ihrem kalten Thron aus Eis und sie möchte diesen verlassen. Aber die einzige Möglichkeit, sie aus ihrem kühlen wütenden Gefängnis zu bekommen, ist zusammen zwischen den Scherben zu stehen und darüber zu sprechen, was eigentlich genau passiert ist. Und das wird sie niemals tun. Ich kann ihr nicht helfen. Blackbird Love.
Lisa m'appelle au sujet de la lettre d'adieu. Elle veut qu'on la laisse tranquille. Je suis un peu surpris car la lettre était un justement une lettre d'adieu et je l'aurais laissée tranquille de toute façon. Elle ne veut pas de contact, mais en même temps je crois entendre dans sa voix quelque chose qui me supplie et qui parle d'une chose complètement différent. Elle est prisonnière de sa colère. Comme une douce petite fée, elle est assise sur son trône de glace et elle veut s'en défaire. Mais la seule façon de la faire sortir de sa prison où règnent la colère et la froideur, est de se tenir ensemble entre les débris et de parler de ce qui s'est passé exactement. Et cela, elle ne le fera jamais. Je ne peux pas l'aider. Blackbird Love.
Now that it's over with Lisa, I feel there is space for something new. I'm not sure I'm ready for a serious relationship immediately after my two failed adventures. But I have this feeling that something could be coming along. Something light like a Hello Kitty and at the same time super-romantic. And then Bang! Anna bursts into my life! She is 21, still at the Art Academy and discovering life in its entirety. Although I don't expect that this will lead to anything serious, I have fallen head over heels in love.
Nu ik klaar ben met Lisa is er weer ruimte voor iets nieuws. Na twee stukgelopen avonturen ben ik echter ook niet weer gelijk klaar voor de volgende serieuze relatie. Toch heb ik het gevoel dat er iets aan komt gevlogen. Iets luchtigs als een Hello Kitty, maar tegelijkertijd ook iets heel romantisch. Dat klopt, Anna knalt mijn leven binnen. Ze is 21, zit nog op de kunstacademie en is volop het leven aan het ontdekken. En hoewel ik geen moment geloof dat dit tot iets serieus gaat leiden, ben ik wel super verliefd.
Jetzt, wo ich mit Lisa abgeschlossen habe, ist wieder Platz für etwas Neues. Nach zwei in die Brüche gegangenen Abenteuern, bin ich allerdings auch nicht sofort wieder bereit für die folgende ernsthafte Beziehung. Dennoch habe ich das Gefühl, dass etwas angeflogen kommt.  Etwas Unbesorgtes wie eine Hello Kitty, aber gleichzeitig auch etwas sehr Romantisches. Das stimmt. Anna stürmt in mein Leben. Sie ist 21, geht noch zur Kunstakademie und entdeckt das Leben in allen Facetten. Und auch, wenn ich in keinem Moment glaube, dass dies zu etwas Ernsthaftem führt, bin ich heftig verliebt.
Maintenant que j'en ai fini avec Lisa, il y a de la place pour quelque chose de nouveau. Mais après deux aventures ratées, je ne suis pas prêt pour la prochaine relation sérieuse. J'ai néanmoins l'impression que quelque chose se prépare. Quelque chose d'aussi léger qu'un Hello Kitty, mais en même temps quelque chose de tout à fait romantique. Ce qui est vrai, car Anna fait irruption dans ma vie. Elle a 21 ans, elle est toujours à l'école d'art et elle explore la vie au maximum. Et même si je ne crois pas un seul instant que cela mènera à quelque chose de sérieux, je suis super amoureux.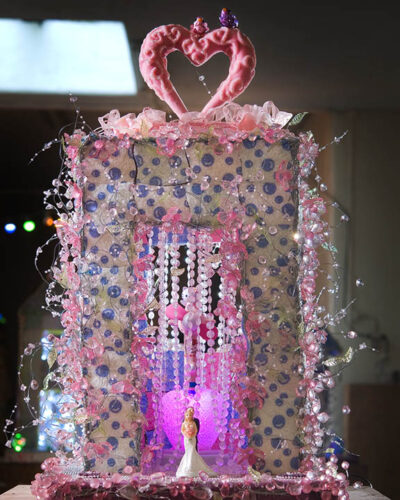 We don't have a lot of contact but I think about her a lot. In the summer she travels by interrail and I, like a teenage boy, decide to fly after her. We meet in Istanbul for a week. I rent a hotel room and wait for her at the bus station. The first hours are fun but soon Anna wants to explore the city by herself. We meet once a day and philosophize about life. Outside of that, we hardly see each other. We go to the Blue Mosque, the Topkapi Palace and the Grand Bazaar separately.
Heel veel contact hebben we niet, maar ik ben in mijn gedachten veel met haar bezig. Als ze in de zomer gaat interrailen, besluit ik haar als een verliefde puber achterna te vliegen. In Istanbul spreken we voor een weekje af. Ik huur een hotelkamer en wacht haar op bij het busstation. De eerste uren is het nog leuk, maar al gauw wil Anna haar eigen gang gaan. Een keer per dag hebben we contact en filosoferen we over het leven, maar verder zien we elkaar weinig. We gaan apart naar de Blauwe moskee, het Topkapi paleis en de Grand Bazaar.
Sehr viel Kontakt haben wir nicht, aber ich bin gedanklich viel mit ihr beschäftigt. Als sie im Sommer eine Interrailreise macht, entschließe ich mich wie ein verliebter Teenager, ihr hinterherzufliegen. In Istanbul verabreden wir uns für eine Woche. Ich miete ein Hotelzimmer und warte an der Bushaltestelle auf sie. In den ersten Stunden ist es noch toll, aber schnell will Anna ihr eigenes Ding durchziehen. Einmal am Tag haben wir Kontakt und philosophieren über das Leben, aber darüber hinaus sehen wir uns wenig. Wir gehen getrennt zur Blauen Moschee, zum Topkapi Palast und zum Großen Basar.
Nous n'avons pas vraiment de contact, mais mon esprit est très occupé par elle. Quand, en été, elle part parcourir les pays en train, je décide de la suivre, comme un adolescent amoureux. A Istanbul, nous nous retrouvons pendant une semaine. Je loue une chambre d'hôtel et je l'attends à la gare routière. Les premières heures, c'est encore sympa, mais bientôt Anna veut suivre son propre chemin. On se parle une fois par jour et on philosophe sur la vie, mais à part cela, on ne se voit pas beaucoup. Nous allons séparément à la Mosquée Bleue, au Palais de Topkapi et au Grand Bazar.
On the second to last day I tell her that I have really come to Istanbul Für Anna. We decide to go on a boat trip to one of the Princes' Islands. It is a magical, romantic trip, as if we are living in a different reality. We wander around the island and find an abandoned villa. When we sneak in, the house turns out to be empty, except for two corner sofas. We decide to let the last boat leave without us, buy wine and candles and swim in the moonlight between the jellyfish, that uniquely don't sting. At night we go to the villa and put the corner sofas together. In the morning we wake up, smoke a cigarette on the porch and walk down twenty meters to the sea for a swim. For a moment there is a feeling of complete harmony and we are totally absorbed in each other and our adventure. It feels like we are dancing in a fairytale palace and the rest of the world no longer exists. Then we go back to Istanbul, Anna continues her trip to Bulgaria and I go home.
Op de één na laatste dag zeg ik dat ik toch echt wel Für Anna naar Istanbul ben gekomen. Daarop besluiten we om samen een boottochtje naar een van de Prinseneilanden te maken. Het wordt een magische, romantisch trip, alsof we in een andere werkelijkheid leven. We zwerven over het eiland en vinden een onbewoonde villa. Als we naar binnen sluipen, is het huis leeg maar staan er nog wel twee hoeksofa's. We besluiten de laatste boot te laten vertrekken, kopen wijn en kaarsen en zwemmen 's avonds in het licht van de maan nog tussen de kwallen, die ons op onnavolgbare wijze niet steken. 's Nachts sluipen we opnieuw het huis binnen en schuiven de hoeksofa's tegen elkaar aan. Als we in de ochtend wakker worden in onze villa, roken we op de veranda een sigaret en lopen dan 20 meter naar beneden om te zwemmen in de zee. Even is er die volstrekte harmonie en gaan we volledig op in elkaar en ons avontuur. Het is alsof we dansen in een sprookjespaleis en de rest van de wereld niet meer bestaat. Daarna gaan we terug naar Istanbul, Anna door naar Bulgarije en ik naar huis.
Am vorletzten Tag sage ich, dass ich doch wirklich Für Anna nach Istanbul gekommen bin. Daraufhin beschließen wir, zusammen eine Bootstour zu einen der Prinzeninseln zu machen. Es wird ein magischer, romantischer Ausflug, als ob wir in einer anderen Wirklichkeit leben. Wir streunen über die Insel und finden eine unbewohnte Villa. Als wir hineinschleichen, ist es leer, aber es sind wohl noch zwei Ecksofas vorhanden. Wir entschließen uns, das letzte Boot davonziehen zu lassen, kaufen Wein und Kerzen und schwimmen abends noch im Mondlicht zwischen Quallen, die uns auf wundersame Weise nicht stechen. Nachts schleichen wir erneut in das Haus und schieben die Ecksofas aneinander. Als wir morgens in unserer Villa erwachen, rauchen wir auf der Veranda eine Zigarette und laufen dann 20 Meter nach unten, um im Meer zu schwimmen. Einen kurzen Augenblick lang herrscht völlige Harmonie und verlieren wir uns völlig einander und in unserem Abendteuer. Es ist, als würden wir in einem Märchenschloss tanzen und der Rest der Erde würde nicht mehr existieren. Danach gehen wir zurück nach Istanbul, Anna weiter nach Bulgarien und ich nach Hause.
L'avant-dernier jour, je lui dis quand même qu'à la base, j'étais venu à Istanbul Für Anna. Alors nous décidons de faire un voyage en bateau ensemble vers une des Iles des Princes. Ce sera un voyage magique et romantique, comme si nous vivions dans un autre monde. Nous nous promenons sur l'île et trouvons une villa inhabitée. Quand on se faufile à l'intérieur, la maison est vide mais il y a encore deux canapés d'angle. Nous décidons de laisser partir le dernier bateau, achetons du vin et des bougies et le soir, nous nageons au clair de lune parmi les méduses, qui, bizarrement, ne nous piquent pas. La nuit, nous nous faufilons à nouveau dans la maison et poussons les canapés l'un contre l'autre. Lorsque nous nous réveillons dans notre villa le matin, nous fumons une cigarette sur la véranda et nous descendons ensuite de 20 mètres pour aller nager dans la mer. Pendant un moment, il y a cette harmonie complète et nous sommes totalement absorbés l'un par l'autre et par notre aventure. C'est comme si nous dansions dans un palais de conte de fées et que le reste du monde n'existait plus. Puis nous retournons à Istanbul, Anna part pour la Bulgarie et moi, je rentre à la maison.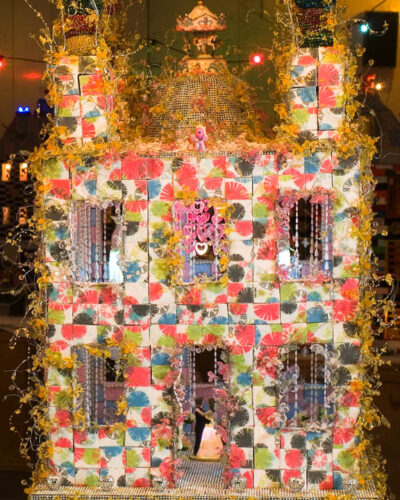 Once I'm back home, I still think about Anna. Inspired by the gate of the Dolmabahçe palace, I make the Dark Gate of Love. I would be like a king if I could lead Anna by my side through this gate. A powerful feeling! Two adventurers traveling through life, conquering everyone and everything! A world full of excitement and adventure would lie at our feet. But I am home again and my daughter has to go to school. Thus ends this summer love.
Eenmaal thuis aangekomen, mijmer ik nog door over het samenzijn met Anna. Geïnspireerd door de poort van het Dolmabahce paleis, maak ik de Dark Gate of Love. Ik zou me echt de koning te rijk voelen als ik Anna aan mijn zijde door deze poort zou kunnen voeren. Een machtig gevoel!! Als avonturiers zouden we door het leven trekken, iedereen en alles overwinnend. De wereld vol spanning en avontuur, zou aan onze voeten liggen. Maar ik ben weer thuis en mijn dochter moet naar school. Zo eindigt deze zomerliefde.
Einmal zu Hause angekommen, träume nicht noch weiter über das Zusammensein mit Anna. Inspiriert durch das Tor des Dolmabahce Palasts erstelle ich das Dark Gate of Love. Ich würde mich wie der König der Welt fühlen, wenn ich Anna an meiner Seite durch dieses Tor führen könnte. Ein mächtiges Gefühl!! Als Abendteurer würden wir durch das Leben ziehen, jeden und alles überwindend. Die Welt voller Spannung und Abendteuer würde zu unseren Füßen liegen. Aber ich bin wieder zu Hause und meine Tochter muss zur Schule. So endet diese Sommerliebe.
Une fois à la maison, je songe à Anna et à quand nous étions ensemble. Inspiré par le portail du palais de Dolmabahce, je fabrique la Dark Gate of Love. Je me sentirais vraiment comme le roi du monde si seulement je pouvais mener Anna à travers ce portail, à mes côtés. Quel sentiment puissant ! En tant qu'aventuriers, nous traverserions la vie, en conquérant tout et tout le monde. Le monde de la passion et de l'aventure serait à nos pieds. Mais je suis de nouveau à la maison et ma fille doit aller à l'école. C'est ainsi que se termine cet amour d'été.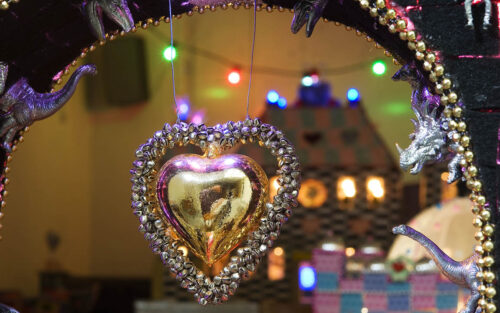 After this adventure, I wander around in a "loveless" no man's land. I often hang out with Eva, the first person I rented a room to in 2006, while she was studying at the Art Academy. I always had a soft spot for her. Although we have gone out together a lot, we have never been more than friends. Recently, her relationship also ended and we regularly roam the city together. One evening, when we have a drink after an opening and everyone has gone home, we suddenly start kissing. It doesn't go any further than that. I'm not sure why Eva does this, it looks like she's floating in her own unreachable bubble. For me it was surely a real Kiss of Love.
Na dit avontuur dwaal ik een beetje rond in een soort "loveloos" niemandsland. Ik ga uit met Eva. Zij was de eerste persoon aan wie ik een kamer verhuurde in 2006, toen ze nog studeerde op de kunstacademie en al heel lang heb ik een zwak voor haar. Vaak zijn we er samen op uitgetrokken, maar meer dan vrienden zijn we nooit geworden. Haar relatie is ook uit dus we zwerven regelmatig samen door de stad. Op een avond, als we na een opening nog wat gaan drinken en iedereen al naar huis is, staan we opeens te zoenen. Daar blijft het bij. Ik weet niet goed waarom Eva dit doet, het lijkt of ze in een eigen onbereikbaar bubbeltje zweeft. Voor mij was het in ieder geval een echte Kiss of Love.
Nach diesem Abendteuer irre ich ein bisschen durch eine Art "loveloses" Niemandsland. Ich gehe aus mit Eva. Sie war die erste Person, an die ich ein Zimmer vermietete in 2006, als sie noch an der Kunstakademie studierte und ich schon lange eine Schwäche für sie habe. Oft sind wir zusammen losgezogen, aber mehr als Freunde sind wir nie geworden. Ihre Beziehung ist auch vorbei, also ziehen wir regelmäßig zusammen um die Häuser. Eines Abends, als wir nach einer Eröffnung noch etwas trinken gehen und alle anderen schon nach Hause gegangen sind, küssen wir uns auf einmal. Dabei bleibt es. Ich weiß nicht genau, warum Eva das macht, es scheint als schwebe sie in einer eigenen unerreichbaren Blase. Für mich war es aber auf jeden Fall ein echter Kiss of Love.
Après cette aventure, j'erre dans une sorte de no man's land "sans amour". Je sors avec Eva. Elle a été la première personne à qui j'ai loué une chambre en 2006, alors qu'elle étudiait encore à l'académie d'art et depuis longtemps j'ai un faible pour elle. Nous sommes souvent sortis ensemble, mais nous ne sommes jamais devenus plus que des amis. Sa relation est également terminée, alors nous nous baladons régulièrement ensemble dans la ville. Soudainement, un soir, alors que nous prenons un verre après une inauguration et que tout le monde est déjà rentré, nous nous embrassons. C'est tout. Je ne sais pas pourquoi Eva fait ça, c'est comme si elle flottait dans sa propre bulle, inaccessible. En tout cas pour moi, c'était un vrai Kiss of Love.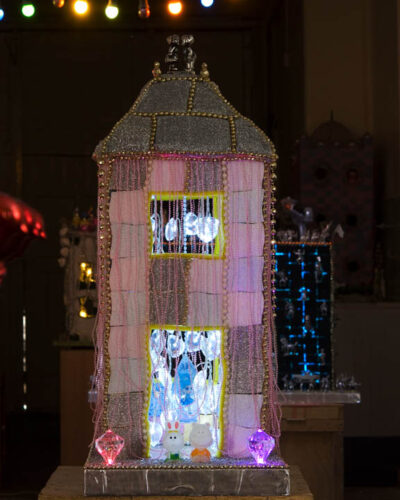 Things become awkward between us after this. We kissed… now what? I could try to start a relationship with her, but I am afraid that's not what she wants. But then why did she kiss me so thoughtlessly? I am not a stranger she will never see again. I notice that I am angry with her over this, but there isn't much I can do. It's best I let this pass if I want to remain friends with Eva. It feels like Jonah's Love, sacrificing himself to save the ship.
De situatie met Eva is nu een beetje ongemakkelijk. We hebben gezoend, en dan? Ik kan proberen een relatie met haar te gaan, maar ik vrees dat ze dat niet wil. Waarom heeft ze dan wel zo ondoordacht met mij staan zoenen? Ik ben geen vreemde voor haar die ze verder niet meer hoeft zien. Ik ben er boos over merk ik, maar veel is er niet aan te doen. Als ik de vriendschap met Eva wil behouden, kan ik dit feest beter voorbij laten gaan. Het voelt als Jonah's Love die zich opoffert om het schip te redden.
Die Situation mit Eva ist nun etwas unbehaglich. Wir haben uns geküsst und jetzt? Ich kann versuchen mit ihr zusammenzukommen, aber ich befürchte, dass sie das nicht möchte. Warum hat sie mich dann wohl so unüberlegt geküsst? Ich bin kein Fremder für sie, den sie nicht mehr sehen muss. Ich bin wütend darüber, merke ich, aber es lässt sich nicht ändern. Als ich die Freundschaft mit Eva beibehalten möchte, kann ich das Fest besser beenden. Es fühlt sich wie Jonah's Love an, der sich aufopfert um das Schiff zu retten.
La situation avec Eva est devenue un peu inconfortable. Nous nous sommes embrassés, et puis quoi ? Je peux essayer de nouer une relation avec elle, mais j'ai peur qu'elle ne le veuille pas. Alors pourquoi m'a-t-elle embrassé de façon si irréfléchie ? Je ne suis pas un étranger qu'elle ne verra plus jamais. Je remarque que je suis en colère, mais je ne peux pas y faire grand-chose. Si je veux conserver mon amitié avec Eva, je ferais mieux de laisser tomber. On dirait Jonah's Love qui se sacrifie pour sauver le bateau.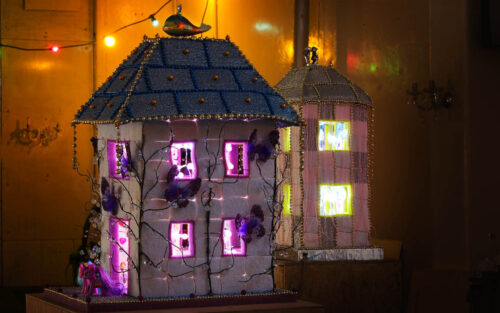 After this series of disappointments, I am tired of everything. Ice Cream Love, my heart is frozen. The inside has turned to ice. There is a guard dog in front of the door. Screw you guys! I'm done with it! Once again it's winter in Loveland.
Na deze serie van teleurstellingen ben ik het wel een beetje zat. Ice Cream Love, maar mijn hart is bevroren. Van binnen is het verijsd, ik zet een waakhond voor de deur en iedereen kan het dak op. Ik heb er genoeg van! Opnieuw is het winter in Loveland.
Nach dieser Serie von Enttäuschungen habe ich es satt. Ice Cream Love, aber mein Herz ist gefroren. Von innen ist es vereist, ich platziere einen Wachhund vor die Tür und jeder kann auf das Dach. Ich habe genug davon! Erneut ist es Winter in Loveland.
Après cette série de déceptions, j'en ai un peu marre. Ice Cream Love, mais mon cœur est gelé. Intérieurement je suis gelé, j'ai mis un chien de garde devant la porte et tout le monde peut aller se promener. J'en ai assez ! Une fois de plus, c'est l'hiver à Loveland.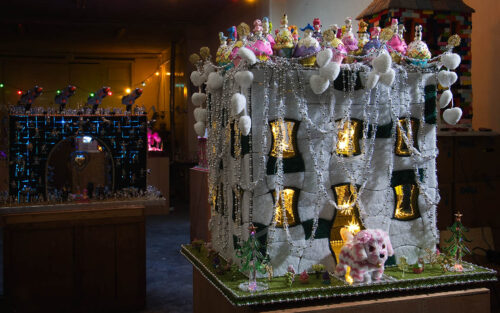 But I know I won't be able to keep that up for long. The game of flirting, attracting, repelling and conquering is too much fun! I Love It!! During a party, I look around for the most attractive girls and soon, under the influence of beer and testosterone, I am back on my throne again. A dangerously sharp throne for sure, but the gate is open again. Bring it on!!!
Maar goed, lang houd ik dat toch ook weer niet vol. Het spel van flirten, aantrekken, afstoten en veroveren, is daar toch te leuk voor. I Love It!! Tijdens een feestje kijk ik om me heen naar de meest aantrekkelijke meisjes en onder invloed van bier en testosteron zit ik al gauw weer op mijn troon. Een gevaarlijk scherpe troon dat wel, maar de poort staat weer open. Laat ze maar komen!!
Nun gut, lange halte ich das auch schon wieder nicht aus. Das Spiel des Flirtens, Anziehens, Abstoßens und Eroberns ist doch zu schön. I Love It!! Während einer Party schaue ich mich nach den attraktivsten Mädchen um und unter dem Einfluss von Bier und Testosteron sitze ich schon rasch wieder auf meinem Thron. Einem gefährlich scharfen Thron, das schon, aber das Tor steht wieder offen. Lass sie ruhig kommen!!
De toute façon, ça ne durera pas longtemps. Le jeu de flirter, d'attirer, de repousser et de conquérir, c'est beaucoup trop amusant. I Love It ! Pendant une fête, je regarde autour de moi les filles les plus séduisantes et sous le coup de la bière et de la testostérone, je suis rapidement de retour sur mon trône. C'est un trône dangereusement pointu, mais le portail est à nouveau ouvert. Laisse-les venir !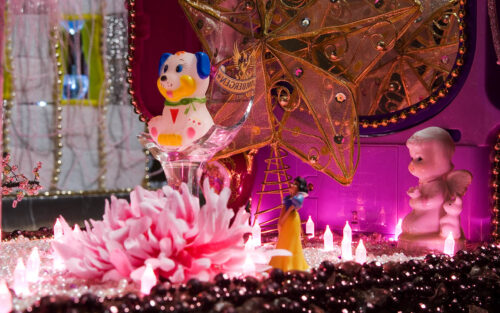 And along comes Hilde. For a while now, I have noticed her walking around the schoolyard when I bring Tjorven to school. She has a son, Mozes, who is two years younger than my daughter. Hilde is 31 and works at a primary school. Apparently she has noticed me too, because when I find the courage to speak to her, it's already at the third sentence that she asks me when we'll go for a beer. Like a Pirate Love, she conquers me and simultaneously throws herself at my feet, like a fluffy bunny. She is untamed and loves it when things go wild, and on the other hand she is extremely sensitive when I touch her. She is hard and soft at once, I think it's a miracle.
En Hilde komt. Ik zie haar al een tijdje op het schoolplein rondlopen als ik Tjorven naar school breng. Ze heeft een zoontje, Mozes, die twee jaar jonger is dan mijn dochter. Ze is 31 en werkt op een basisschool. Blijkbaar ben ik haar ook opgevallen, want als ik haar durf aan te spreken, vraagt ze bij de derde zin al of we 's avonds een biertje zullen gaan drinken. Als een Pirate Love verovert ze me en tegenlijkertijd werpt zich als een soort pluizig fluffy konijntje aan mijn voeten. Ze is ongetemd en houdt ervan als het er wild aan toegaat, maar ze is aan de andere kant ultragevoelig voor aanraking. Ze is hard en zacht tegelijk, ik vind het een wonder.
Und Hilde komt. Ich sehe sie schon eine Zeit lang auf dem Schulhof rumlaufen, wenn ich Tjorven zur Schule bringe. Sie hat einen Sohn, Mozes, der zwei Jahre jünger ist als meine Tochter. Sie ist 31 und arbeitet an einer Grundschule.Anscheinend bin ich ihr auch aufgefallen, denn als ich mich traue, sie anzusprechen, fragt sie beim dritten Satz schon, ob wir abends ein Bier trinken gehen sollen. Wie ein Pirate Love erobert sie mich und wirft sich wie eine Art flaumig fluffiges Kaninchen zu meinen Füßen. Sie ist ungezähmt und mag es, wenn es wild von Statten geht, aber sie ist auf der anderen Seite ultrasensibel für Berührungen. Sie ist gleichzeitig hart und weich, für mich ein Wunder.
Puis Hilde arrive. Je l'ai vue se promener dans la cour d'école quand j'emmène Tjorven à l'école. Elle a un fils, Mozes, de deux ans de moins que ma fille. Elle a 31 ans et travaille dans une école primaire. Apparemment, elle m'a remarquée aussi, car lorsque j'ose lui parler, elle me demande déjà à la troisième phrase si on va prendre une bière le soir. Comme un Pirate Love, elle me séduit et en même temps elle se jette à mes pieds comme un lapin en peluche. Elle est farouche et adore quand c'est sauvage, mais d'un autre côté, elle est ultrasensible quand on la touche. Elle est à la fois dure et douce, je pense que c'est un miracle.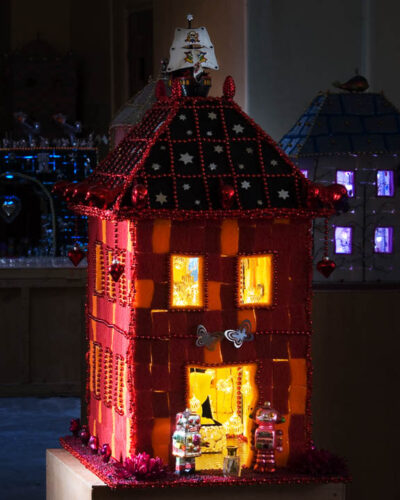 What a Fête d'Amour. I am irresistibly attracted by her fertility. We make love like crazy. No matter from which side we come, the door is open for building a new nest. We dream about living together and having more children, we are in love. From deep within, I cheer!
En wat een Fête d'Amour. Onweerstaanbaar word ik aangetrokken door haar fertiliteit. We vrijen er op los. Van welke kant we ook komen, de deur staat open voor het bouwen van een nieuw nestje. We dromen over samenwonen en nog meer kinderen, we zijn dolverliefd. Van binnen juich ik!
Und was für eine Fête d'Amour. Unwiderstehlich werde ich durch ihre Fruchtbarkeit angezogen. Wir vögeln drauflos. Von welcher Seite wir auch kommen, die Tür steht offen für das Bauen eines neuen Nestes. Wir träumen über das Zusammenwohnen und noch mehr Kinder, wir sind über beide Ohren verliebt. Innerlich jubel ich!
Et quelle Fête d'Amour ! Je suis irrésistiblement attiré par sa fertilité. On n'arrête pas de faire l'amour ! Quel que soit le chemin que nous prenons, la porte est grande ouverte pour bâtir un nouveau nid. Nous rêvons de vivre ensemble et d'avoir plus d'enfants, nous sommes follement amoureux. A l'intérieur, je jubile !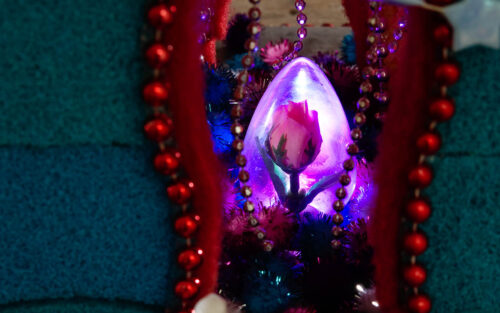 This feels like a Natural Love. There is a current that indicates that our bodies want to be close to each other. Together with our children we are the happy family, we fit together perfectly. Physically, but also in terms of lifestyle. We love the free elements: water, air, earth and fire. Not sterile, but lively and free. We swim in the water like a bunch of happy duckies.
Dit voelt als een Natural Love. Er is een onderstroom die aangeeft dat onze lijven graag bij elkaar in de buurt willen zijn. Wij zijn samen met onze kindjes het perfecte gezin, we passen precies bij elkaar. Lichamelijk, maar ook qua levensstijl. We houden van de vrije elementen; water, lucht, aarde en vuur. Vooral niet steriel maar levendig en vrij. Als een groepje blije eendjes zwemmen we in het water.
Das fühlt sich wie eine Natural Love an. Es gibt einen Sog, der angibt, dass unsere Körper gerne in der Nähe des anderen sein wollen. Wir sind zusammen mit unseren Kindern die perfekte Familie, wir passen perfekt zusammen. Körperlich, aber auch was den Lebensstil angeht. Wir mögen freie Elemente; Wasser, Luft, Erde und Feuer. Vor allem nicht steril, aber lebendig und frei. Wie eine fröhliche Entengruppe schwimmen wir durch das Wasser.
Cela ressemble à Natural Love. Le courant passe et nous indique que nos corps veulent être proches I' un de I' autre. Avec nos enfants, nous formons une famille parfaite, nous nous complétons à merveille. Physiquement, mais aussi en termes de style de vie. Nous aimons les éléments libres : l'eau, l'air, la terre et le feu. Surtout pas stérile, mais vivant et libre. Comme un groupe de canards heureux, nous nageons dans l'eau.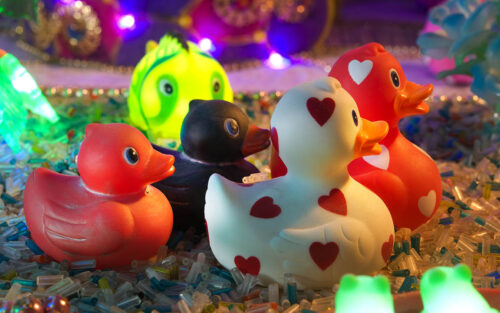 I do something stupid! In my fear of losing Hilde, I put too much emotional pressure on her. She was on her way to an ayahuasca ceremony and I was afraid that – under the influence of the drugs – she would have experiences that would be much nicer and more intense than our still tender love. I thought everything would fade, so I completely freaked out. Like a little child, I wanted her to stay home. I reacted like a scared rabbit. Sorry, Sweetheart.
Ik heb iets stoms gedaan!! In mijn angst om Hilde te verliezen, heb ik haar emotioneel te veel onder druk gezet. Ze was op weg naar een ayahuasca ceremonie van een week en ik was bang dat ze onder de invloed van de drugs ervaringen zou hebben die veel mooier en intenser zouden zijn dan onze nog prille liefde. Ik dacht dat alles zou verbleken, dus ik flipte helemaal uit. Als een klein kind stond ik te stampvoeten dat ze thuis moest blijven. Angsthaas die ik ben! Sorry Sweetheart.
Ich habe etwas Dummes getan!! In meiner Angst, Hilde zu verlieren, habe ich sie emotional zu sehr unter Druck gesetzt. Sie war unterwegs zu einer einwöchigen Ayahuasca-Zeremonie und ich hatte Angst, dass sie unter Einfluss der Drogen Erfahrungen machen würde, die viel schöner und intensiver wären als unsere noch frische Liebe. Ich dachte, dass alles verblassen würde, also flippte ich total aus. Wie ein kleines Kind stampfte ich auf, dass sie zu Hause bleiben sollte. Angsthase, der ich bin! Sorry Sweetheart.
J'ai fait quelque chose de stupide ! Dans ma peur de perdre Hilde, je lui ai mis trop de pression émotionnelle. Elle se rendait à une cérémonie d'ayahuasca pendant une semaine et j'avais peur qu'elle fasse, sous l'influence de drogues, des expériences qui seraient beaucoup plus belles et intenses que notre très jeune relation. Je pensais que tout allait se dissiper, alors j'ai paniqué. Comme un petit enfant, je trépignais en lui disant de rester à la maison. Quel froussard ! Sorry Sweetheart.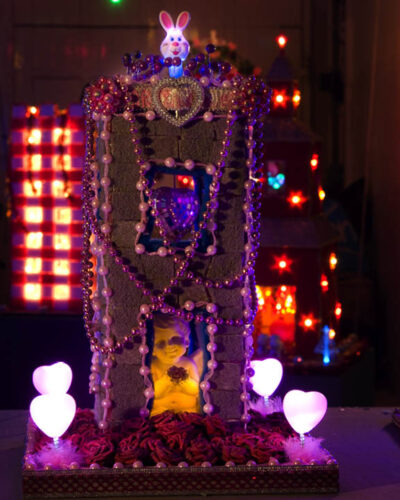 Hilde has doubts…. Do I really love her? She has to think hard whether she sees a future with me or not, she would like to have the opportunity to look into a crystal ball. And me? Together with Moses and Tjorven I stand inside shouting very loudly I Love You!! We do want to continue. Lovely elf, please come in! It is obvious that I love you. Aren't we soft fluffy balls together!!?
Hilde twijfelt…. Houd ik wel van haar? Ze moet hard nadenken of ze met mij een toekomst heeft, het liefst zou ze in een glazen bol kijken. En ik? Ik sta binnen heel hard I Love You!! te roepen, samen met Mozes en Tjorven. Wij willen graag door. Lieftallig elfje komt alsjeblieft binnen! Het is toch duidelijk dat ik van je houd. Wij zijn samen toch zachte pluizenbolletjes!!?
Hilde zweifelt…. Liebe ich sie wohl? Sie muss ernsthaft nachdenken, ob sie mit mir eine Zukunft hat, am liebsten würde sie in eine Glaskugel schauen. Und ich? Ich rufe innerlich sehr laut I Love You!!, zusammen mit Mozes und Tjorven. Wir möchten gerne, dass es weitergeht. Lieblicher Elf, komme bitte herein! Es ist doch deutlich, dass ich dich liebe. Wir sind zusammen doch weiche Fusselbälle!!?
Hilde doute…. Est-ce que je l'aime ? Elle doit bien réfléchir si elle a un avenir avec moi ; elle aurait aimé pouvoir regarder dans une boule de cristal. Et moi ? Je suis là, en train de crier très fort  I Love You!! ensemble avec Mozes et Tjorven. Nous aimerions tous aller de l'avant. Jolie fée, rentre, s'il te plaît ! Il est évident que je t'aime. Ensemble, ne sommes-nous pas des peluches toutes douces ?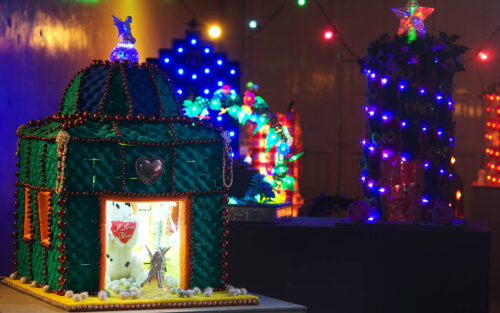 I'm so madly In Love. It drives me crazy, and at the same time the world is completely pink!
Ik ben zo erg In Love. Ik word er gek van, maar tegelijkertijd is de wereld compleet roze!!!
Ich bin so stark In Love. Ich werde verrückt davon, aber gleichzeitig ist die Welt komplett rosa!!!
Je suis tellement In Love. Ça me rend fou, mais en même temps, le monde est complètement rose.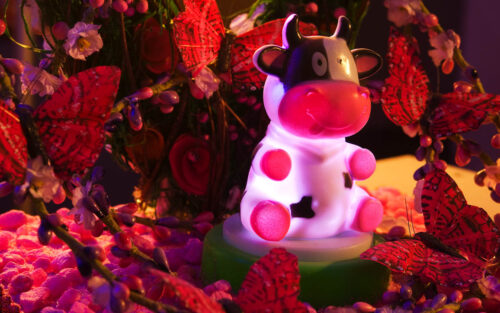 But Hilde still has doubts…
En Hilde twijfelt nog steeds…..
Und Hilde zweifelt noch immer….
I try to explain to her that we came together physically very quickly, but that our Spiritual Love is more turtle-paced. Developing a love like this takes time and sometimes there is friction before love becomes wise and serene. Let's trust our inner source, don't stop it, let it flow. My pleas don't help. Hilde ends the relationship!
Ik probeer haar duidelijk te maken dat we lichamelijk wel snel bij elkaar zijn gekomen, maar dat onze Spiritual Love meer een schildpadtempo heeft. Zoiets heeft tijd nodig en soms komt er ook onenigheid bij kijken voor de liefde wijs en sereen wordt. Maar laten we vertrouwen op onze innerlijke bron. Houd het niet tegen, laat het stromen… Mijn pleidooi helpt niet. Hilde maakt het uit!!!
Ich versuche ihr deutlich zu machen, dass wir körperlich wohl schnell zueinandergekommen sind, aber das unsere Spiritual Love sich eher in einer Schildkrötengeschwindigkeit bewegt. So etwas benötigt Zeit und manchmal kommt auch Uneinigkeit dazu, bevor die Liebe weise und erhaben wird. Aber lass uns auf unsere innerlichen Quellen vertrauen. Halte es nicht gegen, lasse es strömen… Mein Plädoyer hilft nicht. Hilde macht Schluss!!!
Je tente de lui faire comprendre que, bien que nous nous soyons rapprochés physiquement assez rapidement, notre Spiritual Love va à un rythme de tortue. Une telle chose prend du temps et il y a parfois des désaccords avant que l'amour ne devienne sage et serein. Mais faisons confiance à notre source intérieure. Ne l'arrête pas, laisse venir… Mon plaidoyer n'aide pas. Hilde rompt !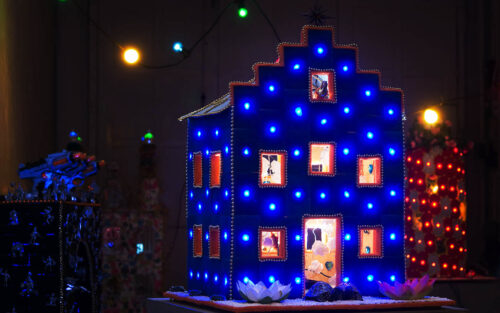 She says she wants to break up, but I don't believe her. I retire like Aurora in her palace and wait for a real kiss of love that will wake my heart again.
Ze zegt wel dat ze het uitmaakt, maar ik geloof haar niet. Ik trek me terug als Aurora in haar paleis en wacht tot de liefde weer wakker wordt gekust.
Sie sagt wohl, dass sie Schluss macht, aber ich glaube ihr nicht. Ich ziehe mich wie eine Aurora in ihren Palast zurück und warte, bis die Liebe wieder wach geküsst wird.
Elle dit qu'elle s'en fait, mais je ne la crois pas. Je me retire comme Aurora dans son palais et j'attends que l'amour se réveille à nouveau.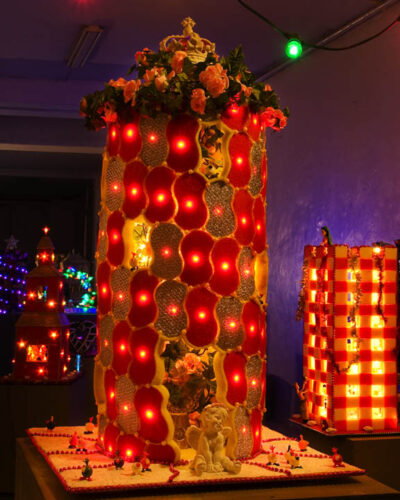 There's nothing else to do but wait, Dreaming… until Hilde comes back.
Er valt niks anders te doen dan te wachten, Dreaming… totdat Hilde weer komt.
Es bleibt nichts Anderes übrig, als zu warten, Dreaming… bis Hilde wiederkommt.
Il n'y a rien d'autre à faire que d'attendre, Dreaming… jusqu'à ce que Hilde revienne.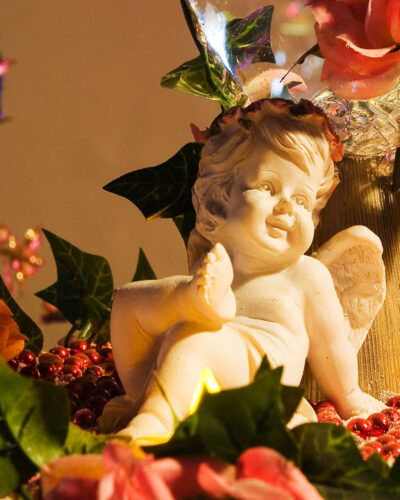 And Hilde does come back… and yet, she doesn't. One day we make passionate love while the next she keeps a cool distance. I'm barely allowed to peck her on the cheek. One moment she is very happy to see me only to ask a little later what I'm actually doing here. The colors of our emotional palette are constantly changing. Oh, this is Unbearable Love. I walk away in anger.
En Hilde komt terug, en toch ook niet. De ene dag vrijen we hartstochtelijk, de andere dag doet ze mega-afstandelijk en mag ik haar nog nét een kusje op haar wang geven. Dan is ze weer heel blij om me te zien, om vervolgens te vragen wat ik eigenlijk kom doen. Constant verschieten de kleuren van ons emotioneel palet. Oh, dit is Unbearable Love, ik loop boos weg.
Und Hilde kommt zurück, aber irgendwie auch nicht. An dem einen Tag schlafen wir leidenschaftlich miteinander, am anderen Tag tut sie mega-distanziert und darf ich ihr gerade noch einen Kuss auf die Wange geben. Dann ist sie wieder total froh, mich zu sehen, um danach zu fragen, warum ich überhaupt vorbeikomme. Kontinuierlich wechseln die Farben unserer emotionalen Farbpalette. Oh, das ist Unbearable Love, ich laufe wütend weg.
Et Hilde revient, mais en même temps, elle ne reviendra pas. Un jour on fait l'amour passionnément, le lendemain elle est hyper-distante et j'ai juste le droit de l'embrasser sur la joue. Ou bien elle est très heureuse de me revoir, pour me demander ensuite ce que je viens faire. Les couleurs de notre palette émotionnelle changent constamment. Oh, ceci est un Unbearable Love ; je m'en vais, fâché.
It is getting cold and bleak now. It looks like Autumn. We both behave like babies and have ended up in a vicious circle. It makes me angry when she pushes me away, which makes me push her away, once again making me angry. It's impossible to know who started. While Hilde stays outside, I decide to go inside on my own and search for softness. I try to find out what is going on exactly. I suspect she's afraid of commitment and I underestimate how my anger affects her.
Het wordt nu guur en koud. Het lijkt wel Autumn. Hilde en ik gedragen ons allebei als baby's en zijn in een vicieuze cirkel terecht gekomen. Zij duwt mij weg, daarom word ik boos en duwt zij mij weer weg, waarbij het onduidelijk is wie er begint. Terwijl Hilde buiten blijft, besluit ik alleen naar binnen te gaan en de zachtheid op te zoeken. Ik probeer te onderzoeken wat er precies gebeurt. Ik denk dat zij het eng vindt om zich te binden en dat ik onderschat hoe bedreigend mijn boosheid overkomt.
Es wird rau und kalt. Es scheint wohl Autumn. Hilde und ich verhalten uns beide wie Babys und sind in einen Teufelskreis gelangt. Sie schubst mich weg, darum werde ich wütend und sie schubst mich wieder weg, wobei undeutlich ist, wer anfängt. Während Hilde draußen bleibt, beschließe ich alleine hineinzugehen und die Sanftheit aufzusuchen. Ich versuche zu untersuchen, was genau passiert. Ich denke, dass sie es unheimlich findet, sich zu binden und dass ich unterschätze, wie bedrohlich meine Wut rüberkommt.
Il commence à faire froid et sombre désormais. On se croirait en Autumn. Hilde et moi, nous nous comportons comme des bébés et nous avons fini par nous retrouver dans un cercle vicieux. Elle me repousse, c'est pour ça que je me fâche et qu'elle me repousse encore plus, pour finir par ne plus savoir qui a commencé. Pendant que Hilde reste dehors, je décide de rentrer seul à l'intérieur et de chercher un peu de douceur. J'essaie de savoir ce qui se passe exactement. Je pense qu'elle trouve effrayant de se lier et que je sous-estime à quel point ma colère est menaçante.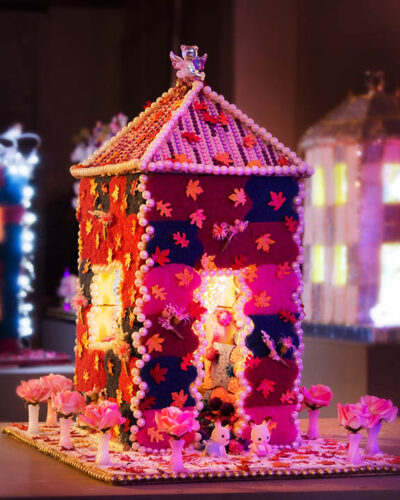 We use each other as a Mirror, projecting our fears onto each other. I think I see Hilde, but it is a reflection of myself. My confidence, my desire, my fears… often it's difficult to see what is yours and what belongs to the other. In an intimate relationship, old disturbing patterns can float to the surface. It makes no sense to run away because the same patterns return in subsequent relationships. It's better to face it together.
Eigenlijk gebruiken we elkaar als Mirror en projecteren we onze angsten op elkaar. Ik denk Hilde te zien, maar ik kijk in een spiegel naar mezelf. Het vertrouwen dat ik geef, het verlangen dat ik voel, de angsten die ik heb…. Vaak is het moeilijk te zien wat van jezelf is en wat van de ander. Juist in een intieme relatie kunnen oude verstoorde patronen boven komen. Weglopen heeft dan geen zin, want in een volgende relatie komen dezelfde patronen terug. Beter zie je het samen onder ogen.
Eigentlich benutzen wir uns gegenseitig als Mirror und projizieren unsere Ängste aufeinander. Ich denke, Hilde zu sehen, aber ich schaue in einem Spiegel zu mir selbst. Das Vertrauen, das ich gebe, das Verlangen, das ich fühle, die Ängste, die ich habe…. Oft ist es schwierig zu sehen, was von dir selber ist und was von dem anderen. Gerade in einer intimen Beziehung können alte beeinträchtigende Muster zum Vorschein kommen. Weglaufen hat dann keinen Sinn, denn in einer nächsten Beziehung kommen dieselben Muster zurück. Besser ist es, sich das gemeinsam vor Augen zu führen.
En fait, on s'utilise mutuellement comme Mirror et on projette nos peurs l'un sur l'autre. Je crois que je vois Hilde, mais je me vois moi-même, comme dans un miroir. La confiance que je donne, le désir que je ressens, les peurs que j'ai…. Souvent, il est difficile de voir ce qui est à soi et ce qui est à l'autre. C'est précisément dans une relation intime que peuvent émerger de vieux schémas déréglés. Fuir n'a aucun sens, car dans une relation suivante, les mêmes schémas reviennent. Il est préférable de les affronter ensemble.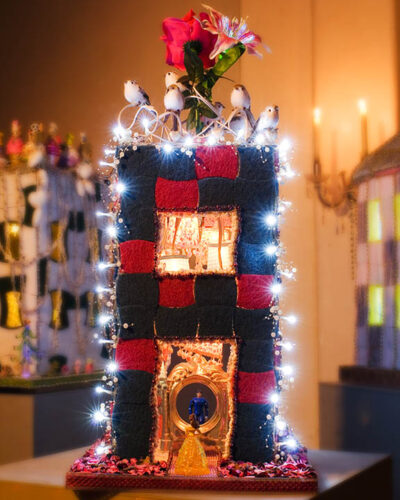 Hilde's door is closed again. Every time I visit her, she seems to be happy to see me, but soon after, she asks me to leave. But fine, I bought a bottle of wine and the door of Arienne, one of my tenants, is open. We talk about my love life and about her intended trip to Australia. It feels nice and cozy and Ariënne is beautiful and attractive. I think "WTF!" and we end up kissing on the couch. Now I am confused. It feels like I'm standing at a bus station and have to choose which bus to take. But Arienne is going to Australia for six months and I'm preoccupied with Hilde. Dus Bus, I'll just let you pass.
Hilde geeft weer eens niet thuis. Steeds als ik haar opzoek, is ze ontzettend blij om mij te zien, maar stuurt ze me daarna weg. Oké, maar ik heb dus een fles wijn gekocht om samen op te drinken en Ariënne die bij mij een kamer huurt, geeft wél thuis. We praten over mij liefdesleven en over haar voorgenomen reis naar Australië. Het voelt fijn en intiem en Ariënne is mooi en aantrekkelijk. Ik denk "WTF!" en we eindigen met zoenen op de bank. Nu ben ik wel in verwarring. Het voelt alsof ik op een busstation sta en moet kiezen welke route ik zal nemen. Maar Ariënne gaat voor een half jaar naar Australië en ik ben met Hilde bezig. Dus Bus, ik laat jou maar voorbij rijden.
Hilde lässt mich wieder einmal hängen. Immer, wenn ich sie besuche, ist sie unglaublich froh, mich zu sehen, aber schickt mich danach wieder weg. Ok, ich habe aber Wein gekauft um zusammen zu trinken und Ariënne, die bei mir ein Zimmer mietet, lässt mich nicht hängen. Wir reden über mein Liebesleben und über ihre geplante Reise nach Australien. Es fühlt sich schön und intim an und Ariënne ist schön und reizend. Ich denke "WTF!" und schlussendlich küssen wir uns auf der Bank. Jetzt bin ich wohl verwirrt. Es fühlt sich so an, als stünde ich an einer Bushaltestelle und müsse ich entscheiden, welche Route ich nehme. Ariënne geht allerdings für ein halbes Jahr nach Australien und ich bin mit Hilde beschäftigt. Dus Bus, ich lasse dich mal vorbeiziehen.
Hilde est à nouveau aux abonnés absents. A chaque fois que je lui rends visite, elle est très heureuse de me voir, mais ensuite elle me chasse. D'accord, mais cette fois-ci, j'ai acheté une bouteille de vin, à boire ensemble et Ariënne, qui loue une chambre chez moi, est bien là. Nous parlons de ma vie amoureuse et de son voyage prévu en Australie. C'est agréable et intime et Ariënne est belle et séduisante. Je me dis « WTF ! » et on finit par s'embrasser sur le canapé. Maintenant, je suis perdu. J'ai l'impression d'être à un arrêt de bus et de devoir choisir la route que je vais prendre. Mais Ariënne part en Australie pour six mois et je suis avec Hilde. Dus Bus, je te laisse partir.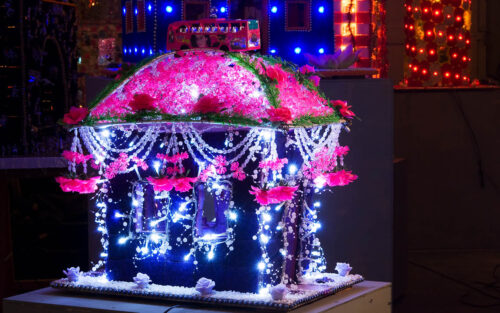 Hilde is still cold and unapproachable, like Rapunzel at the top of her ivory tower. I try to soften her, but she refuses to let her braids down. Guided by her fears, she not only shuts me out but she also imprisons her own desire. If she wants to change this, she will need to listen to her inner self. Twist for Candy.
Hilde is nog steeds kil en ongenaakbaar, als Rapunzel staat ze boven op haar ivoren toren. Ik probeer haar zacht te maken maar ze weigert haar vlechten neer te laten. Door zich te laten leiden door haar angsten, sluit ze niet alleen mij buiten maar houdt ze ook haar eigen verlangen gevangen. Als ze dat wil veranderen, moet ze luisteren naar haar innerlijk. Twist for Candy.
Hilde ist immer noch kalt und unzugänglich, wie Rapunzel steht sie oben auf ihrem Elfenbeinturm. Ich versuche, sie zu erweichen, aber sie weigert sich, ihre Zöpfe fallen zu lassen. Dadurch, dass sie sich von ihren Ängsten leiten lässt, schließt sie nicht nur mich, sondern auch ihr eigenes Verlangen aus. Wenn sie das verändern will, muss sie auf ihr Inneres hören. Twist for Candy.
Hilde est toujours aussi froide et inaccessible ; comme Rapunzel, elle se tient au sommet de sa tour d'ivoire. J'essaie de l'adoucir, mais elle refuse de laisser tomber ses tresses. En se laissant guider par ses peurs, non seulement elle m'exclut, mais elle emprisonne aussi ses propres désirs. Si elle veut changer cela, elle devra écouter son for intérieur. Twist for Candy.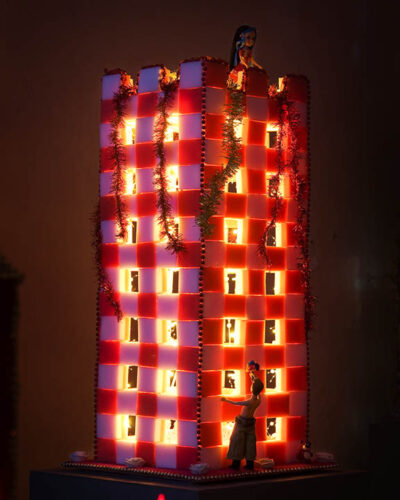 It is difficult for Hilde to face her own fears and to put her trust into something else to hold the reins, something else that lives inside her. A soft hidden flow, with a desire for warmth and contact. If she lets herself be guided by this Divine Stream, the warm beating heart will guide us to a sea of ​​love!
Het is moeilijk voor Hilde om haar eigen angsten onder ogen te zien en de teugels in handen te geven van iets anders dat in haar leeft. Een soort zachte ondertoon met een verlangen naar warmte en contact. Als ze zich laat leiden door deze Divine Stream, zal het kloppend hart ons meevoeren naar een zee van liefde!
Es ist schwierig für Hilde, ihren eigenen Ängsten unter die Augen zu treten und die Zügel in den Händen von etwas Anderem zu geben, was in ihr lebt. Eine Art weicher Unterton mit einem Verlangen nach Wärme und Kontakt. Wenn sie sich durch diesen Divine Stream führen lässt, wird das klopfende Herz uns mit zu einem Meer von Liebe führen!
Il est difficile pour Hilde d'affronter ses propres peurs et de remettre les rênes entre les mains de quelque chose d'autre qui vit en elle. Une sorte de douce nuance avec un désir de chaleur et de contact. Si elle se laisse guider par ce Divine Stream, ce cœur qui bat nous emmènera vers un océan d'amour !
"Please," I beg her, "bite the bullet and kiss the frog. You will see that it will change into the Prince of Love. Let's face our difficulties together, and we will work them out!". Like a curious gosling, she hesitates at the door. Will she go inside?
"Alsjeblieft", smeek ik Hilde, "bijt door de zure appel heen en kus de kikker. Je zal zien dat hij verandert in de Prince of Love. Laten we onze moeilijkheden samen onder ogen zien, dan komen we er wel uit." Als een nieuwsgierig gansje staat ze voor de deur te aarzelen. Zal ze naar binnen gaan?
"Bitte", flehe ich Hilde an "beiße durch den sauren Apfel hindurch und küsse den Frosch. Du wirst sehen, dass er sich in den Prince of Love verändert. Lass uns unsere Schwierigkeiten zusammen unter die Augen treten und dann kommen wir gut aus dieser Sache heraus." Wie eine neugierige Gans steht sie an der Tür zu zögern. Wird sie reingehen?
« S'il te plaît, » je la supplie, « sert les dents et embrasse la grenouille. Tu le verras se transformer en Prince of Love. Affrontons nos difficultés ensemble, et on va s'en sortir. » Comme un oison curieux, elle hésite sur le seuil de la porte. Va-t-elle entrer?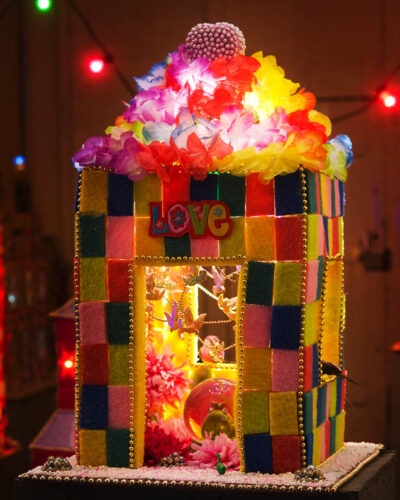 By realizing that Hilde is actually afraid to commit and now that I have learned to control my anger, I think we've struck Gold. I safely walled in my evil, angry monkey and can now see Hilde as the woman she is. As far as I am concerned, we have overcome our difficulties.
Door te beseffen dat Hilde eigenlijk bang is om zich te binden en ik mijn drift heb leren controleren, denk ik dat we Gold in handen hebben. Ik heb mijn boosaardig driftig aapje veilig ingemetseld in de gevel en kan Hilde nu zien zoals ze is. Wat mij betreft zijn we door de moeilijkheden heen.
Dadurch, dass ich begreife, dass Hilde eigentlich Angst hat, sich zu binden und ich gelernt habe, meine Wut zu kontrollieren, denke ich, dass wir Gold in den Händen tragen. Ich habe mein bösartiges, zorniges Äffchen sicher in die Fassade eingemeißelt und kann Hilde nun sehen, wie sie ist. Was mich angeht, haben wir die Schwierigkeiten überwunden.
En réalisant que Hilde a en fait peur de s'engager et que j'ai appris à contrôler ma colère, je pense que nous avons du Gold entre nos mains. Je me suis débarrassé de mon diablotin maléfique et je peux maintenant voir Hilde telle qu'elle est. En ce qui me concerne, nous avons passé le cap.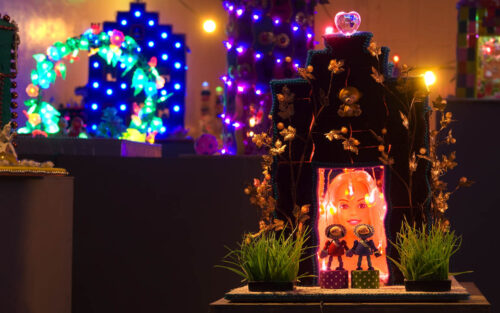 Of course it takes two. The experience needs to be shared by both sides and that is not the case. Hilde persists in her rejection even though she is attracted to me at the same time. She uses her rejection to keep control. That feels unfair. Drop Your Weapon!! But she doesn't. I decide not to deviate, to use the power of the soft, pink elephant and to honor her rejection. The fight is finally over. From now on we will only have to face each other on our children's schoolyard.
Dat werkt natuurlijk alleen als dat aan de andere kant ook zo beleefd wordt. En dat is niet het geval. Hilde blijft volharden in haar afwijzing, terwijl ze zich tegelijkertijd ook door mij aangetrokken voelt. Ze gebruikt haar afwijzing om controle te houden. Dat voelt niet eerlijk. Drop Your Weapon!! Maar dat doet ze dus niet. Ik besluit om de koninklijke weg te kiezen, de kracht van de zacht roze olifant te gebruiken en haar afwijzing te honoreren. Het gevecht is over tenslotte. De enige plek waar we elkaar nu nog zien, is het schoolplein van onze kinderen.
Das klappt natürlich nur, wenn das auf der anderen Seite auch so erlebt wird. Und das ist nicht der Fall. Hilde bleibt bei ihren Abweisungen, während sie sich gleichzeitig auch von mir angezogen fühlt. Sie benutzt ihre Abweisung um die Kontrolle zu behalten. Das fühlt sich nicht ehrlich an. Drop Your Weapon!! Aber das tut sie nicht. Ich entschließe, den königlichen Weg zu gehen, die Kraft des hellrosa Elefanten zu nutzen und ihre Abweisung zu akzeptieren. Der Kampf ist schließlich vorbei. Der einzige Ort, an dem wir uns jetzt noch sehen, ist der Schulhof unserer Kinder.
Bien sûr, cela ne fonctionne que si l'autre partie pense pareil. Et ce n'est pas le cas. Hilde persiste dans son refus, alors qu'en même temps elle se sent attirée par moi. Elle utilise son rejet pour garder le contrôle. Ce n'est pas juste. Drop Your Weapon ! Mais elle ne le fait pas. Je décide de prendre le chemin le plus court, d'utiliser le pouvoir de l'éléphant rose et de respecter sa décision. Le combat est terminé, après tout. Le seul endroit où l'on se voit à présent est la cour d'école de nos enfants.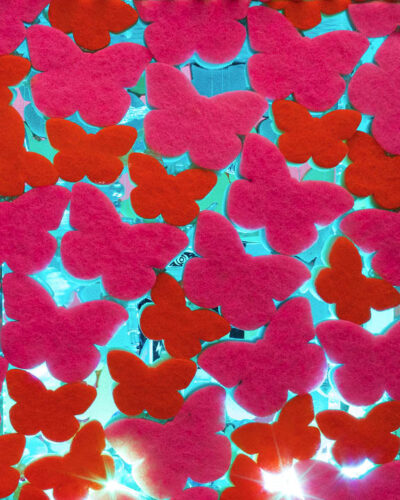 In a series of closed houses, I try to illustrate for her what it means when there is no longer a way in. The warm feeling we had when we were together. You Make It Feel Like Home. The idea of ​​building a future together. Creating a cozy home for each other, like two rabbits in a field full of flowers. That is no longer an option.
In een serie dichte huisjes probeer ik haar duidelijk te maken wat het betekent dat er geen ingang meer is. Het warme gevoel dat we hebben als we bij elkaar zijn, het thuisgevoel, You Make It Feels Like Home, het idee van samen een toekomst opbouwen. Een fijn thuis voor elkaar creëren als twee konijntjes in een veld vol bloemetjes. Dat gaat dus niet meer.
In einer Serie geschlossener Häuser versuche ich ihr deutlich zu machen, was es bedeutet, dass es keinen Eingang mehr gibt. Das warme Gefühl, dass wir haben, wenn wir zusammen sind, das Gefühl von zu Hause, You Make It Feels Like Home, die Idee zusammen eine Zukunft aufzubauen. Ein schönes zu Hause für einander zu kreieren, wie zwei Kaninchen auf einem Feld voller Blumen. Das geht also nicht mehr.
En fabricant une série de maisonnettes fermées, j'essaie de lui faire comprendre ce que signifie le fait qu'il n'y a plus d'entrée. Le sentiment chaleureux que nous avons quand nous sommes ensemble, le sentiment d'être chez soi,You Make It Feels Like Home, l'idée de construire un avenir ensemble. Se créer un foyer, comme deux lapins dans un champ plein de fleurs. Ce n'est plus possible.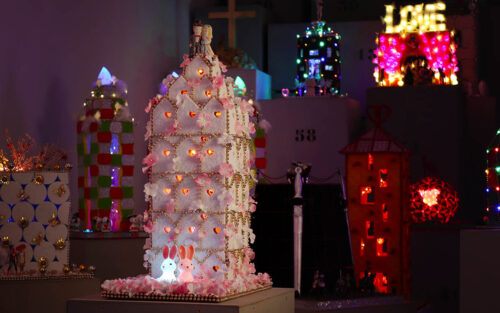 Sometimes Hilde has a hard time dealing with the feelings that live inside her. Deep dark blue feelings of an undefined origin that give her the sense of being stranded. Like Ariel who cannot walk on land. But I can't take her by the hand any longer and guide her. I can't lead her out of the labyrinth of cobwebs in her head. I can no longer be her Spiderman.
Hilde heeft het soms best wel moeilijk met de gevoelens die in haar leven. Diep donkerblauwe emoties van onbestemde oorsprong die haar een gestrand gevoel geven, zoals Ariel die niet kan lopen. Ik kan haar nu niet meer bij de hand nemen en er voor haar zijn, haar uit de doolhof van spinnenwebben in haar hoofd leiden. Ik kan niet meer haar Spiderman zijn.
Hilde hat es manchmal schon echt schwer mit den Gefühlen in ihrem Leben. Tiefe dunkelblaue Emotionen unbestimmten Ursprungs, die ihr ein gestrandetes Gefühl geben, wie Ariel, die nicht laufen kann. Ich kann sie nun nicht mehr an die Hand nehmen und für sie da sein, sie aus dem Irrgarten von Spinnennetzen in ihrem Kopf führen. Ich kann nicht mehr ihr Spiderman sein.
Hilde a parfois du mal avec les sentiments qu'elle éprouve dans sa vie. Des émotions bleues profondes, d'une origine indéterminée qui lui donnent le sentiment d'être bloquée, comme si Ariel ne pouvait pas marcher. Je ne peux plus la prendre par la main et être là pour elle, la sortir du labyrinthe de toiles d'araignée dans sa tête. Je ne peux plus être son Spiderman.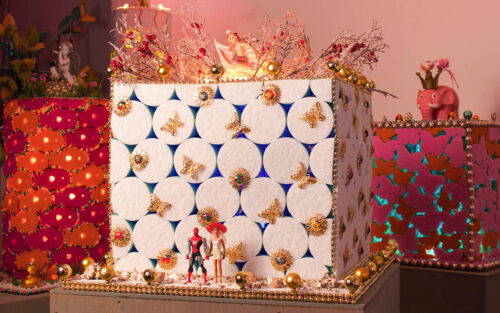 It is Pure Love that I feel for her but I shield from it. That is the most loving thing I can do now, to make her feel what she is going to miss. And although the red-colored warmth shouts through the walls, I keep everything closed. Protected by barbed wire. Cool and white! But it takes a lot of effort.
Het is Pure Love wat ik voor haar voel, maar ik scherm het af. Dat is het meest liefdevolle wat ik nu kan doen; haar laten voelen wat ze gaat missen. En al schreeuwt het warme rood door de muren naar buiten, ik houd de boel dicht. Prikkeldraad er omheen en afgeschermd. Koel en wit!!! Met veel moeite, dat wel.
Das ist Pure Love, was ich für sie empfinde, aber ich blende es aus. Das ist das liebevollste, was ich jetzt machen kann; sie fühlen lassen, was ihr fehlen wird. Auch wenn das warme Rot durch die Mauern nach draußen schreit, ich halte den Kram geschlossen. Stacheldraht drum herum und abgeschottet. Kühl und weiß!! Mit sehr viel Mühe, das schon.
C'est Pure Love que je ressens pour elle, mais je le refoule. C'est la plus belle chose que je puisse faire en ce moment : lui faire ressentir ce qui va lui manquer. Et même si ses cries traversent les murs, je maintiens. Entouré de fil de fer barbelé et blindé. Calme et blanc ! Avec beaucoup d'efforts, tout de même.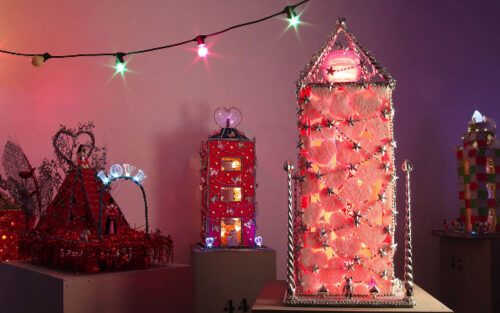 The wonderful sex we had, where we could fully surrender. The fiery battle of passionate sex where the man needs to climb a pyramid of love and his partner waits in full dedication. Up, On Her Knees. For me this can only happen within the walls of the garden of love.
De fijne seks die we hadden en waar we ons volledig aan over konden geven. Het vurige gevecht van de passievolle seks waarbij de man de piramide van liefde moet beklimmen en waar zijn vrouw vol overgave op hem wacht. Up, On Her Knees. Voor mij kan dat alleen plaatsvinden binnen de ommuurde tuin van de liefde.
Der tolle Sex, den wir hatten und worin wir uns vollständig fallen lassen konnten. Das blutige Gefecht des lustvollen Sex, bei dem der Mann die Pyramide der Liebe erklimmen muss und bei dem die Frau in voller Aufgabe auf ihn wartet. Up, On Her Knees. Für mich kann das nur innerhalb des ummauerten Gartens der Liebe stattfinden.
Quand nous faisions l'amour, c'était exceptionnel, nous pouvions totalement nous abandonner l'un à l'autre ! La bataille ardente du sexe passionné où l'homme doit escalader la pyramide de l'amour et où sa femme l'attend pleine de désir. Up, On Her Knees. Pour moi, cela ne peut se produire que dans le jardin clos de l'amour.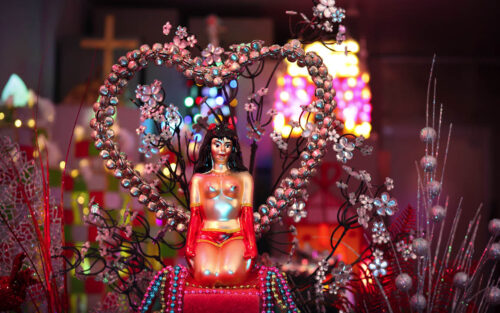 Shoal My Love is the end of my series of inaccessible houses. My love is hidden. I now behave towards Hilde as I do towards all the other fish in the sea. It feels serene, although I am curious how she will react now that I have closed myself off from her. Like a curious dog, I keep an eye on her from a distance.
Shoal My Love is het einde van de serie dichte huisjes. Mijn liefde is verscholen. Ik gedraag me nu tegenover haar als tegenover alle andere visjes in de zee. Het voelt sereen, al ben ik wel benieuwd hoe ze gaat reageren, nu ik helemaal van haar afgesloten ben. Van een afstandje houd ik haar, als een nieuwsgierig hondje, nog in de gaten.
Shoal My Love ist das Ende der Serie geschlossener Häuser. Meine Liebe ist verschollen. Ich verhalte mich ihr gegenüber jetzt wie gegenüber alle anderen Fische in dem Meer. Es fühlt sich ruhig an, auch wenn ich wohl neugierig bin, wie sie reagiert, wo ich ganz mit ihr abgeschlossen habe. Mit einem Abstand behalte ich sie, wie ein neugieriges Hündchen, noch im Auge.
Shoal My Love est la fin de la série des maisonnettes. Mon amour est caché. Je me comporte maintenant envers elle comme avec tous les autres petits poissons dans la mer. Je suis serein, bien que curieux de savoir comment elle va réagir, maintenant que je me suis complètement isolé d'elle. De loin, je la surveille toujours, comme un petit chien curieux.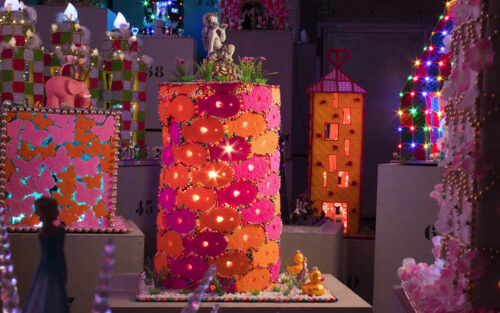 After I exhibit my work in an art space at the end of June, I get the feeling that I am out of place. I decide that the term "fine art" doesn't cover the meaning of my practice any longer. Comments I hear about my work, such as: "It simply defies all the senses"; or "My art historical reference board goes 'Error, Error!'", confirm this feeling. My work is rather religious, it's about faith, hope and love. I'm still looking for the right term by which to describe it. Should I call myself a "Shrine Maker?" Or maybe a "Chapel Builder?"
There is not much difference between building a Modern Shrine and making a painting. It is order in form and color. You could consider the side of a house as an abstract painting, where color and rhythm tells a part of the story. All the attached elements must support the meaning of the image, not only in shape but also in color. In this way, both figurative and abstract elements are visible at the same time.
Symbols and metaphors are important elements in my work. So are clichés. Clichés are images – in this case toy figurines – that communicate and convey a clear message straight away. These clichés do not necessarily have to be true, but their power can be used in the story I want to tell. A collection of clichés is always different and it produces great metaphors to my own symbolic language.
It doesn't make sense to invest time in something that someone else has done to a higher standard. This is why I choose to use already existing figurines in my work. I couldn't possibly improve on the expertise and precision with which these have often been designed. That's why I wander around stores and flea markets, searching, until my eye catches exactly the item I was looking for.
Often I might collect the various elements of a Shrine a year before I use them. Images, sponges, Christmas lights and beads that fit and have the right price. They all come together in the Quest for Love. And it is precisely that specific house that appears and this brings me further in my search. I find it amazing that my intuition, well before my consciousness, knows what I need.
Each time I make a new Shrine, I learn and it makes me stronger. The knowledge I gained enables me to build a new Shrine with more sensitivity. I usually don't know what the artwork is about until it is finished. Therefore, I am the first observer of the work. Sometimes it seems as if the artwork confirms reality, something happens in my life that was already predicted in the work.
I try to make the work accessible without compromising on quality. You don't need to know a lot about art in order to enjoy my work and in that sense, I don't feel the need to function within the art world. For me is it sufficient to show the work in a well-visited place. And although I don't have anything against the art world, and even enjoy it much of the time, I like the fact that my work has value outside of this community.
Nadat ik eind juni mijn werk heb getoond in een kunstruimte, bekruipt mij het gevoel dat ik daar niet op mijn plek ben. Ik heb bedacht dat "Beeldend Kunstenaar" niet de lading dekt van mijn beroep. Opmerkingen die ik over mijn werk hoor, zoals 'het tart gewoonweg alle zintuigen' of 'mijn kunsthistorische referentiebord gaat "Error, Error! "', sluiten daarbij aan. Mijn werk is eerder religieus georiënteerd, het gaat over Geloof, Hoop en Liefde. Ik zoek nog naar de juiste term. Moet ik mijzelf "schrijnwerker" noemen? Of misschien "kapelbouwer"?
Alhoewel, er is niet zoveel verschil tussen het bouwen van een Modern Shrine en het maken van een schilderij. Het blijft een ordening in vorm en kleur. De zijkant van een huisje zou je eigenlijk gewoon als een abstract schilderij kunnen beschouwen, waarbij kleur en ritme al een deel van het verhaal vertellen. Alle bijgevoegde elementen moeten niet alleen qua vorm, maar ook qua kleur de betekenis van het beeld ondersteunen. Zo zijn er in het werk tegelijkertijd figuratieve en abstracte elementen zichtbaar.
Symboliek en metaforen zijn een belangrijk onderdeel van mijn werk. Net als clichés. Clichés zijn beelden -in mijn geval letterlijk speelgoedbeeldjes- die goed communiceren en meteen een duidelijke boodschap overbrengen. Deze clichés hoeven niet per se waar te zijn maar hun kracht kan ik wel gebruiken in het verhaal wat ik wil vertellen. Een verzameling van een aantal clichés is altijd weer verschillend en dat levert grote metaforen en mijn eigen symbolische taal op.
Het is niet zinvol tijd te steken in iets dat een ander al veel beter heeft gedaan. Dat is de reden dat ik ervoor kies ik om bestaande beeldjes te gebruiken in mijn werk. De expertise en de precisie waarmee deze vaak zijn vormgegeven, kan ik met geen mogelijkheid overtreffen. Daarom loop ik rond in winkels en op vlooienmarkten, speurend tot mijn oog valt op juist dát beeldje dat ik nodig heb.
Vaak verzamel ik de verschillende elementen van een Shrine al een jaar van te voren. Beelden, sponsen, lampjes en kralen die ik bij elkaar vind passen of die wat mij betreft de juiste zeggingskracht hebben, komen dan allemaal samen in de Quest For Love. Er ontstaat dan precies dát huisje dat mij weer verder brengt in mijn zoektocht. Ik vind het wonderlijk dat mijn intuïtie, veel eerder dan mijn bewustzijn, al weet wat ik nodig heb.
En elke keer als ik een nieuwe Shrine maak, leer ik ervan; word ik sterker. Door de opgedane kennis kan ik een nieuwe Shrine met meer gevoeligheid bouwen. Meestal weet ik niet waar het kunstwerk over gaat, totdat het klaar is. Op die manier ben ik de eerste beschouwer van mijn werk en soms lijkt het dat de werkelijkheid zich naar het kunstwerk voegt. Er gebeurt dan iets in mijn leven wat het kunstwerk al voorspeld had.
Ik probeer mijn werk laagdrempelig te maken, zonder dat het aan kwaliteit inboet. Je hoeft geen verstand van kunst te hebben om te kunnen genieten van mijn werk, wat dat betreft hoef ik niet te functioneren binnen de kunstwereld. Een plek waar veel mensen komen, voldoet. En hoewel ik er niks op tegen heb dat de subcultuur van "de kunstwereld" bestaat en er zelfs van geniet, vind ik het toch wel leuk dat mijn werk ook daarbuiten waarde heeft.
Nachdem ich Ende Juni meine Arbeit in einem Kunstraum präsentiert habe, überkommt mich das Gefühl, dass ich dort nicht richtig bin. Ich habe erkannt, dass "Bildender Künstler" nicht die Vorstellung meines Berufs deckt. Bemerkungen, die ich über meine Arbeit höre, wie zum Beispiel "es provoziert einfach alle Sinne" oder "meine kunsthistorische Schablone macht 'Error, Error!'" reihen sich dabei ein. Meine Arbeit ist eher religiös orientiert, es geht über Glaube, Hoffnung und Liebe. Ich suche noch nach einem passenden Ausdruck. Sollte ich mich selbst als "Schreinarbeiter" bezeichnen? Oder vielleicht "Kapellbauer"?
Obwohl, der Unterschied zwischen dem Bauen eines Modern Shrine und dem Erschaffen eines Gemäldes ist nicht so groß. Es bleibt eine Anordnung von Form und Farbe. Die Seite eines Hauses könnte man eigentlich einfach wie ein abstraktes Gemälde betrachten können, wobei Farbe und Rhythmus schon einen Teil der Geschichte erzählen. Alle hinzugefügten Elemente müssen nicht nur von der Form, sondern auch von der Farbe her die Bedeutung des Bildes unterstützen. So sind in dem Kunstwerk figurative und abstrakte Elemente gleichzeitig sichtbar.
Symbolik und Metaphern sind wichtige Bestandteile meiner Arbeit. Genau wie Klischees. Klischees sind Bilder – was mich betrifft buchstäblich Spielzeugbilder – die gut kommunizieren und sofort eine deutliche Botschaft rüberbringen. Diese Klischees müssen nicht unbedingt wahr sein, aber ihre Kraft kann ich wohl in der Geschichte, die ich erzählen möchte, benutzen. Eine Ansammlung von einigen Klischees ist immer wieder anders und dies ergibt große Metaphern und meine eigene symbolische Sprache.
Es macht keinen Sinn, Zeit in etwas zu investieren, was ein anderen schon viel besser gemacht hat. Das ist der Grund, warum ich bestehende Bilder für meine Arbeit benutze. Die Expertise und die Genauigkeit, womit diese oft gestaltet wurden, kann ich keines Wegs übertreffen. Darum laufe ich in Geschäften und auf Flohmärkten rum, suchend, bis mein Auge auf genau das Bild fällt, das ich nötig habe.
Oft sammele ich die verschiedenen Elemente eines Shrines schon ein Jahr im Voraus. Bilder, Schwämme, Lämpchen und Glasperlen, von denen ich finde, dass sie zusammenpassen oder die meiner Meinung nach die richtige Aussagekraft haben, kommen dann alle zusammen in der Quest for Love. Es entsteht dann genau das Häuschen, das mich in meiner Suche weiterbringt. Ich finde es seltsam, dass meine Intuition viel früher als mein Bewusstsein weiß, was ich benötige.
Und jedes Mal, wenn ich einen neuen Shrine mache, lerne ich davon; werde ich stärker. Durch die gewonnenen Erkenntnisse kann ich mit mehr Empfindsamkeit einen neuen Shrine bauen. Meistens weiß ich nicht, wovon das Kunstwerk handelt, bis es fertig ist. Auf diese Weise bin ich der erste Betrachter meiner Arbeit und manchmal scheint es, als schließe sich die Wirklichkeit dem Kunstwerk an. Es passiert dann etwas in meinem Leben, was das Kunstwerk schon vorausgesagt hat.
Das Schöne an meiner Arbeit ist für mich, dass es sehr niederschwellig ist, ohne dass es an Qualität einbüßen muss. Man braucht keine Ahnung von Kunst zu haben, um von meiner Arbeit genießen zu können. Was das angeht, brauche ich nicht in der Kunstwelt zu funktionieren. Ein Ort, an den viele Menschen kommen, reicht aus. Und obwohl ich nichts dagegen habe, dass die Subkultur der "Kunstwelt" existiert und selber von ihr genieße, finde ich es auch toll, dass meine Arbeit auch darüber hinaus einen Wert hat.
Après avoir exposé mon travail dans une salle d'art fin juin, j'ai le sentiment de ne pas être à ma place. Je suis arrivé à l'idée qu'être "artiste plasticien" ne couvre pas la totalité de mon métier. Je comprends les commentaires que j'entends à propos de mon travail, tels que "il défie simplement tous les sens " ou  "mon tableau de référence historique de l'art fait Erreur, erreur ! ". Mon travail est plus orienté vers la religion, il s'agit de Foi, d'Espérance et d'Amour. Je cherche encore le bon terme. Dois-je me faire appeler "fabricant de sanctuaire" ? Ou peut-être "constructeur de chapelles"?
Il n'y a pas tant de différence entre la construction d'un modern shrine et la réalisation d'un tableau. C'est un assemblage de formes et de couleurs. Le côté d'une maison pourrait en fait être considéré comme une peinture abstraite, dans laquelle la couleur et le rythme racontent déjà une partie de l'histoire. Tous les éléments associés doivent renforcer la signification de la représentation, non seulement dans la forme, mais aussi dans la couleur. Donc, il y a des éléments figuratifs et abstraits, visibles simultanément dans l'œuvre.
Le symbolisme et les métaphores font partie intégrante de mon travail. Tout comme les clichés. Les clichés sont des représentations – dans mon cas, littéralement des figurines – qui communiquent parfaitement et transmettent instantanément un message clair. Ces clichés ne doivent pas nécessairement être vrais, mais je peux utiliser l'influence qu'ils ont dans l'histoire que je veux raconter. Une collection de clichés est toujours différente et cela donne lieu à de grandes métaphores, ainsi qu'à mon propre langage symbolique.
Cela n'a pas de sens de passer du temps sur quelque chose que quelqu'un d'autre a déjà fait, et bien mieux. C'est pourquoi je choisis d'utiliser des figurines existantes dans mon travail. Je ne saurai pas surpasser l'expertise et la précision avec lesquelles elles sont souvent réalisées. C'est pourquoi je me promène dans les magasins et les marchés aux puces, en cherchant jusqu'à ce que mon œil croise la statue dont j'ai besoin.
Je rassemble souvent les différents éléments d'un shrine une année à l'avance. Des images, des éponges, des lumières et des perles que je pense assorties ou qui s'expriment comme je le souhaite, puis tout se rassemble dans la Quest for Love. Ainsi se créé la maisonnette qui m'emmènera plus loin dans ma recherche. Je trouve surprenant que mon intuition, bien plus tôt que ma conscience, sache déjà ce dont j'ai besoin.
Et chaque fois que je fais un nouveau shrine, ça m'apprend quelque chose, je deviens plus fort. Grâce aux connaissances acquises, je peux construire un nouveau shrine avec plus de sensibilité. En général, je ne sais pas de quoi il s'agit, avant que l'œuvre ne soit terminée. De cette façon, je suis le premier spectateur de mon travail et parfois il semble que la réalité s'adapte à l'œuvre d'art. Il se passe alors dans ma vie quelque chose que l'œuvre d'art avait déjà prédit.
J'essaie de rendre mon travail accessible, sans perdre en qualité. Il n'est pas nécessaire de comprendre l'art pour apprécier mon travail, de ce point de vue je n'ai pas besoin de fonctionner dans le monde de l'art. Un endroit où viennent beaucoup de gens, suffit. Et bien que ça ne me dérange pas que la sous-culture du "monde de l'art" existe et même qu'elle en profite, il me plaît de penser que mon travail ait une valeur au-delà de cela.
And perhaps that is the most important conclusion of What Now?!! I make my own monuments. Bring on the tourists!
En dat is misschien wel de belangrijkste conclusie van What Now?!! Ik maak mijn eigen monument. Laat de toeristen maar komen!!
Und das ist vielleicht wohl die wichtigste Schlussfolgerung von What Now?!! Ich mache mein eigenes Monument. Lasst die Touristen mal kommen!!
Et c'est peut-être la conclusion la plus importante de What Now?! Je fais mon propre monument. Que les touristes viennent!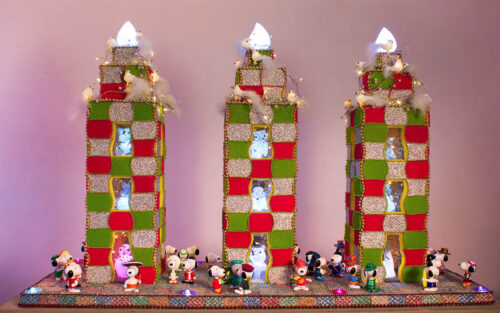 I could ask the same question – What Now?!! – about my search for love. I feel like I've been robbed. Hilde came by once more. After six months, she wants to see me again. And of course she accepts all my gifts in the form of attention and love. My door is open again and my heart still beats for her…. Then, after she gets what she came for, she's gone again. She leaves Scorched Earth behind.
Dezelfde vraag What Now?!! kan ik me ook in mijn zoektocht naar de liefde stellen. Ik heb het gevoel dat ik ben leeggeroofd. Hilde is weer even langs geweest. Het heeft een half jaar geduurd, maar nu wilde ze me toch weer zien. En natuurlijk heeft ze mijn cadeautjes in de vorm van aandacht en liefde in ontvangst genomen. Mijn deur stond weer open en mijn hart klopt nog steeds voor haar….. En nadat ze gekregen heeft waarvoor ze kwam, is ze weer weggegaan, Scorched Earth achterlatend.
Dieselbe Frage What Now?!! kann ich mir auch während meiner Suche nach der Liebe stellen. Ich habe das Gefühl, dass ich leergeraubt bin. Hilde war wieder eben vorbeigekommen. Es hat ein halbes Jahr gedauert, aber jetzt möchte sie mich doch wiedersehen. Und natürlich hat sie meine Geschenke in Form von Aufmerksamkeit und Liebe in Empfang genommen. Meine Tür stand wieder offen und mein Herz klopft noch immer für sie…. Und nachdem sie das bekommen hat, wofür sie kam, ist sie wieder gegangen, Scorched Earth hinterlassend.
Cette même question, What Now ?!, je peux aussi me la poser dans ma recherche de l'amour. J'ai l'impression qu'on m'a dépouillé. Hilde est de nouveau passée. Cela a demandé six mois, mais elle voulait à nouveau me voir. Et bien sûr, elle a reçu une récompense sous forme d'attention et d'amour. Ma porte était à nouveau ouverte et mon coeur bat encore pour elle…. Et après avoir obtenu ce qu'elle était venue chercher, elle est repartie, me laissant comme Scorched Earth.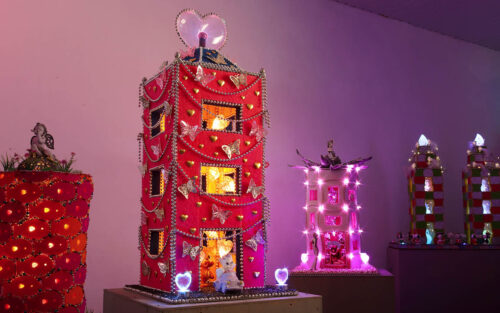 At this point I am really done with it! Although our love is so strong – it could give wings to something as heavy as a pig – I no longer think it's only my responsibility to guard our love. The Defenders of the Temple of the Winged Pig should come forth from both lovers! Care for each other and the relationship, that's what matters. Unfortunately, I am the only one trying to maintain something and I don't want that anymore. That's why I made this tomb monument. The battle is over, our love buried.
Maar nu heb ik er wel écht genoeg van! Hoewel onze liefde zo sterk is dat je zelfs zoiets zwaars en aards als een varken vleugels kunt geven, vind ik het niet meer alleen mijn verantwoordelijkheid om onze liefde te bewaken. De Defenders of the Temple of the Winged Pig zouden moeten bestaan uit beide geliefden! Zorg voor elkaar en voor de relatie, dat is waar het om gaat. Helaas ben ik de enige die probeert iets in stand te houden en dat wil ik niet meer. Daarom dit grafmonument. De strijd is gestreden, onze liefde begraven.
Jetzt reicht es mir aber wirklich! Obwohl unsere Liebe so stark ist, dass man sogar so etwas Schweres und Irdisches wie einem Schwein Flügel geben kann, sehe ich es nicht mehr nur als meine Verantwortung, um unsere Liebe zu bewachen. Die Defenders of the Temple of the Winged Pig sollten aus beiden Geliebten bestehen! Sorgt füreinander und für die Beziehung, das ist worum es geht. Leider bin ich der einzige, der versucht, etwas in Stand zu halten und das möchte ich nicht mehr. Darum dieses Grabmonument. Der Kampf ist gekämpft, unsere Liebe begraben.
Mais maintenant, j'en ai vraiment assez ! Bien que notre amour soit si fort qu'on pourrait même donner des ailes à un cochon, aussi lourd et terrestre soit-il, je ne pense pas que ce soit seulement ma responsabilité de préserver notre amour. Les Defenders of the Temple of the Winged Pig doivent être composés de deux amoureux ! Prendre soin de l'autre et de la relation, c'est ça l'essentiel. Malheureusement, je suis le seul à essayer de préserver quelque chose et je ne veux plus. D'où cette pierre tombale. La bataille est livrée, notre amour est enterré.
Due to the constant rejection, part of my self-esteem has been lost. Like a wounded dragon, I crawl back into my cave to discover who, or what, I am. I buy different colored sponges in the shape of a flower. I cut them into eight parts and glue them together again in different combinations. The Dragon Holes arise; organic structures with colors that belong to the various positive qualities I attribute to myself. Together with the beads and the lights inside, I feel a fitting whole is created. Diamonds guarded by a dragon. Between March and June, I make five of them. Each Dragon Hole slightly larger than the previous one, they grow with the space that I dare to occupy in the world again.
Door de voortdurende afwijzing ben ik wel een beetje mijn eigenwaarde kwijtgeraakt. Als een gewond draakje kruip ik terug in mijn hol om te ontdekken wie of wat ik ook al weer ben. Ik koop bloemsponsjes in verschillende kleuren, die knip ik steeds in acht partjes en lijm ze dan weer in verschillende combinaties aan elkaar. Daaruit ontstaan de Dragon Holes, organische bouwsels met kleuren die horen bij de verschillende positieve eigenschappen die ik mezelf toedicht. Tezamen met de kraaltjes en de lampjes binnenin ontstaat er een kloppend geheel. Diamanten bewaakt door een draak. Tussen maart en juni maak ik er in eerste instantie vijf. Ieder Dragon Hole iets groter dan de voorafgaande, meegroeiend met de ruimte die ik weer durf in te nemen in de wereld.
Durch die dauernden Abweisungen habe ich wohl mein Selbstwertgefühl etwas verloren. Wie ein verwundeter kleiner Drachen krieche ich zurück in meine Höhle, um zu entdecken, wer oder was ich nochmal bin. Ich kaufe verschiedenfarbige Schwämme in Blütenform, die ich jeweilig in acht Teile zerschneide und in unterschiedlichen Kombinationen wieder aneinanderklebe. Daraus entstehen die Dragon Holes, organische Gebäude mit Farben, die zu den unterschiedlichen positiven Eigenschaften gehören, die ich mir selber zuschreibe. Zusammen mit den Perlen und den Lämpchen im Inneren entsteht ein stimmiges Ganzes. Diamanten bewacht von einem Drachen. Zwischen März und Juni mache ich zunächst fünf. Jede Dragon Hole etwas größer als der vorherige, mitwachsend mit dem Platz, den ich mich wieder traue in der Welt einzunehmen.
À cause de ce rejet constant, j'ai perdu un peu de mon amour-propre. Comme un petit dragon blessé, je rampe vers mon refuge pour aller redécouvrir qui ou quoi je suis. J'achète des éponges à fleurs de différentes couleurs, je les coupe systématiquement en huit morceaux et je les recolle ensemble selon différentes combinaisons. Cela crée les Dragon Holes, des constructions organiques avec des couleurs qui appartiennent aux différentes qualités positives que je me suis attribuées. Avec les perles et les lumières, cela fait un ensemble qui me correspond. Des diamants gardés par un dragon. Entre mars et juin, je commence par en faire cinq. Chaque Dragon Hole est légèrement plus grand que le précédent, grandissant en fonction de l'espace que j'ose reprendre dans le monde.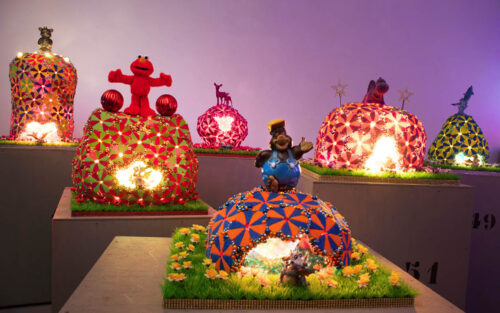 The first quality I ascribe to myself is Adventurous. I like to go out and discover new things, choose new paths, both literally and figuratively. I like to involve other people in my adventures.
De eerste is Adventurous. Ik ben ondernemend, ik houd ervan om de wereld in te trekken en nieuwe dingen te ontdekken, nieuwe wegen in te slaan, zowel letterlijk als figuurlijk. Ik vind het fijn om andere mensen te betrekken in mijn avonturen.
Die erste ist Adventurous. Ich bin unternehmunsglustig, ich mag es, in die Welt zu ziehen und neue Dinge zu entdecken, neue Wege einzuschlagen, sowohl buchstäblich als auch bildlich. Ich finde es schön, andere Menschen in meine Abenteuer zu involvieren.
Le premier est Adventurous. Je suis entreprenant, j'aime découvrir le monde et de nouvelles choses, innover, au sens propre comme au sens figuré. J'aime impliquer d'autres personnes dans mes aventures.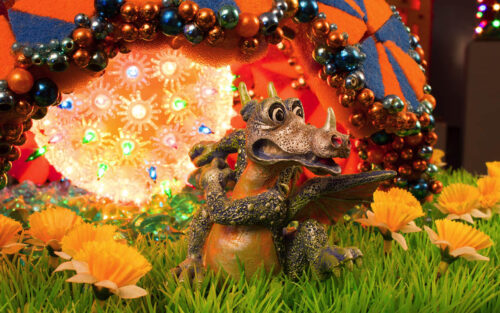 The second Dragon Hole is Playful. Playing in the sun and the water, diving into the waves like a dolphin. But also on land I like to playfully challenge myself and others to keep going.
De tweede Dragon Hole is Playful. Spelen in de zon en in het water en als een dolfijntje duiken in de golven. Maar ook op het land, op een speelse manier mezelf en anderen uitdagen om verder te gaan.
Die zweite Dragon Hole ist Playful. In der Sonne und im Wasser spielen und wie ein Delfin in den Wellen tauchen. Aber auch an Land, auf eine spielerische Weise, fordere ich mich selber und andere heraus, um weiterzugehen.   
Le deuxième Dragon Hole est Playful. Jouer au soleil et dans l'eau et plonger dans les vagues comme un petit dauphin. Mais aussi sur la terre ferme, en incitant les autres et moi-même à aller de l'avant, de manière ludique.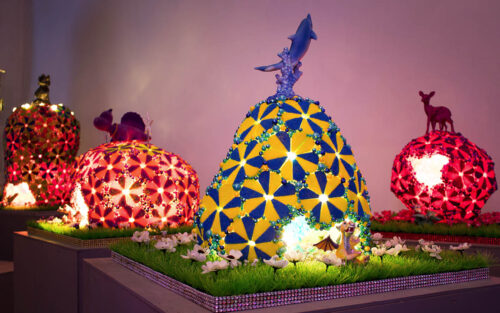 I raise my daughter and I do so with Care. I try to give her a happy, secure and loving childhood. I think Elvira and I, together, do a great job.
Daarnaast zorg ik voor mijn dochter en dat doe ik met Care. Ik probeer haar een fijne, geborgen en liefdevolle jeugd te geven. Samen met Elvira, denk ik dat ik dit goed doe.
Ebenso sorge ich für meine Tochter und das tue ich mit Care. Ich versuche ihr eine schöne, geborgene und liebevolle Jugend zu geben. Zusammen mit Elvira, denke ich, mache ich das gut.
En plus de cela, je prends soin de ma fille et c'est ce que je fais avec Care. J'essaie de lui donner une enfance agréable, sûre et pleine d'amour. Ensemble avec Elvira, je pense que je fais ça bien.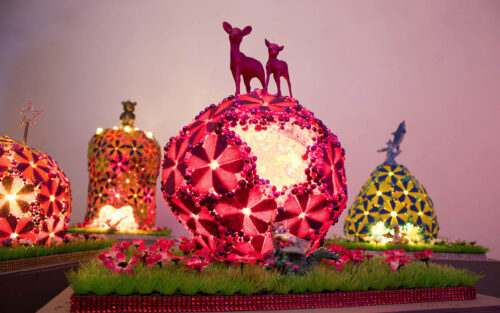 I am Loyal, I won't push someone away easily. And when I am critical, I still act with a sense of loyalty. I usually try to bring out the best in people.
Ik ben Loyal, ik zal iemand niet snel afschrijven. En zelfs als ik kritiek heb, doe ik dat nog vanuit een gevoel van trouw. Ik probeer meestal het goede in mensen naar boven te halen.
Ich bin Loyal, ich werde niemanden schnell abschreiben. Und selbst wenn ich Kritik habe, tue ich dies aus einem Gefühl der Treue heraus. Ich versuche meistens, das Gute aus den Menschen nach oben zu holen.
Je suis Loyal. Je ne laisserai personne tomber de sitôt. Et même si je critique, je le fais toujours par loyauté. J'essaie généralement de faire ressortir le bon côté des gens.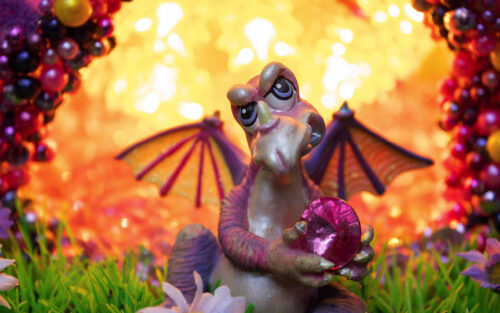 Finally, I think I have a Warm personality. I am open to contact. I'm not indifferent to the suffering in the world or harsh about others and I look at people with compassion.
Als laatste ben ik een Warm persoon. Uitnodigend voor contact. Niet onverschillig voor het leed in de wereld of hard over andere mensen. Ik bezie de mensen met mededogen.
Als letztes bin ich eine Warm Person. Kontakt auffordernd. Jemand, dem das Leid auf der Welt nicht gleichgültig ist oder keiner, der hart anderen Menschen gegenüber ist. Ich beschaue Menschen mit Mitleid.
Enfin, je suis une personne chaleureuse, Warm. J'invite à entrer en contact. Je ne suis pas indifférent à la souffrance du monde ou dur pour les autres. Je considère les gens avec compassion.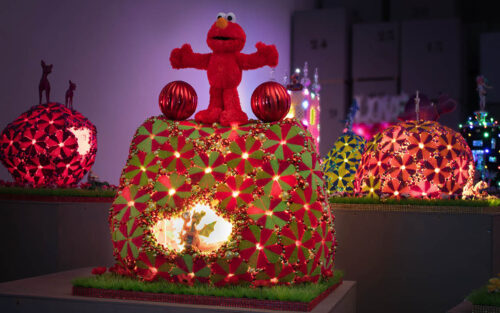 It feels good to list these qualities for myself. This way I am able to rebuild my self-esteem step by step. On a mountain top in Switzerland during a hiking holiday, while Tjorven is in the tent, I look up at the stars and I feel that all is well. I am whole. Once back home, I am able to finish the last Dragon Hole. All the colors of life come together. I crawl out of my hole. I am Zen.
Het doet me goed deze eigenschappen eens voor mij zelf op een rijtje te zetten. Zo vind ik stap voor stap mijn eigenwaarde terug. Als ik tijdens een wandelvakantie op een bergtop in Zwitserland zit, Tjorven al in de tent ligt en ik naar de sterren kijk, voel ik dat het goed is. Ik ben heel. Eenmaal weer thuis ben ik in staat de laatste Dragon Hole af te maken. Alle kleuren van het leven komen hier samen. Ik kruip uit mijn hol. Ik ben Zen.
Es tut mir gut, diese Eigenschaften einmal für mich vor Augen zu haben. So finde ich Schritt für Schritt mein Selbstwertgefühl wieder zurück. Als ich während eines Wanderurlaubs auf einem Berggipfel in der Schweiz sitze, Tjorven schon im Zelt liegt und ich nach den Sternen schaue, fühle ich, dass es gut ist. Ich bin ganz. Zu Hause angekommen, bin ich in der Lage die letzte Dragon Hole fertigzustellen. Alle Farben des Lebens kommen hier zusammen. Ich krieche aus meiner Höhle. Ich bin Zen.
Cela me fait du bien de pouvoir énumérer ces qualités à moi-même. De cette façon, je retrouve peu à peu mon amour-propre. Un soir, alors que je suis en randonnée au sommet d'une montagne en Suisse, Tjorven est déjà dans la tente et que je regarde les étoiles, je sens que tout va bien. Je suis guéri Une fois rentré chez moi, je suis capable de terminer le dernier Dragon Hole. Toutes les couleurs de la vie se retrouvent ici. Je sors de ma tanière. Je suis Zen.
It feels like the devil's work but just when I'm feeling complete and well again, Hilde calls. She wants to see me. It seems like the Love of the Fox and the Rabbit, because of course I want to see her too. All she needs to do is hop and skip before me and, whoop! I go hunting again!
Alsof de duvel er mee speelt, nét als ik me weer helemaal goed voel, belt Hilde. Ze wil me graag zien. Het lijkt wel de Love of the Fox and the Rabbit, want natuurlijk wil ik dat ook graag. Ze hoeft maar voor me te huppelen en ik ga weer op jacht.
Als ob der Teufel mitspielt, gerade als ich mich wieder komplett gut fühle, ruft Hilde an. Sie möchte mich gerne sehen. Es scheint wohl die Love of the Fox and the Rabbit, denn natürlich möchte ich das auch gerne. Sie braucht nur vor mir her zu hüpfen und schon gehe ich wieder auf Jagd.
Comme si le diable jouait avec moi, juste au moment où je me sens à nouveau si bien, Hilde appelle. Elle veut me voir. C'est comme Love of the Fox and the Rabbit, parce que bien sûr je le veux. Elle n'a qu'à sautiller devant moi et je repars à la chasse.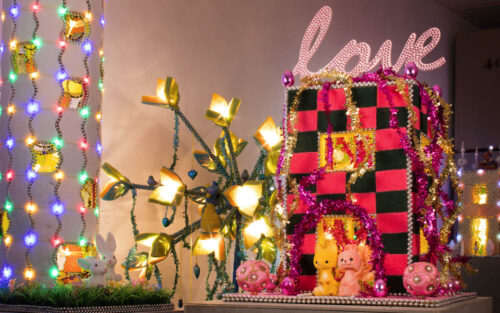 We plan a two-day trip and then, just before we leave, she cancels. For an instant I am furious; here we go again! But I swallow my anger. If I want something with Hilde, I will need to have a lot of patience before the roses bloom, Garden My Love.
We plannen een uitje van twee dagen, maar op het laatste moment zegt ze af. Even sta ik woedend te wezen; daar gaan we wéér!!! Maar ik slik mijn boosheid weg. Als ik wat met Hilde wil, zal ik nog veel geduld moeten hebben voordat de rozen bloeien….. Garden My Love.
Wir planen einen zweitägigen Ausflug, aber im letzten Moment sagt sie ab. Kurz bin ich wütend; da fängt es wieder an!!! Aber ich schlucke meine Wut runter. Wenn ich was mit Hilde anfangen möchte, werde ich noch viel Geduld haben müssen, bevor die Rosen blühen…. Garden My Love.
Nous avons prévu une escapade de deux jours, mais à la dernière minute, elle annule. Pendant un instant, je suis furieux : c'est reparti ! Mais j'avale ma colère. Si je veux vivre une relation avec Hilde, il faudra faire preuve de patience avant que les roses ne s'épanouissent…. Garden My Love.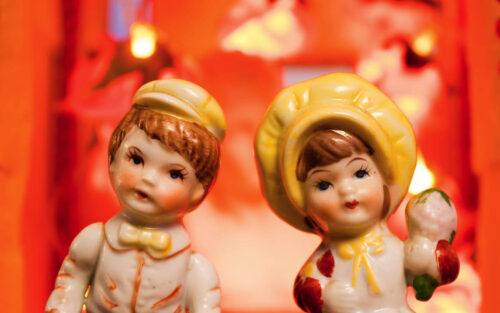 Although I remained calm, Hilde was shocked by the two seconds of fierceness she saw in my eyes and she withdraws back into her tree, like a timid little bird. Perfectly camouflaged, she tries to hide there while I feel like a powerless frog on the ground. My Eyes Are Fixed on You, Bluebird. I can see her sitting among the branches and suddenly I realize: she will always flee.
Ondanks dat ik rustig ben gebleven, is Hilde toch geschrokken van de twee seconden felheid die ze in mijn ogen zag en ze heeft zich weer als een schuw vogeltje teruggetrokken in haar boom. Met een perfecte schutkleur probeert ze zich daar te verschuilen, terwijl ik me op de grond een machteloze kikker voel. My Eyes Are Fixed on You, Bluebird. Ik zie haar zitten tussen de takken en opeens besef ik me; zij altijd zal wegvluchten.
Trotz, dass ich ruhig geblieben bin, ist Hilde dennoch erschrocken von der zweisekündigen Grimmigkeit, die sie in meinen Augen sah und sie hat sich wieder wie ein scheues Vögelchen in ihren Baum zurückgezogen. Mit einer perfekten Tarnfarbe versucht sie sich dort zu verstecken, während ich mich am Boden wie ein machtloser Frosch fühle. My Eyes Are Fixed on You, Bluebird. Ich sehe sie zwischen den Ästen sitzen und auf einmal begreife ich; sie wird immer wegfliehen.
Malgré le fait que je sois resté calme, Hilde est choquée par les deux secondes de férocité qu'elle a vues dans mes yeux et elle s'est retirée sur son arbre comme un petit oiseau timide. D'une couleur de camouflage parfaite, elle essaie de s'y cacher, tandis qu'au sol, je me sens comme une grenouille impuissante. My Eyes Are Fixed on You, Bluebird. Je la vois assise entre les branches et soudain je me rends compte qu'elle fuira toujours.
I go by Hilde's place one last time but she's off to her yoga class. I tell her she can call me if she wants to see me. And that is how Hilde disappeared from my life…
Nog één keer ga ik bij Hilde langs, maar ze moet naar yoga. Ik zeg dat ze me kan bellen als ze zin heeft om me te zien. En zo verdwijnt Hilde uit mijn leven….
Noch ein einziges Mal gehe ich bei Hilde vorbei, aber sie muss zum Yoga. Ich sage, dass sie mich anrufen kann, wenn sie Lust hat, mich zu sehen. Und so verschwindet Hilde aus meinem Leben….
Une ultime fois, je vais voir Hilde, mais elle doit se rendre au yoga. Je dis qu'elle peut m'appeler si elle a envie de me voir. Et c'est ainsi que Hilde disparaît de ma vie….
Now I am done with it. I don't want to be alone anymore. All I Want for Christmas!! is a girlfriend who is sweet, kind and attractive. A girlfriend who makes me feel at home. Who doesn't just take, but also gives. A girlfriend who really goes for it.
Nu heb ik er genoeg van. Ik wil niet meer alleen zijn. All I Want for Christmas!! is een vriendin die lief, aardig en aantrekkelijk is. Een vriendin die me een thuisgevoel geeft.  Die niet alleen maar neemt, maar ook iets geeft. Een vriendin die er ook echt voor gaat.
Jetzt habe ich genug davon! Ich möchte nicht mehr alleine sein. All I Want for Christmas!! ist eine Freundin, die lieb, nett und attraktiv ist. Eine Freundin, die mir ein Gefühl von zu Hause gibt. Die nicht nur nimmt, sondern auch etwas gibt. Eine Freundin, die sich auch wirklich einsetzt.
Maintenant, j'en ai assez. Je ne veux plus être seul. All I Want for Christmas !!, c'est une amie qui soit douce, gentille et séduisante. Une amie qui me fait sentir bien.  Qui non seulement prend, mais aussi donne. Une amie qui s'engage réellement.
And as often happens when I make a Shrine, reality conforms to it. I feel something is coming. The Great Wizard is working. It's taking me somewhere and I know someone else is being taken too, I just can't see who it is…
En zoals wel vaker gebeurt als ik een beeld maak, voegt de werkelijkheid zich er naar. Ik voel dat er wat aan gaat komen, The Great Wizard is aan het werk. Ik beweeg me ergens naar toe en ik weet dat er iemand anders ook beweegt. Ik kan alleen nog niet zien wie…..
Und so wie es wohl öfter passiert, wenn ich eine Figur mache, fügt sich die Wirklichkeit danach. Ich fühle, dass etwas kommen wird, The Great Wizard ist an der Arbeit. Ich bewege mich irgendwo hin und ich weiß, dass jemand anders sich auch dorthin bewegt. Ich kann nur noch nicht sehen, wer….
Et comme il arrive souvent quand je crée, la réalité s'y adapte. Je sens quelque chose arriver, The Great Wizard est à l'œuvre. J'avance vers quelque part et je sais que quelqu'un d'autre avance aussi. Mais je ne vois pas encore qui……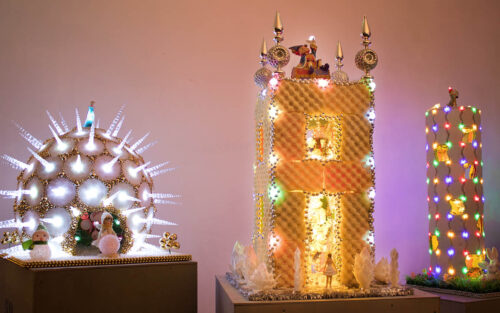 I dream that I approach a river. There is a group of people on the shore. It looks like a scene from the days of the hunters and gatherers. I'm looking for someone, a woman. A young woman comes up to me. She introduces herself, her name is Omen. I am surprised that she is interested in me, as young as she is. "You know me," she says. Before we use a tree trunk to cross the river, she jumps on my back and I carry her to the other side.
Is this an omen? I do know her. But her name is not Omen, it is Lena. For the past two years we have played on the same volleyball team. Her indeed. She is twenty years younger than I am and has little experience with relationships. I help her move to a new place and then the spark hits. I wouldn't say she fits me, but we are starting something.
Ik droom dat ik bij een rivier kom. Er zit een groepje mensen aan de oever en het lijkt op een scene uit de tijd van de jager-verzamelaars. Ik ben op zoek naar iemand, een vrouw. Een jonge vrouw komt naar me toe. Ze stelt zich voor; Omen heet ze. Ik ben verbaasd dat ze geïnteresseerd is in mij, zo jong als ze is. "Je kent me wel", zegt ze nog. Als we de rivier oversteken via een boomstam, springt ze op mijn rug en draag ik haar naar de overkant.
Is dit een voorteken? Ik ken haar inderdaad. Ze heet geen Omen maar Lena en zit al twee jaar bij mij in het volleybalteam. Ze is twintig jaar jonger en heeft weinig ervaring in serieuze relaties. Ik help haar met verhuizen en dan slaat de vonk over. Ik zou niet zeggen dat ze bij me past, maar toch beginnen we iets.
Ich träume, dass ich zu einem Fluss komme. Ein Grüppchen Menschen sitze am Ufer und es sieht wie eine Szene aus der Jäger- und Sammlerzeit. Ich bin auf der Suche nach jemanden, einer Frau. Eine junge Frau kommt auf mich zu. Sie stellt sich vor; Omen heißt sie. Ich bin erstaunt, dass sie sich für mich interessiert, so jung wie sie ist. "Du kennst mich wohl", sagt sie noch. Als wir mit Hilfe eines Baumstammes den Fluss überqueren, springt sie auf meinen Rücken und ich trage sie auf die andere Seite.
Ist das ein Vorzeichen? Ich kenne sie tatsächlich. Sie heißt nicht Omen, aber Lena und sitzt schon seit zwei Jahren in meiner Volleyballmannschaft. Sie ist zwanzig Jahre jünger und hat wenig Erfahrungen mit Beziehungen. Ich helfe ihr beim Umzug und dann springt der Funke über. Ich würde nicht behaupten, dass sie zu mir passt, aber dennoch kommen wir zusammen.
Je rêve que j'arrive à une rivière. Il y a un groupe de personnes sur la rive et on dirait une scène de l'époque des chasseurs-cueilleurs. Je cherche quelqu'un, une femme. Une jeune femme vient à moi. Elle se présente, son nom est Omen. Je suis surpris qu'elle s'intéresse à moi, elle est si jeune. "Tu me connais", dit-elle. Quand nous traversons la rivière en passant par un tronc d'arbre, elle me saute sur le dos et je la porte de l'autre côté.
Est-ce un présage ? Je la connais, en effet. Elle ne s'appelle pas Omen mais Lena et elle fait partie de mon équipe de volley-ball depuis deux ans. Elle a 20 ans de moins et a peu d'expérience dans les relations sérieuses. L'étincelle passe lorsque je l'aide à déménager. Je ne dirais pas qu'elle me correspond, mais on entame quand même une relation.
It feels as if we have been pulled out of a top hat by a magician. Dazed we sit in the grass like two rabbits, more surprised than in love. Do we have to sort it out together? It's Magic!!!
My Shrines and reality are now completely mixed up. The shrine of the rabbits is completed before Lena and I start something. Only when Lena asks me to explain what the love house is about do I realize the shrine concerns the two of us.
Het voelt alsof we door een goochelaar uit de hoge hoed zijn getoverd. Beduusd zitten we als twee konijntjes in het gras, meer verbaasd dan verliefd. Zijn wij het dan die het samen met elkaar moeten gaan uitzoeken? It's Magic!!!
Mijn beelden en werkelijkheid lopen nu helemaal door elkaar heen. Zo maak ik éérst het beeld van de konijntjes en pas daarna beginnen we iets. Ik besef me pas dat het op Lena en mij slaat als zij me vraagt om te vertellen over wie het beeld gaat.
Es fühlt sich an, als ob wir von einem Magier aus dem großen Hut gezaubert wurden. Verdutzt sitzen wir wie zwei Kaninchen im Gras, mehr erstaunt als verliebt. Sind wir es nun, die es zusammen herausfinden müssen? It's Magic!!!
Meine Bilder und die Wirklichkeit überschneiden sich jetzt total. So mache ich zuerst die Figur mit den Kaninchen und erst danach kommen wir zusammen. Ich begreife erst, dass es um Lena und mich geht, als sie mich fragt, über wen die Figur handelt.
C'est comme si un magicien nous avait fait sortir de son chapeau. On est comme deux petits lapins dans l'herbe, étonnés, plus surpris qu'amoureux. Serions-nous faits l'un pour l'autre ? It's Magic!!!
Mes créations et la réalité sont à présent mélangées. Notre relation a débuté après avoir créé les petits lapins. Quand elle me demande de lui parler de ma création, je me rends compte que celle-ci parle de nous, de Lena et de moi.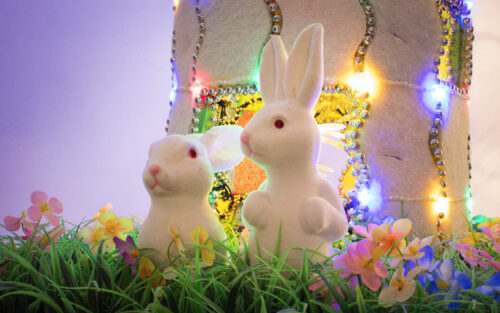 With other girlfriends, we quickly went to the physical part. With Lena this is not possible. For her whole idea of ​​sex and horniness is complicated. No, before we go there, we first need to go through the Love Gate. She will allow a chaste kiss on the cheek while we sit romantically on a bench, listening to classical music. She clearly finds love more important than sex. And that too is beautiful. Maybe after a while she will trust me enough to also enjoy making love.
Ging ik met andere vriendinnen gelijk door naar het lichamelijke gedeelte, zit dat er bij Lena niet in. Ze vindt het hele idee van seks en onbekommerd geil zijn maar knap ingewikkeld. Nee, voordat we daar aan toe komen, zullen we eerst door de Love Gate moeten gaan. Samen romantisch op een bankje zitten en dan misschien een kuis kusje op de wang, terwijl we luisteren naar klassieke muziek. Ze vindt de liefde duidelijk belangrijker dan de seks. En dat is ook wel mooi. Misschien dat ze me over een tijdje genoeg vertrouwd om daar ook van te kunnen genieten.
Ging ich mit anderen Freundinnen sofort zum körperlichen Teil über, sitzt das bei Lena nicht drin. Sie findet die ganze Idee vom Sex und des unbekümmerten Geilseins ganz schön kompliziert. Nein, bevor wir dahin kommen, müssen wir erst durch das Love Gate gehen. Zusammen romantisch auf einer Bank sitzen und dann vielleicht ein keusches Küsschen auf die Wange, während wir klassische Musik hören. Sie findet die Liebe deutlich wichtiger als den Sex. Und das ist auch ganz schön. Vielleicht vertraut sie mir nach einer gewissen Zeit genug, um auch vom Vögeln genießen zu können.
Autant je suis passé directement à la partie physique avec mes autres copines, autant ce n'est pas le cas avec Lena. Elle trouve compliquée l'idée de faire l'amour et d'être excitée sans se soucier de rien. Non, avant d'en arriver là, nous allons devoir passer par la Love Gate. S'asseoir ensemble, romantique, sur un banc, puis peut-être un chaste baiser sur la joue, tout en écoutant de la musique classique. Elle pense clairement que l'amour est plus important que le sexe. Et c'est beau aussi. Peut-être que dans quelques temps, elle me fera assez confiance pour apprécier cela aussi.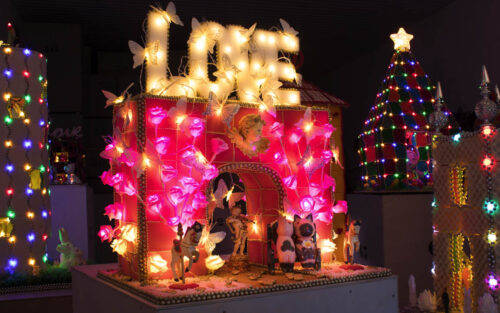 Timid like a hedgehog, Lena finally crawls out of her ice shack. She wants to play outside but she is also a bit tense, as if she has just awoken from hibernation. The world still looks Frozen and she herself is cool and reserved. And I, I am waiting for her like an impatient snowman. "Come on, frozen one, melt!!"
Schuchter als een egeltje komt Lena eindelijk uit haar ijsstolp gekropen. Ze wil wel buiten spelen maar vindt het ook nog spannend, alsof ze ontwaakt uit een winterslaap. De wereld oogt nog Frozen en zelf is ze ook nog koel en terughoudend. En ik…, ik sta als een ongeduldig sneeuwpopje op haar te wachten. "Kom nou, dooie!!"
Schüchtern wie ein Igel kommt Lena endlich aus ihrer Eisglocke gekrochen. Sie möchte wohl draußen spielen, aber sie ist auch gespannt, als ob sie aus dem Winterschlaf erwacht. Die Welt sieht noch Frozen aus und sie ist selbst auch noch kühl und zurückhaltend. Und ich…, ich warte wie ein ungeduldiger Schneemann auf sie. "Komm schon, taue auf!!"
Timide comme un hérisson, Léna finit par sortir, rampante de sous sa cloche de glace. Elle voudrait jouer dehors, et, en même temps, elle trouve ça excitant, comme si elle se réveillait de son hibernation. Le monde a toujours l'air Frozen et elle est tout autant distante et réservée. Et moi… je l'attends comme un bonhomme de neige, impatient. "Allez, viens !"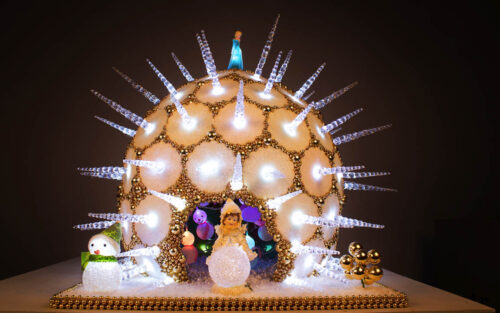 Lena comes to life and yet our relationship has not become any easier. She can relinquish control a little better but consequently her dark side comes out more often. And that is pretty spicy! We often argue and sometimes don't see each other for a week. Yet neither of us wants to stop seeing each other even though we shout a hundred times that we do.
Nu Lena meer tot leven is gekomen, is onze relatie er niet echt makkelijker op geworden. Ze kan de controle wat vaker loslaten, maar dat maakt ook dat haar duistere kant meer naar buiten komt. En die is niet misselijk! We hebben vaak ruzie en zien elkaar dan soms een week niet. Toch willen we allebei niet stoppen, ook al roepen we honderd keer van wel.
Nun, wo Lena mehr zum Leben erweckt wurde, ist unsere Beziehung nicht einfacher geworden. Sie kann die Kontroller öfter loslassen, aber das bewirkt auch, dass ihre düstere Seite mehr zum Vorschein kommt. Und die ist nicht ohne! Wir haben oft Streit und sehen uns manchmal eine Woche lang nicht. Jedoch möchten wir beide nicht Schluss machen, auch wenn wir das dennoch hundert Mal schreien.
Même si Lena s'est un peu ouverte à la vie, notre relation n'est pas vraiment devenue plus facile. Elle arrive à se lâcher un peu plus souvent, mais cela fait aussi ressortir davantage son côté sombre. Et celui-ci est assez impressionnant ! On se dispute souvent et parfois on ne se voit pas pendant une semaine. Pourtant, nous ne voulons pas nous arrêter là, même si nous crions cent fois que si.
It becomes increasingly clear that the problems we encounter are related to a dark part within Lena. Time and again she projects negative feelings from the past into the present. If it goes on like this, our relationship cannot continue. First she will have to face her old pain, retreat to the Lonely Mountain and accept that suffering is a part of life. And then finally it can lead her to the mountains of gold.
Het begint nu steeds duidelijker te worden dat de problemen die we tegenkomen te maken hebben met een donker stukje in Lena. Steeds weer projecteert ze negatieve gevoelens uit het verleden op het heden. Zoals het nu gaat, kan onze relatie geen doorgang vinden. Eerst zal ze haar eigen stuk onder ogen moeten zien, zich terugtrekken op de Lonely Mountain en aanvaarden dat lijden bij het leven hoort. Uiteindelijk kan dat haar gouden bergen opleveren.
Es beginnt jetzt immer deutlicher zu werden, dass die Probleme, auf die wir stoßen, mit einem dunklen Stückchen in Lena zu tun haben. Immer wieder projiziert sie negative Gefühle aus der Vergangenheit in die Gegenwart. So wie es jetzt läuft, kann unsere Beziehung nicht weitergehen. Erst muss sie ihrem eigenen alten Schmerz unter die Augen treten, sich auf die Lonely Mountain zurückziehen und akzeptieren, dass Leiden zum Leben dazugehört. Schlussendlich kann ihr das goldene Berge liefern.
Il est maintenant de plus en plus clair que les problèmes que nous rencontrons sont liés à la partie sombre du passé de Léna. Elle projette sans cesse des sentiments négatifs du passé sur le présent. Dans cette manière, notre relation ne peut pas continuer. Elle devra d'abord faire face à son propre problème, se retirer sur son Lonely Mountain et accepter que la souffrance fait partie de la vie. Finalement, cela pourrait lui apporter monts et merveilles.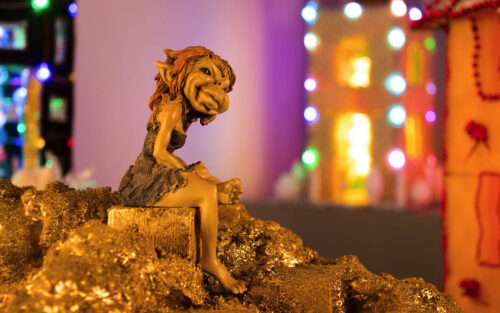 Apparently I am attracted to women who have something to solve, because Lena is definitely not the first one with whom I experience this. It would be nice if it would come to a positive conclusion this time.
Blijkbaar val ik op vrouwen die nog iets op te lossen hebben, want Lena is beslist niet de eerste bij wie ik dit mee maak. Het zou mooi zijn als het dit keer wel tot een goed einde komt.
Anscheinend stehe ich auf Frauen, die noch etwas zu lösen haben, denn Lena ist sicher nicht die erste, bei der ich dies erlebe. Es wäre schön, wenn es diesmal wohl zu einem guten Ende kommt.
Apparemment, j'aime les femmes qui ont encore quelque chose à résoudre, parce que Lena n'est absolument pas la première personne chez qui je vois cela. Ce serait formidable si cette fois-ci, les choses se terminaient bien.
When Lena and I don't see each other for three weeks, I meet Hilde to drink coffee. She wants me to come back, this shows how strong the feeling still is after all this time. But no, I'm not going back. Maybe Hilde fits me better in style, but Lena and I have started an adventure. And even though it's difficult, I first want to see how that ends. At least Lena and I are both doing the best we can.
Als Lena en ik weer eens "uit elkaar zijn", spreek ik een keer af met Hilde, we drinken koffie. Ze wil me terug, zo sterk is het gevoel na zoveel tijd nog. Maar nee, ik ga niet terug. Misschien past Hilde qua stijl wel beter bij mij, maar ik ben nu een avontuur met Lena begonnen. En ook al gaat het moeizaam, ik wil eerst kijken hoe dat afloopt. Lena en ik doen in ieder geval allebei ons best.
Als Lena und ich wieder einmal für drei Wochen "getrennt sind", verabrede ich mich einmal mit Hilde, wir trinken Kaffee. Sie möchte mich zurück, so stark ist das Gefühl noch nach al der Zeit. Aber nein, ich gehe nicht zurück. Vielleicht passt Hilde vom Stil her besser zu mir, aber ich bin jetzt ein Abenteuer mit Lena angefangen. Und auch wenn es mühsam ist, ich möchte erst sehen, wie das endet. Lena und ich geben auf jeden Fall unser bestes.
Quand Lena et moi aurons à nouveau "rompu" , je retrouve Hilde, et on prend un café ensemble. Elle veut que je revienne, c'est dire à quel point ce sentiment reste fort, après tant de temps. Mais non, je n'y retournerai pas. Peut-être que le style de vie de Hilde me convient mieux, mais j'ai commencé une aventure avec Lena maintenant. Et même si c'est difficile, je veux voir comment ça se passera. Au moins, Lena et moi faisons de notre mieux.
During this period I don't have a lot of time to make new Shrines. The various chores, such as earning money, renovating my house, taking care of my daughter and creating new work are difficult to combine. If I want to make this quest a public success as well, I will still need to invest a lot of time and energy. This is why I decide to finish my real house first. With this house, I earn money by renting out rooms, but not enough to pay for the renovation. So I work to make money and then put that into the renovation. When that's all done, I hope I will have enough time to spend on my Quest for Love.
Veel tijd om nieuw Shrines te maken, heb ik op het moment niet. De verschillende taken zoals geld verdienen, mijn huis opknappen, voor mijn dochter zorgen en het maken van nieuw werk, zijn best lastig te combineren. Wil ik van deze Quest ook één publiekssucces maken, dan moet ik er nog veel tijd en energie in steken. Daarom heb ik besloten om eerst mijn echte huis af te maken. Met dit huis verdien ik geld door het verhuren van kamers, maar niet genoeg om ook het opknappen te kunnen bekostigen. Dus ik werk om geld te verdienen en stop dat in de restauratie. Als dat klaar is, hoop ik weer genoeg tijd in mijn Quest For Love te kunnen steken.
Viel Zeit um neue Shrines zu machen, habe ich momentan nicht. Die verschiedenen Aufgaben wie Geld verdienen, mein Haus renovieren, mich um meine Tochter kümmern und das Erstellen von neuen Werken sind ziemlich schwierig zu kombinieren. Wenn ich diese Quest auch zu einem Publikumserfolg machen möchte, muss ich noch viel Zeit und Energie reinstecken. Darum habe ich beschlossen, erst mein echtes Haus fertigzustellen. Mit diesem Haus verdiene ich durch das Vermieten von Zimmern Geld, aber nicht genug, um auch die Renovierungen bezahlen zu können. Also arbeite ich, um Geld zu verdienen und stecke das in die Restauration. Wenn das fertig ist, hoffe ich wieder genug Zeit in meine Quest For Love stecken zu können.
Je n'ai pas beaucoup de temps libre pour faire de nouveaux Shrines pour le moment. Les différentes occupations, comme gagner de l'argent, rénover ma maison, prendre soin de ma fille et de faire de nouvelles créations, sont assez difficiles à combiner. Si en plus je veux faire de cette quête un succès public, je dois encore y consacrer beaucoup de temps et d'énergie. C'est pourquoi j'ai décidé de finir d'abord ma vraie maison. Avec cette maison, je gagne de l'argent en louant des chambres, mais pas assez pour payer la rénovation. Je travaille donc pour gagner de l'argent et le réinvestir dans la restauration. Quand ce sera fait, j'espère pouvoir remettre suffisamment de temps dans ma Quest for Love.
Just as I am trying to build a house, I am trying to convince Lena to surrender to the idea of building a home together. We have been together for two years and still she doubts whether I am the right one for her, whether we will overcome our difficulties and whether I am not too old for her. But she doesn't do well without me and she wants to be with me. I try to show her how sweet the fruits of a safe warm home are. My Home Is My Castle.
Zoals ik in praktisch zin een huis opbouw, probeer ik ook Lena te overtuigen zich over te geven aan het idee om samen een thuis op te bouwen. Na meer dan twee jaar twijfelt zij nog altijd of ik wel de juiste ben, of we wel uit onze moeilijkheden gaan komen en of ik niet te oud voor haar ben. Tegelijkertijd wil ze ook niet zonder mij leven en wil ze graag bij mij zijn. Ik probeer haar te laten zien hoe zoet de vruchten zijn van een veilig geborgen thuis. My Home Is My Castle.
Wie ich im praktischen Sinne ein Haus aufbaue, versuche ich auch Lena davon zu überzeugen, sich der Idee hinzugeben, zusammen ein Haus auf zu bauen. Nach mehr als zwei Jahren zweifelt sie immer noch, ob ich wohl der Richtige bin, ob wir wohl unsere Schwierigkeiten überwinden und ob ich nicht zu alt für sie bin. Gleichzeitig kann sie auch nicht gut ohne mich und möchte gerne bei mir sein. Ich versuche ihr zu zeigen, wie süß die Früchte eines sicheren geborgenen Hauser sind. My Home Is My Castle.
Comme je suis quasiment en train de construire une maison, j'essaie aussi de convaincre Lena de se laisser aller à l'idée de construire un foyer ensemble. Après plus de deux ans, elle doute encore que je sois le bon, que nous arrivions à sortir de nos difficultés et que je ne sois pas trop vieux pour elle. En même temps, elle ne veut pas vivre sans moi et elle veut être avec moi. J'essaie de lui montrer combien les fruits d'un foyer sûr et sécurisé sont sucrés. My Home Is My Castle.
Lena continues to doubt. In her dark ivory tower, she is held captive in a bodice of sorrow. She gets closer to her pain, but is often completely overwhelmed by it. Then she is angry with everything and everyone. But mostly I am the target of her anger. I'm still holding on because I see that she is working so very hard, but it is not a pleasant time. I am waiting like a faithful dog until she releases her pain and appears as my loving and arousing bride. ♪ ♪There Comes the Bride ♪ ♬ ♫
Nog altijd is Lena aan het twijfelen. In haar donkere ivoren toren zit ze gevangen in een keurslijf van verdriet. Steeds dichter komt ze bij haar pijn, maar ook vaak genoeg wordt ze er compleet door overweldigt. Dan is ze boos op alles en iedereen, maar ben vooral ik de schietschijf van haar woede. Ik houd het nog vol omdat ik zie dat ze er keihard aan werkt, maar leuk vind ik het niet. Ik sta te wachten als een trouwe hond tot ze zich losmaakt van haar pijn en naar buiten komt als mijn lieftallige en opwindende bruid. ♫♪There Comes the Bride ♪♬♫
Noch immer ist Lena am Zweifeln. Ich ihrem dunklen Elfenbeinturm sitzt sie gefangen in einem Korsett der Traurigkeit. Immer näher kommt sie ihrem Schmerz, aber auch oft genug wird sie komplett überwältigt von ihm. Dann ist sie sauer auf alles und jeden, aber bin vor allen ich die Zielscheibe ihrer Wut. Ich halte es noch aus, weil ich sehe, dass sie knallhart daran arbeitet, aber toll finde ich das nicht. Ich warte wie ein treuer Hunde, bis sie sich von ihrem Schmerz löset und nach draußen kommt als meine liebliche und aufregende Braut. ♫♪There Comes the Bride ♪♬♫
Léna doute encore. Dans sa sombre tour d'ivoire, elle est prisonnière d'une camisole de tristesse. Elle se rapproche de plus en plus de cette souffrance, mais assez souvent elle est complètement dépassée par elle. Alors elle est en colère contre tout et contre tout le monde, mais c'est surtout moi qui suis la cible de sa colère. Je peux encore tenir le coup parce que je vois qu'elle y travaille très dur, mais je n'aime pas ça. J'attends comme un chien fidèle qu'elle se libère de sa peine et qu'elle sorte comme ma promise, belle et passionnante. ♫♪ There Comes the Bride ♪♬♫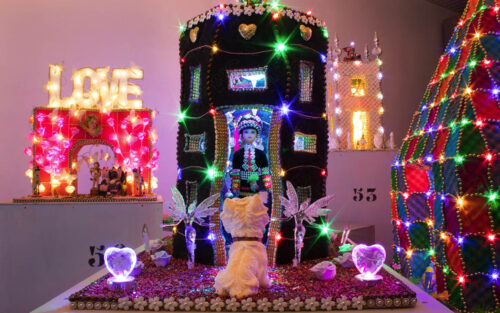 Our lives roll back and forth, between joy and misery. When harmonious, we are happy together, and then something touches the old pain again. Occasionally Lena manages to embrace it and let it pass, but often she is convinced that she is treated as inferior and then it gets explosive. Later she regrets it. I admire that she doesn't run away from it, but keeps searching. This way she has her own quest.
Ons leven golft heen en weer tussen vreugde en ellendigheid. Zijn we in harmonie, dan zijn we gelukkig met elkaar totdat er weer iets raakt aan oude pijn. Een enkele keer lukt het Lena om die gewoon te voelen en weer voorbij te laten gaan, maar vaak is ze er van overtuigd dat ze behandeld wordt alsof ze er niet toe doet en barst de bom. Later heeft ze daar dan weer spijt van. Mooi vind ik wel dat ze er niet voor wegloopt, maar blijft zoeken. Zo heeft zij haar eigen Quest.
Unser Leben flattert hin und her zwischen Freude und Elend. Wenn wir in Harmonie sind, dann sind wir glücklich mit einander, bis etwas wieder den alten Schmerz trifft. Ein einziges Mal gelingt es Lena, diesen einfach zu fühlen und wieder vorbeiziehen zu lassen, aber oft ist sie davon überzeugt, dass sie minderwertig behandelt wird und lässt die Bombe platzen. Später bereut sie das dann wieder. Schön finde ich wohl, dass sie nicht davor wegläuft, aber am Suchen bleibt. So hat sie ihre eigene Quest.
Nos vies oscillent entre joie et tristesse. Quand nous sommes en symbiose, nous sommes heureux l'un avec l'autre jusqu'à ce que quelque chose touche de nouveau à cette ancienne souffrance. Parfois, Lena arrive à la percevoir et à la laisser passer, mais souvent elle est convaincue qu'on la traite comme si elle n'avait pas d'importance et la bombe éclate. Ce que, plus tard, elle regrette. J'aime le fait qu'elle ne s'enfuit pas, mais qu'elle continue à chercher. Elle a donc sa propre quête.
Sometimes it all gets a bit too much for me. Then I have disagreements on all fronts. At work as an exhibition builder, with my swimming buddies and also with Lena. When I also succumb to the pressure I put on myself, regarding the goals I want to achieve in life, I long for simplicity. To A kind of Shelter in nature, where you can enjoy the simple things in life without too many worries and responsibilities. From now on I decide to be guided by the star that points in that direction. It may not be possible to get there right now, but who knows, in a few years. It would be nice to be there with Lena…
Soms wordt het me allemaal iets te veel, dan heb ik op alle fronten onenigheid. Op mijn werk als tentoonstellingsbouwer, met mijn zwemvrienden en dan ook met Lena. Als ik mijzelf daarnaast ook nog te veel druk opleg wat betreft de doelen die ik wil bereiken in het leven, kan ik sterk verlangen naar eenvoud. Een soort Shelter in de natuur, waar je zonder al te veel zorgen en verantwoordelijkheden kunt genieten van de simpele dingen in het leven. Ik besluit me voortaan te laten leiden door de ster die in deze richting wijst. Misschien lukt het niet nú om daar te komen, maar wie weet wel over een paar jaar. Het zou fijn zijn om daar samen met Lena te zijn….
Manchmal wird mir alles etwas zu viel, dann habe ich an allen Fronten Uneinigkeiten. Auf meiner Arbeit als Ausstellungsbauer, mit meinen Schwimmfreunden und dann auch mit Lena. Wenn ich mir außerdem noch zu viel Druck auferlege bezüglich meiner Ziele, die ich im Leben erreichen möchte, kann ich stark nach Einfachheit verlangen. Eine Art Shelter in der Natur, wo man von den simplen Dingen im Leben genießen kann ohne zu viel Sorgen und Verantwortlichkeiten. Ich entschließe, mich von nun an von dem Stern leiten zu lassen, der in diese Richtung zeigt. Vielleicht klappt es nicht jetzt dahinzukommen, aber wer weiß, vielleicht in ein paar Jahren. Es wäre schön, zusammen mit Lena dort zu sein….
Parfois, ça devient un peu trop pour moi, quand j'ai des désaccords sur tous les fronts. Dans mon travail de constructeur d'expositions, avec mes copains nageurs et puis aussi avec Lena. Si en plus je me mets trop de pression sur les objectifs que je veux atteindre dans la vie, je peux ardemment vouloir un peu de simplicité. Une sorte de Shelter dans la nature, où tu peux profiter des choses simples de la vie sans trop de soucis ni de responsabilités. A partir de maintenant, je décide d'être guidé par l'étoile qui pointe dans cette direction. Peut-être que je n'y arriverai pas tout de suite, mais, qui sait, dans quelques années. Ce serait bien d'y arriver avec Lena….
All year the fluctuations in our relationship continue. In August, en route travelling from Italy to Switzerland while on holiday, I ask her to finally make up her mind. After first saying "No", two hundred kilometers further on it turns into a "Yes". We finish the holiday in an exultant mood and decide to live together! But once home, with the return to normal life her old feelings resurface: "I don't matter." And every time she feels that way, her dragon breathes fire again, she lights my fuse and we end up fighting. Even though afterwards she acknowledges her anger is unjustified, she still finds it too scary to start living together.
Het hele jaar blijft de golfbeweging in onze relatie aanhouden. In augustus, op vakantie onderweg van Italië naar Zwitserland, vraag ik haar eindelijk eens een keuze te maken. Na een aanvankelijk "Nee", wordt het tweehonderd kilometer verder alsnog een "Ja". We beëindigen de vakantie in jubelstemming en besluiten samen te gaan wonen!Maar eenmaal thuis komt met de orde van de dag bij haar weer het oude gevoel om de hoek kijken:"Ik doe er niet toe". En steeds als ze dat voelt, spuwt haar draak weer vuur, steekt ze bij mij de lont aan en eindigen we in ruzie.  Ook al erkent ze achteraf dat haar boosheid onterecht is, ze vindt het toch te spannend om samen te gaan wonen.
Das ganze Jahr über bleibt die Wellenbewegung in unserer Beziehung. Im August im Urlaub – unterwegs von Italien in die Schweiz – bitte ich sie, endlich einmal eine Entscheidung zu treffen. Nach einem anfänglichem "Nein" wird es zweihundert Kilometer weiter doch noch ein "Ja". Wir schließen den Urlaub in einer Jubelstimmung ab und entschließen uns zusammen zu ziehen! Aber einmal zu Hause angekommen, schleicht sich im Alltag bei ihr wieder das alte Gefühl ein: "Ich bin nichts wert". Und immer wenn sie das fühlt, speit ihr Drache wieder Feuer, entzündet sie bei mir den Docht und enden wir im Streit. Auch wenn sie im Nachhinein erkennt, dass ihre Wut zu unrecht war, findet sie es dennoch zu nervenaufreibend um zusammen zu ziehen.
Notre relation se poursuit tout au long de l'année avec des hauts et des bas. En août, en vacances et en allant de l'Italie vers la Suisse, je lui demande enfin de faire un choix. Après d'abord un "Non", elle prononce un "Oui", deux cents kilomètres plus loin. Nous terminons les vacances en jubilant et décidons de vivre ensemble ! Mais une fois de retour à la maison, l'ordre du jour lui redonne le vieux sentiment de "je ne vaux rien". Et chaque fois qu'elle sent ça, son dragon crache à nouveau du feu, allume la mèche chez moi et cela se termine en dispute.  Même si elle reconnaît par la suite que sa colère n'est pas justifiée, elle estime qu'elle n'est pas prête à vivre ensemble.
Meanwhile I finish the final jobs in the house, take photographs of the shrines of the past few years and write the accompanying texts. As I'm not working so much for others, more time remains for A Quest for Love. One of the most important things that has to be done, is to build a good website that does my work justice. Together with Nico I come up with a site with a Western/Don Quixote-like feel, in which the story of the quest is the leitmotiv. Aside from that the individual shrines and their deeper meanings are also given attention. I'm happy with the result. In this way, all my work comes together beautifully and from here I can try to interest others for my quest.
Ondertussen maak ik de laatste klussen in het huis af, fotografeer de shrines van de afgelopen jaren en schrijf de begeleidende tekst. Omdat ik minder voor anderen werk, blijft er meer tijd over voor A Quest For Love. Een van de belangrijkste dingen die er moet komen, is een goede website die recht doet aan mijn werk. Samen met Nico kom ik tot een site met een Western/Don Quichot-achtig uitstraling, waarbij het verhaal van de zoektocht leidend is. Daarnaast is er ook aandacht voor de afzonderlijke shrines en een inhoudelijke verantwoording. Ik ben blij met het resultaat. Al mijn werk komt zo mooi samen en van hieruit kan ik proberen anderen te interesseren voor mijn quest.
Inzwischen vollende ich die letzen Arbeiten am Haus, fotografiere die Scheine der letzten Jahre und schreibe den begleitenden Text. Weil ich weniger für andere arbeite, bleibt mehr Zeit für A Quest for Love übrig. Eines der wichtigsten Dinge, die noch fehlen, ist eine gute Website, die meiner Arbeit gerecht wird. Zusammen mit Nico bekomme ich eine Seite mit einer Western/Don Quichot-artigen Ausstrahlung, wobei die Geschichte der Suche leitend ist. Daneben finden auch die besonderen Schreine und eine inhaltliche Verantwortung Beachtung. Das Resultat erfreut mich. So wird all meine Arbeit schön zusammengetragen und von hier aus kann ich versuchen, andere für meine Quest zu interessieren.
En attendant, je termine les derniers travaux de la maison, je photographie les shrines des années précédentes et j'écris le texte qui les accompagne. Comme je travaille moins pour les autres, il me reste plus de temps pour A Quest for Love. L'une des choses les plus importantes à faire est un bon site web qui rend justice à mon travail. Avec Nico, je réalise un site avec un look et une ambiance un peu style Western/Don Quichotte, où se joue l'histoire de la recherche. De plus, il y a aussi une place pour les différents shrines et un compte rendu du contenu. Je suis heureux du résultat. Tout mon travail s'assemble si bien et à partir de là, je peux essayer d'intéresser les autres à ma recherche.
Trouble has come back to town. However much I care for Lena, I don't want to go on in this way. Even if you feel hurt, you don't immediately have to get angry. I find it really important that she learns to control her anger, just as I've had to learn. That she trains her Crouching Tiger, Hidden Dragon, so that she has it under control. If she can do that, then her weakness can instead become a power that knows no bounds. In the difficulties you overcome, your hidden talents can often be found.
De bom is gebarsten. Hoeveel ik ook om Lena geef, zo wil ik niet verder. Ook als je je geraakt voelt, hoef je nog niet gelijk boos te worden. Ik vind het echt van belang dat ze haar woede leert beheersen, zoals ik dat ook heb moeten leren. Dat ze haar Crouching Tiger, Hidden Dragon dresseert, zodat ze deze onder controle heeft. Lukt dat, dan kan haar zwakte juist een niet te onderschatten kracht worden. In de moeilijkheden die je overwint, schuilen vaak je verborgen talenten.
Die Bombe ist geplatzt. Obwohl mir Lena wichtig ist, will ich so nicht weiter. Auch wenn man sich getroffen fühlt, muss man noch lange nicht sofort sauer werden. Ich finde es wirklich wichtig, dass sie ihre Wut lernt zu beherschen, so wie ich es auch habe lernen müssen. Dass sie ihren Crouching Tiger, Hidden Dragon dressiert, sodass sie diesen unter Kontrolle hat. Klappt es, dann kann gerade ihre Schwäche zu einer nicht zu unterschätzenden Stärke werden. In den Schwierigkeiten, die man überwindet, verstecken sich oft seine verborgenen Talente.
La bombe a explosé. Même si je tiens énormément à Lena, je ne veux pas continuer comme ça. Même quand on est blessé, il n'est pas nécessaire de se mettre en colère de suite. Je pense vraiment qu'il est important qu'elle apprenne à contrôler sa colère, tout comme j'ai dû le faire. Qu'elle dresse ses Crouching Tiger, Hidden Dragon, qu'elle les ait sous contrôle. Si elle réussit, alors sa faiblesse peut devenir une force à ne pas sous-estimer. Les difficultés que tu surmontes cachent souvent tes talents cachés.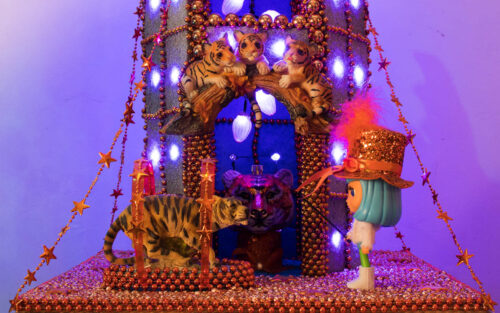 It seems as if something has changed. More and more she manages to take on other attitudes in difficult situations. I see her balancing, staggering, falling and getting up again. She's showing that she's trying her best. It still takes some Études De Position to see what works, but I think it's wonderful!! Thumbs Up!!
Het lijkt er op dat er iets veranderd is. Het lukt haar steeds vaker om ook andere houdingen aan te nemen in moeilijke situaties. Ik zie haar balanceren, wankelen, vallen en weer opkrabbelen. Ze laat zien dat ze haar best doet. Het vergt nog wel wat Études de Position om te kijken wat werkt, maar ik vind het super!! Thumbs Up!!
Es scheint so, als hätte sich etwas verändert. Es gelingt ihr immer öfter in schwierigen Situationen auch andere Haltungen anzunehmen. Ich sehe, wie sie balanciert, taumelt, fällt und sich wieder aufrappelt. Sie zeigt, dass sie ihr Bestes gibt. Es verlangt wohl noch ein wenig Études de Position um zu sehen, was klappt, aber ich finde es super!! Thumbs Up!!
Il semble que quelque chose ait changé. Elle réussit de plus en plus souvent à adopter des attitudes différentes dans des situations difficiles. Je la vois se stabiliser, vaciller, tomber et se remettre debout. Elle montre qu'elle fait de son mieux. Il faut encore quelques Études de Position pour voir ce qui fonctionne, mais je trouve cela génial ! Thumbs Up!!
Could it be that we'll finally come so far as to be united in Heart and Soul? Like in the song by Willy Deville? I do now have the feeling that we won't be breaking up again.
Every night I have the same recurring dream
There you are dressed so fine standing next to me
Just you and me in a church of old standing hand in hand.
And a choir sings Ave Maria
I look into your eyes, they say a million things
Cathedral bells they start to ring
And you are mine, yes you are mine
You are mine.
Forever and ever, heart and soul
Forever and ever, heart and soul
Forever and ever, heart and soul
You promised me with just a kiss in a slow embrace
You promised me like I promise you: 'Stand by me I'll stand by you'
I wanna hold you close, say soft and low that you're all I need.
And a choir sings Ave Maria
I look into your eyes, they say a million things
Cathedral bells they start to ring
And you are mine, yes you are mine
You are mine.…
-Deville-
Zouden we dan eindelijk zo ver komen dat we verenigd worden in Heart and Soul? Zoals in het liedje van Willy Deville? Ik heb nu wel het gevoel dat wij niet meer uit elkaar gaan.
Every night I have the same recurring dream
There you are dressed so fine standing next to me
Just you and me in a church of old standing hand in hand.
And a choir sings Ave Maria
I look into your eyes, they say a million things
Cathedral bells they start to ring
And you are mine, yes you are mine
You are mine.
Forever and ever, heart and soul
Forever and ever, heart and soul
Forever and ever, heart and soul
You promised me with just a kiss in a slow embrace
You promised me like I promise you: 'Stand by me I'll stand by you'
I wanna hold you close, say soft and low that you're all I need.
And a choir sings Ave Maria
I look into your eyes, they say a million things
Cathedral bells they start to ring
And you are mine, yes you are mine
You are mine.…
-Deville-
Werden wir dann endlich so weit kommen, dass wir im Heart and Soul vereinigt werden? So wie im Lied von Willy Deville? Jetzt habe ich schon das Gefühl, dass wir uns nicht mehr trennen.
Every night I have the same recurring dream
There you are dressed so fine standing next to me
Just you and me in a church of old standing hand in hand.
And a choir sings Ave Maria
I look into your eyes, they say a million things
Cathedral bells they start to ring
And you are mine, yes you are mine
You are mine.
Forever and ever, heart and soul
Forever and ever, heart and soul
Forever and ever, heart and soul
You promised me with just a kiss in a slow embrace
You promised me like I promise you: 'Stand by me I'll stand by you'
I wanna hold you close, say soft and low that you're all I need.
And a choir sings Ave Maria
I look into your eyes, they say a million things
Cathedral bells they start to ring
And you are mine, yes you are mine
You are mine.…
-Deville-
Est-ce qu'on va arriver enfin au point où on sera uni en Heart and Soul? Comme dans la chanson de Willy Deville? J'ai quand même le sentiment que nous n'allons plus nous séparer maintenant.
Every night I have the same recurring dream
There you are dressed so fine standing next to me
Just you and me in a church of old standing hand in hand.
And a choir sings Ave Maria
I look into your eyes, they say a million things
Cathedral bells they start to ring
And you are mine, yes you are mine
You are mine.
Forever and ever, heart and soul
Forever and ever, heart and soul
Forever and ever, heart and soul
You promised me with just a kiss in a slow embrace
You promised me like I promise you: 'Stand by me I'll stand by you'
I wanna hold you close, say soft and low that you're all I need.
And a choir sings Ave Maria
I look into your eyes, they say a million things
Cathedral bells they start to ring
And you are mine, yes you are mine
You are mine.…
-Deville-
While I'm making a shrine with skulls and black sponges, I ask myself: why am I making this? It's not clear to me, until Hilde apps me on my birthday: "You're still in my heart." That feels sour, because I've always done my best for Hilde. And yes, even though I haven't seen her for three years, she's still in my heart as well. But now it looks as if Lena and I have a future, that means that I will have to say goodbye to Hilde for ever. A nasty and dirty job, because it feels harsh to have to disappoint her and to have to bury the natural passion we felt for each other. A Rose for Hilde.
Terwijl ik een shrine met doodshoofden en zwarte sponsjes aan het produceren ben, vraag ik me af; waarom maak ik dit eigenlijk? Het is me niet duidelijk, totdat Hilde op mijn verjaardag appt: "Je zit nog altijd in mijn hart". Dat voelt wrang, want ik heb zo mijn best gedaan voor Hilde. En ja, al heb ik haar drie jaar niet gezien, ze zit ook nog altijd in míjn hart. Maar nu het er op lijkt dat Lena en ik een toekomst hebben, betekent het dat ik Hilde voorgoed vaarwel moet zeggen. Een onaangenaam en smerig karwei, want het voelt bruut haar te moeten teleurstellen en de natuurlijke passie die wij voor elkaar voelden te moeten begraven. A Rose for Hilde.
Während ich einen Schrein mit Totenköpfen und schwarzen Schwämmen produziere, frage ich mich "Warum mache ich das eigentlich?". Es ist mir nicht klar, bis Hilde mir an meinem Geburtstag schreibt: "Du sitzt noch immer in meinem Herzen". Das fühlt sich bitter an, denn ich habe mein Bestes für Hilde gegeben. Und ja, auch wenn ich sie drei Jahre nicht gesehen habe, sitzt sie auch noch immer in meinem Herzen. Aber jetzt, wo es so scheint, dass Lena und ich eine Zukunft haben, bedeutet es, dass ich Hilde für immer Lebewohl sagen muss. Eine unangenehme und schmutzige Arbeit, denn es fühlt sich brutal an, sie enttäuschen zu müssen und die natürliche Leidenschaft, die wir für einander fühlten, begraben zu müssen. A Rose for Hilde.
Alors que je suis en train de créer un shrine avec des crânes et des éponges noires, je me demande pourquoi je fais cela? Ce n'est pas clair pour moi, jusqu'à ce que Hilde m'envoie un message le jour de mon anniversaire : "Tu es toujours dans mon cœur". C'est un peu désagréable, parce que j'ai tout fait pour Hilde. Et même si je ne l'ai pas vue depuis trois ans, elle aussi est toujours dans mon cœur. Mais maintenant qu'il semble que Lena et moi avons un avenir, cela signifie que je dois dire adieu à Hilde pour de bon. Une mission pénible et malsaine, car il est cruel de devoir la décevoir et d'enterrer la passion naturelle que nous ressentions l'un envers l'autre. A Rose for Hilde.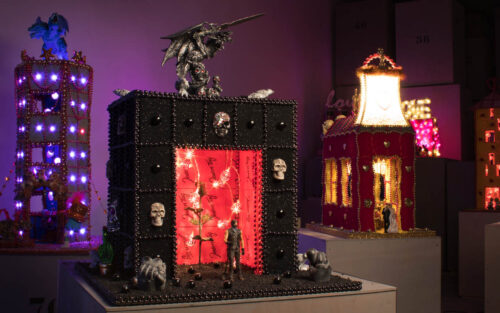 At the same time, I don't want to bear sole responsibility for the relationship with Lena progressing. Particularly if we still want to have children, we will have to make a little haste. If Lena wants to carry on, she'll have to take steps and make choices. She holds the Key to Love in her hands. It's crystal clear; live together, make babies, I want to!!
Tegelijkertijd wil ik niet in mijn eentje verantwoordelijk zijn voor de voortgang van de relatie met Lena. Met name als we nog kinderen willen, zullen we ons toch een beetje moeten haasten. Als Lena verder wil, zal ze stappen moeten ondernemen en keuzes moeten maken. Zij heeft de Key to Love in handen. Het is glashelder; samenwonen, baby's maken, ik wil wel!!
Gleichzeitig will ich nicht alleine für den Fortgang der Beziehung mit Lena verantwortlich sein. Vor allem, wenn wir noch Kinder wollen, werden wir uns doch ein wenig beeilen müssen. Wenn Lena weiter möchte, wird sie die Schritte unternehmen und Entscheidungen treffen müssen. Sie hat den Key to Love in ihren Händen. Es ist glasklar: Zusammen wohnen, Kinder machen – ich will auf jeden Fall!!
En même temps, je ne veux pas être seul en charge de l'évolution de la relation avec Léna. Surtout si nous voulons encore des enfants, il faudra se dépêcher un peu. Si Léna veut aller de l'avant, elle devra prendre des mesures et faire des choix. Elle a la Key to Love entre les mains. C'est clair: vivre ensemble, faire des bébés: c'est ce que je veux!
As my house is also my income (rooming house), it gives me the opportunity to work on my project A Quest for Love. That makes it hard to give up my house, especially as after thirty years of living there and doing it up I've become very attached to it. I planted my Tree of Life long ago. Every year the tree grew, from a small sprout to a giant of the forest. In a mythological sense the tree mediates between gods and men. And it actually feels like that every now and then when I'm busy building a shrine. The tree as a symbol for growth, power and personal development, for balance, with sturdy roots to the past and branches reaching for the future and all its possibilities. I hope that Lena won't be able to resist this wealth and that she too will want to pluck its fruits. Like a charming tortoise she's standing in front of the door hesitating. Will she move in with me?
Omdat mijn huis tegelijkertijd ook mijn inkomen is (kamerverhuur), geeft het mij de gelegenheid om met mijn project A Quest For Love bezig te zijn. Dat maakt het lastig om mijn huis op te geven, temeer ik er na dertig jaar wonen en klussen wel erg vergroeid mee ben. Ik heb mijn Tree of Life lang geleden geplant. Elk jaar groeide de boom verder, van een klein sprietje tot een grote woudreus. In mythologische zin bemiddelt de boom tussen mensen en goden. En zo voelt het af en toe ook echt als ik bezig ben met het bouwen van een shrine. De boom als symbool voor groei, kracht en persoonlijke ontwikkeling, voor balans, met stevige wortels naar het verleden en haar takken reikend naar de toekomst met al haar mogelijkheden. Ik hoop dat Lena deze rijkdom niet kan weerstaan en dat zij daar ook de vruchten van wil plukken. Als een charmant schildpadje staat ze voor de deur te aarzelen. Zal ze bij mij intrekken?
Weil mein Haus gleichzeitig auch mein Verdienst ist (Zimmervermietung), habe ich die Gelegenheit, mich mit meinem Projekt A Quest For Love zu beschäftigen. Das macht es schwierig, mein Haus aufzugeben, zumal ich, nachdem dreißig Jahre darin gewohnt und gearbeitet habe, damit schon ziemlich verwachsen bin. Ich habe mein Tree of Life vor langer Zeit geplant. Jedes Jahr wuchs der Baum weiter, von einer kleinen Sprosse zu einem großen Waldriesen. In mythologischem Sinne vermittelt der Baum zwischen Menschen und Göttern. Und so fühlt es sich wirklich auch ab und zu an, wenn ich mit dem Bauen eines Schreins beschäftigt bin. Der Baum als Symbol für Wachstum, Kraft und persönlicher Entwicklung, für Balance, mit stabilen Wurzeln zur Vergangenheit und Ästen, die in die Zukunft reichen – mit all ihren Schwierigkeiten. Ich hoffe, dass Lena diesem Reichtum nicht widerstehen kann und dass auch sie die Früchte davon pflücken möchte. Wie eine charmante Schildkröte steht sie vor der Tür und zögert. Wird sie bei mir einziehen?
Comme ma maison est aussi mon revenu (location de chambres), cela me donne la possibilité de travailler sur mon projet A Quest for Love. Il est donc difficile de renoncer à ma maison, d'autant plus qu'après trente ans de vie et de travaux, j'y suis très attaché. J'ai planté mon Tree of Life il y a longtemps. Tous les ans, l'arbre grandissait, passant d'une petite branche à un grand géant de la forêt. Dans un sens mythologique, l'arbre sert de médiateur entre les gens et les dieux. Et c'est ce que je ressens de temps en temps quand je construis un shrine. L'arbre comme symbole de croissance, de force et de développement personnel, d'équilibre, avec des racines solides vers le passé et des branches qui s'étendent vers un avenir avec toutes ses possibilités. J'espère que Léna ne pourra pas résister à cette richesse et qu'elle aussi voudra en récolter les fruits. Comme une charmante tortue, elle se tient au seuil de la porte en hésitant. Va-t-elle emménager avec moi?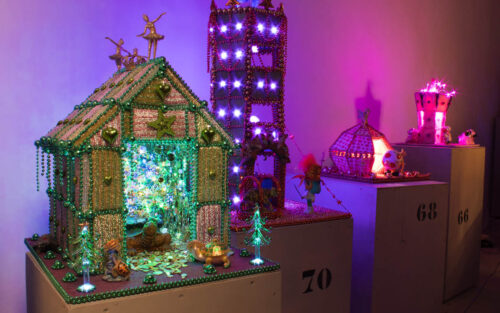 Now the website is nearing completion, Lena finds it hard that I exploit our love life and her vulnerabilities so openly on the internet. Especially the accompanying texts are difficult for her. We have heated discussions on the subject. I understand she finds it hard and scary, but for me the shrines I make feel like beautiful pieces of universal truth, which will help us and certainly her to grow. So I don't want to obscure these diamonds in the text. Diamonds Are Forever.
Nu de website zijn voltooing nadert, vindt Lena het moeilijk dat ik ons liefdesleven en haar kwetsbaarheden zo openlijk exploiteer op het internet.  Vooral met de begeleidende teksten heeft ze het moeilijk. We hebben er verwoedde discussies over. Ik snap wel dat ze het lastig en eng vindt, maar voor mij voelen de shrines die ik maak als mooie stukjes universele waarheid, die ons en zeker ook haar helpen te groeien. Deze diamantjes wil ik dan niet in de tekst gaan verdoezelen. Diamonds Are Forever.
Jetzt, wo die Vollendung der Website naht, findet Lena es schwierig, dass ich unser Liebesleben und ihre Verletzlichkeit so öffentlich im Internet zur Schau stelle. Vor allem mit dem begleitenden Text hadert sie. Wir haben heftige Diskussionen darüber. Ich verstehe schon, dass sie es unangenehm und unheimlich findet, aber für mich fühlen sich die Schreine, die ich mache, wie schöne Stückchen universaler Wahrheit an, die uns und sicher auch sie helfen, zu wachsen. Diese Diamanten möchte ich auch nicht in dem Text verschleiern. Diamonds Are Forever.
Alors que le site web est presque terminé, Lena trouve difficile que j'expose si ouvertement notre vie amoureuse et ses vulnérabilités sur Internet.  Elle a surtout du mal avec les textes d'accompagnement. Nous avons des discussions féroces à ce sujet. Je comprends qu'elle trouve cela difficile et effrayant, mais pour moi, les shrines que je construis sont de belles pièces d'une vérité universelle, qui nous aident, et elle sûrement, à grandir. Je ne veux pas dissimuler ces petits diamants dans le texte. Diamonds Are Forever.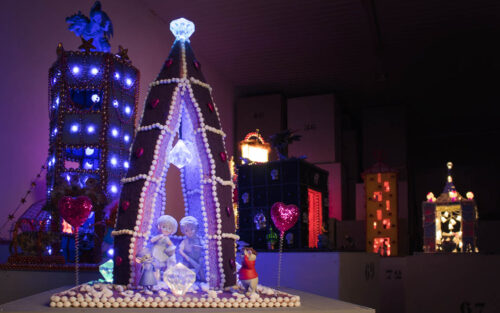 Sometimes Lena's head reels a little. Particularly when she's in her "dark mode", it all becomes too much and she loses control. She then feels ashamed of her angry, childish behavior. She wonders what others will think of her.Lovingly, I will then call her by her nickname, Duister Deerntje (Murky Maiden), in the hope of softening her up, so that she will stop judging herself and worrying about the future, so that we can continue our dance.
Soms tolt het in het hoofd van Lena een beetje. Vooral als ze in haar "duistere modus" zit, vliegt het haar allemaal aan en is ze de besturing kwijt. Ze schaamt zich dan voor haar boze, kinderlijke gedrag. Ze vraagt zich af wat anderen wel niet van haar zullen denken. Liefdevol noem ik haar dan bij haar koosnaam; Duister Deerntje (Murky Maiden) in de hoop haar zacht te maken, zodat ze stopt met zichzelf te veroordelen en te piekeren over de toekomst, zodat we weer verder kunnen gaan met onze gezamenlijke dans.
Manchmal stürmt es ein wenig in Lenas Kopf. Vor allem wenn sie in ihrem "düsteren Modus" ist,  wirbelt alles herum und verliert sie die Steuerung. Sie schämt sich dann für ihr aufgebrachtes, kindisches Verhalten. Sie fragt sich, was andere wohl über sie denken. Liebevoll spreche ich sie dann mit ihrem Kosenamen an: Duister Deerntje (Murky Maiden) – in der Hoffnung, sie zu sänftigen, sodass sie aufhört, sich selbst zu verurteilen und über die Zukunft zu grübeln, sodass wir unseren gemeinsamen Tanz wieder weiterführen können.
Parfois, ça tourne un peu dans la tête de Léna. Surtout quand elle est en "mode sombre", tout lui tombe dessus et elle perd le contrôle. Elle a honte de son comportement colérique et enfantin. Elle se demande ce que les autres vont penser d'elle. Je l'appelle alors affectueusement par son surnom, Duister Deerntje (Murky Maiden) dans l'espoir de lui apporter un peu de douceur, pour qu'elle cesse de se juger et de s'inquiéter pour l'avenir, et que nous continuions à danser ensemble.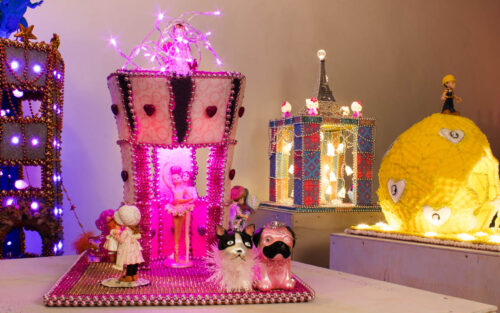 Although Lena has long felt like The Ugly Duckling, slowly it's starting to dawn on her that inside she's hiding a beautiful young swan. She comes out of her shell and in the mirror she now sees her true self. She wonders to herself whether it will after all turn out well with her and with us. I'm fully confident, and also quite proud, that we've come this far. Can We Fix It? Yes, We Can!! Finally, after almost five years, Lena gives up her house and moves in with me. We're going to build a nest.
Hoewel Lena zich lang The Ugly Duckling heeft gevoeld, begint het langzaam tot haar door te dringen dat in haar een mooie, jonge zwaan in schuilt. Ze komt uit haar ei gekropen en ziet nu in de spiegel haar ware gedaante. Ze vraagt zich af of het dan toch allemaal goed gaat komen met haar én met ons. Ik ben vol vertrouwen, en ook wel trots dat we zover gekomen zijn. Can We Fix It? Yes, We Can!! Uiteindelijk, na bijna vijf jaar zegt Lena haar huis op en trekt ze bij mij in. We gaan samen een nestje bouwen.
Obwohl sich Lena lange wie The Ugly Ducking gefühlt hat, fängt es langsam an, zu ihr durchzudringen, dass sich in ihr ein schöner, junger Schwan verbirgt. Sie kommt aus ihrem Ei gekrochen und sieht in dem Spiegel ihre wahre Gestalt. Sie fragt sich, ob doch alles gut enden wird mit ihr – und mit uns. Ich habe volles Vertrauen und bin auch wohl stolz, dass wir soweit gekommen sind. Can We Fix It? Yes, We Can!! Schließlich gibt Lena nach fünf Jahren ihr Haus auf und zieht bei mir ein. Wir bauen zusammen ein Nest.
Bien que Lena se sente depuis longtemps The Ugly Duckling, elle commence lentement à se rendre compte qu'il y a un magnifique et jeune cygne en elle. Elle sort de sa coquille et le miroir reflète maintenant son apparence réelle. Elle se demande si elle et nous allons nous en sortir après tout. Je suis confiant et fier que nous soyons arrivés jusqu'ici. Can We Fix It? Yes, We Can! Finalement, après presque cinq ans, Lena quitte sa maison et emménage avec moi. Nous allons construire notre nid douillet ensemble.